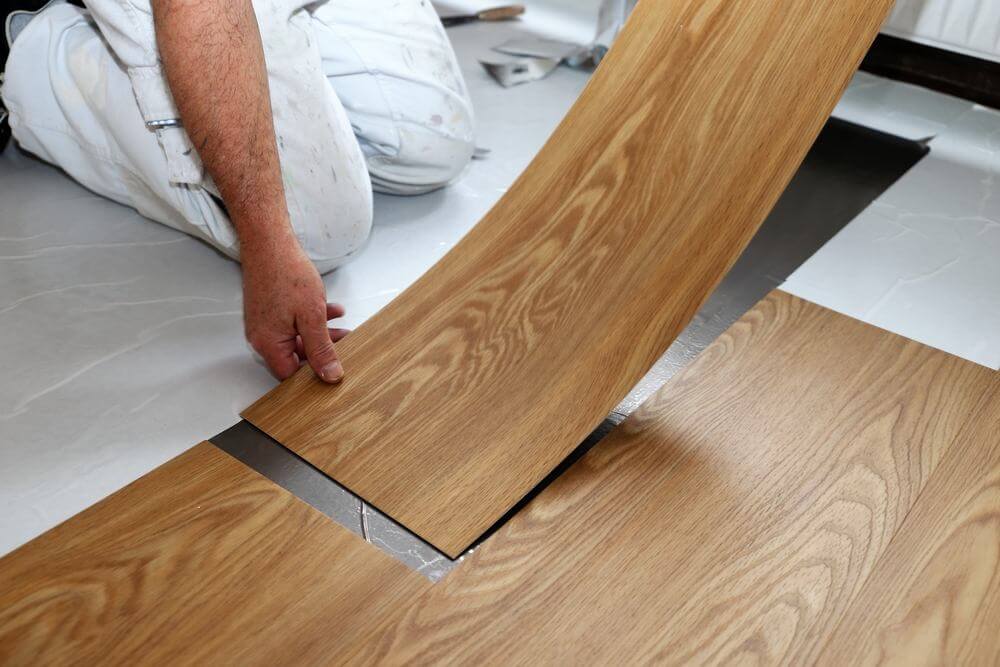 Hybrid flooring is arguably the best type of flooring to install in any kind of room. It combines laminate and vinyl, all pressed into one material. The best of each is taken, and their bad aspects have been removed. This is perhaps the most innovative flooring choice to date. However, you do not have to just take the author's word for it; let's dig in and show you 10 reasons why hybrid flooring is the best type of flooring.
Easy Installation – Hybrid flooring can be installed over any type of flooring that is already in place, as long as it is level. The planks are designed to float, meaning they do not need to be nailed or glued into place. You simply lay them flat and click them together to form the floor, cutting when required.
Affordable – Natural wood and stone can be costly when covering an entire room. Hybrid flooring is much more affordable and looks just as nice if you install it correctly. Plus, if you ever need to replace a piece or two, it is easy to find and match the planks that you already have down, unlike marble or hardwood, which would be tough to match.
Style – The main reason that people opt to go with hardwood or tile is because of the eye appeal of it. Hybrid flooring options will also give you the styles you want without the cost or hassle of installation. The printed layer of the hybrid flooring can match almost any style and design needed, making it one of the most versatile types available.
Waterproof – This type of flooring is completely waterproof. It is obviously not suggested to be installed underwater, but it does mean that if any liquid is spilled, it will not have the chance of ruining any of the middle layers, and since it will not stain, it doesn't matter what type of fluids hit the floor.
Durability – Hybrid flooring combines flooring types, taking the best of them and pressing them into one material. This makes this flooring more durable, standing up to the wear and tear of an average home or even high-traffic areas like you would find in the entranceway of a business.
Heat Resistant – Hybrid flooring does not expand and contract like many other flooring options, which means that the heat from the sun, or the heating units in the house, will not cause any issues. This makes this type of flooring a great choice to install in any room, especially those that may get excess heat from humidity.
Fade Resistant – Most of the common flooring choices will fade over time. The more they are in the sun, and the more they are walked on, the faster they will fade. Hybrid flooring is designed with an outer coating that blocks the damage that would generally occur to the floor, making it last much longer than many others.
Easy Maintenance – Hybrid floors are easy to care for. All you need to do is use a broom or vacuum to clean them. When you choose to mop the floor, do not use harsh chemicals or steam mops. If you keep them swept and clean up spills immediately, you will never have any problems maintaining the floors because they are designed to hold their look for a long time.
Comfortable – Hybrid Flooring contains inner layers created from soft plastic instead of a hard center such as tile or hardwood. Plus, the bottom layer has an underlayment pad that creates a softer cushion when walking on it. Other than plush carpet, this is the most comfortable style of flooring to have underfoot.
Sound Canceling – Due to the additions in the production of this flooring to help with comfort, you get the side benefit of it canceling out noise. When someone walks across the floor in the room above you, it will not sound like a herd of animals crossing the room.
These ten reasons should show you that hybrid flooring is the absolute best choice when looking to replace or add new flooring to your home or business. Of course, you can always check it out at your local home improvement store to get a first-hand look. The main point that you need to keep in mind is that the majority of the flooring choices will work great, but they have more limitations and negative aspects than hybrid flooring does.
That is not to say that the other flooring options are bad, especially if you are partial to one or the other. It is simply the facts because hybrid flooring is the market's most innovative product at this point in time. It is the best option to use. It keeps its visual appeal for many years, is hard to damage, and can be installed by almost any DIY. Give it a try, and then decide for yourself.
Homeowners Guide to Black Mold Removal in Toronto

Learning that you may need black mold removal can be outright scary for many homeowners. Black mold is also known as toxic mold, which has been portrayed in the media as a threat to people, animals, and children. The truth about black mold is a... The post Homeowners Guide to Black Mold Removal in Toronto […]