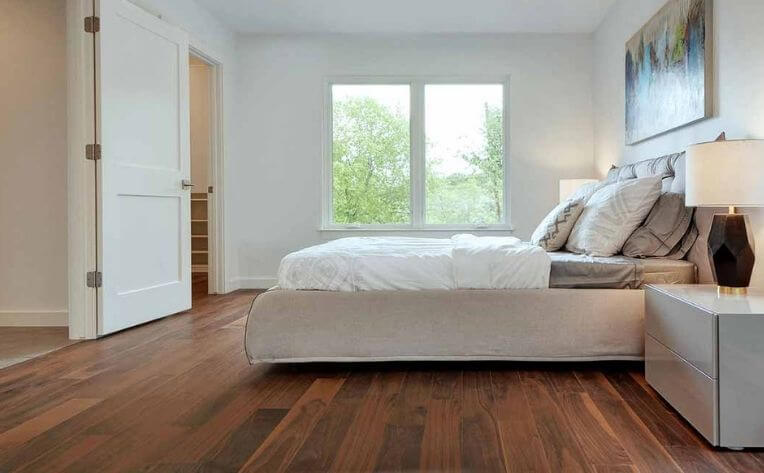 Hardwood flooring enhances your home and works great in traditional or modern spaces. Select from prominent hardwood species, including hickory, oak, ash or maple. Each species has special characteristics as well as visual differences. Select a type of wood flooring that fits your lifestyle and your budget. Common choices include solid hardwood, engineered wood and wood-look laminate.
How to Select the Best Hardwood Flooring
Choosing the right material isn't as easy as simply choosing your preferred color and grain. Think of the following when determining which wood flooring to put in:
Location: The room and level of foot traffic determine what properties the material needs
Budget: The cost to install flooring and the cost of materials ranges considerably. Be clear on your budget
Upkeep: Ease of cleanliness, durability and repairability, frequency and simplicity of resealing and daily maintenance vary by material
Durability: Waterproofing, stain resistance, strength and scratch and scuff resistance
Installation: Floating, nail down or glue down
Addons: Type of underlayment, radiant heat compatibility
Design: Each kind of flooring and species of wood has unique aesthetic appeal
Lifestyle: Activity level, children and pets all determine which type of material is best
Popular Kinds of Hardwood Flooring
When you've picked the best kind of flooring for your project, it's time to consider wood species. Take into consideration the color, grain pattern, cost, and upkeep. You'll also want to consider hardness, which is another way of saying durability. Hardness is determined by the Janka hardness scale. The higher the number, the harder the wood. For hardwood floors, you'll likely want a Janka rating of at least 1,000.
Hickory
Harder than oak, ash and maple. Measures 1,820 on the Janka hardness scale
Durable and long-lasting
Withstands damage, moisture, and high foot traffic better than many other hardwoods
Comparatively light wood that can be stained to any color
Can be waxed to enhance warm appearance and improve moisture resistance
Oak
Hardness varies by subspecies. Common white oak, for instance, measures 1,360 on the Janka hardness scale while live oak measures 2,680
Ages well, taking on a unique patina
Ranges in color from bleached white to dark red
Minor damage simple to fix with DIY repair kits
Ash
Comparable hardness to white oak. White ash measures 1,320 on the Janka hardness scale
Flexible: Able to withstand temperature and humidity changes
Ages well and does not splinter
Shock-absorbing and comfortable to walk on
Maple
Hard maple (sugar maple) measures 1,450 on the Janka scale, higher than ash and white oak
Popular choice for modern residences because of its light texture and open grain pattern
Easily available
Resistant to minor damage like scuffs and scrapes from chair legs
Cherry
Brazilian cherry is extremely hard, measuring 2,350 on the Janka scale
Shock-absorbing and comfortable to walk on
Distinctive warm red hues
Straight, uniform, close grain that works well in traditional spaces
Ebony
Brazilian ebony is one of the hardest woods, measuring 3,700 on the Janka hardness scale
Dark brown to black hues that darken with age
Extremely durable and not susceptible to scratches and scrapes
High density makes it more resistant to moisture damage than other wood flooring
Bamboo
Strand-woven bamboo measures 3,000 on the Janka hardness scale
A grass, not a wood, but behaves very similarly to hardwood when utilized in flooring applications
Environmentally friendly, sustainable and widely available, as it grows fast and is easily replanted
Suitable for use with underfloor heating
Most Durable Hardwood Flooring
Ebony, cherry, live oak, or bamboo are the most durable selections. These extremely hard woods (and wood-like bamboo) wear well and are much more resistant to minor damage than other selections.
Best Value Wood Flooring
For genuine wood, maple and hickory are among the best value. Maple costs $6.50 to $11 per square foot and hickory costs $6 to $13 per square foot.
Woven bamboo, although technically not wood, is also an exceptionally good value. Bamboo costs $5 to $11 per square foot and is as hard-wearing as hardwoods.
Most Scratch-Resistant Wood Flooring
Any wood with a high rating on the Janka hardness scale is a smart choice for those that require scratch-resistant flooring. Ebony and Brazilian cherry are both fantastic options.
Best Water Resistant Wood Flooring
No wood flooring is absolutely waterproof, but ebony, bamboo and engineered hardwood come closest. They're less likely to warp from humidity or spills.
Most Beautiful Hardwood Floors
This is a matter of opinion, however, exotic woods and those with unique grain patterns and colors are typically highly sought-after because of their appearance. These include ebony and Brazilian cherry where you can lay and watch movies.
Ideal Hardwood Flooring for Pets
If you have animals, you require flooring that withstands scrapes, such as ebony, bamboo, or engineered hardwood.
Hardwood flooring is a popular choice for many homeowners because it gives a classic look and feel. There are many different styles of hardwood flooring to select from, so it's important to understand the advantages and disadvantages of each type prior to choosing. We hope this post has helped you better understand the different kinds of Hardwood Flooring in West Hollywood, CA available and how to select the best option for your home.
Are Marble Kitchen Countertops a Good Idea?

When it comes to kitchen countertops, nothing exudes elegance quite like marble. Its natural beauty and timeless appeal have made it a popular choice among homeowners. But is it a good idea to have marble countertops in your kitchen? Let's explore the advantages and disadvantages.... The post Are Marble Kitchen Countertops a Good Idea? appeared […]