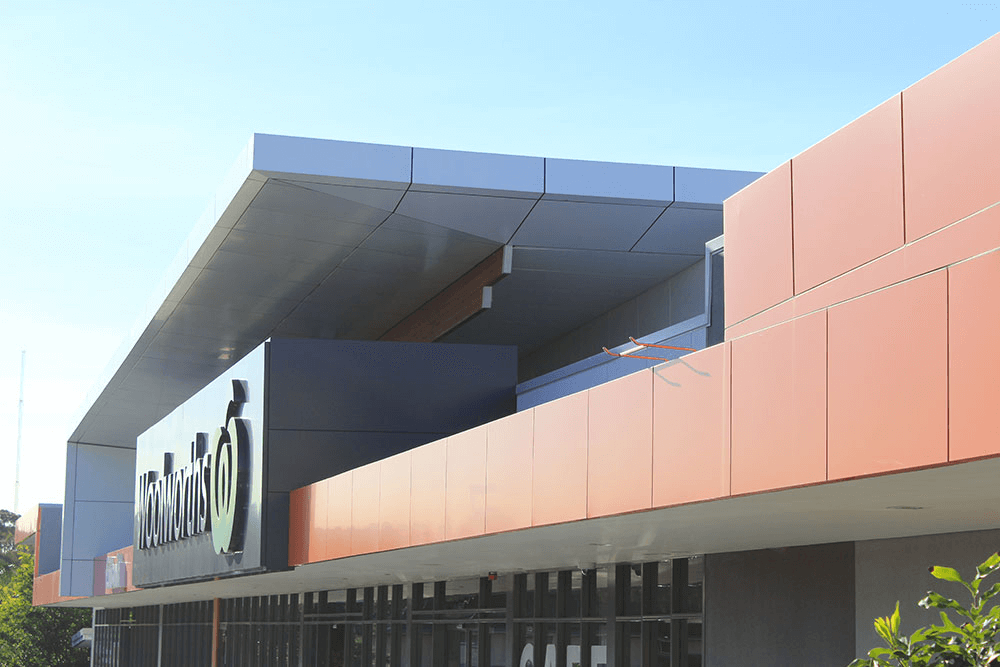 Alucobond panels are widely recognized by companies involved in construction, renovation, and finishing works. This option of exterior material helps to transform the exterior of any object and gives architects and builders a broad spectrum of style opportunities. It can be applied not only for decorating the facade but also for the interior space. The ability of panels to change their shape in a fuss-free manner makes it almost indispensable for the implementation of customized design ideas.
What are other advantages:
The panels are available in a diverse variety of hues, and Alucobond cladding can have a matte or metallic finish. The widest choice of sizes and shades allows designers to use it not only for covering walls but for various purposes.
On a perfectly even and smooth surface, cracks or holes do not appear during bending. Such properties are acquired due to a very durable coating. The material with such a resistance rate can be used in the most severe climatic conditions.
A rigid and durable design allows panels to be used for cladding high-rise buildings, using ventilated facade technology. Such a system provides air circulation, thereby facilitating the removal of unwanted condensate.
Color-fastness and higher resistance to aggressive effects mean that investing in Alucobond installation in Sydney, the results will be really long-lasting.
Manufacturers give a guarantee for the material for up to 25 years. This suggests that the cladding will last at the facility for decades without requiring extra repairs or some parts replacement. The first-rate surface coating will preserve the pleasing appearance of the facade for a long time.
Contrary to what you might expect, Alucobond installation is not a tall order. Aluminum panels are easy to cut, bend, and weld. All of the above manipulations are carried out using a standard metalworking tool. In some cases, you can even use primitive hand tools.
Are there any disadvantages?
If one block is accidentally damaged, then adjacent sheets will have to be dismantled, which complicates the fixing process. If there is a polymer inside the sandwich sheet, then the fire resistance may be low.
Despite the fact that Alucobond can be used not only for decorating the facades of new private and high-rise buildings (it is actively used if you need to update an outdated ventilated facade, to build partitions inside buildings, or decorate the ceiling), for many homeowners, this finish seems too office-like. But still, the scope of use is very wide:
When restyling old buildings in order to revamp the exterior and improve the soundproof and heat-insulating features of the walls.
In the design of billboards and signboards.
For facing architectural elements: balconies, canopies, columns, etc.
For manufacturing decorative room partitions and interior finishing material.
In the automotive industry.
The material is classified by type, as well as by texture and color. These indicators determine the overall ambiance of the building outward. There are blocks that are made to look like wood or metal and imitate stone. But still, for private construction, the material is used not so often, since such panels are recognized as industrial.
Freedom of architectural designs
Stunning visual projects can be implemented with Alucobond panels. The steady coating will not fade or deteriorate under the influence of ultraviolet rays, so it will operate for years to come. Manufacturers managed to combine the advantages of old materials and the improved properties of modern developments in composite panels. The latest technologies allow you to quickly add aesthetics to any object and strengthen the heat and sound insulation properties.
Benefits of a Moving Company

Moving can be an exciting yet daunting task, and if you've ever relocated to a new home or office, you know that it involves more than just packing your belongings into boxes. It's a process that requires careful planning, organization, and physical effort. This is... The post Benefits of a Moving Company appeared first on […]