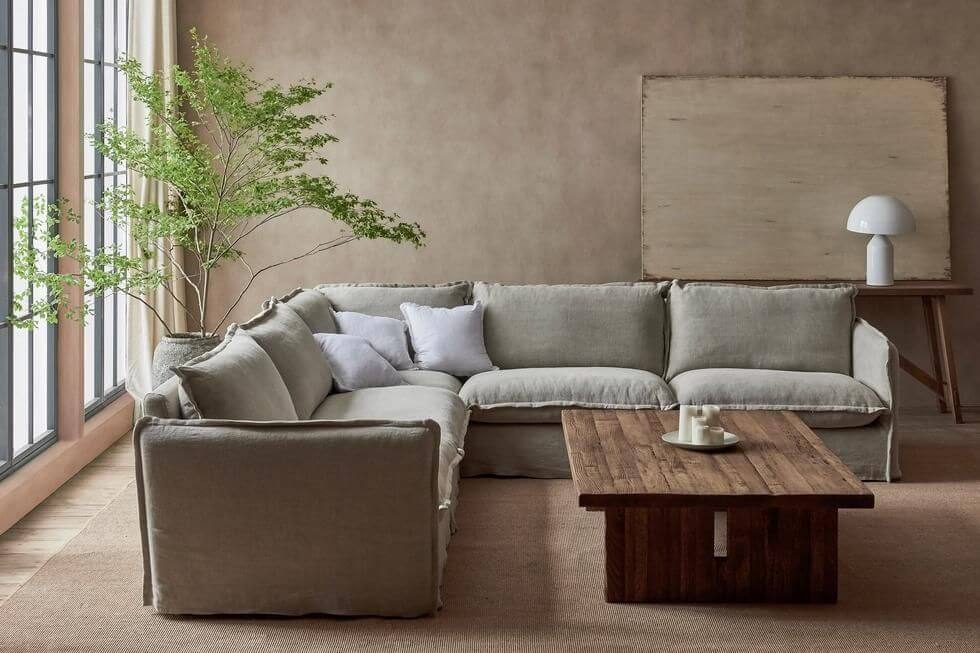 Perhaps you've recently met that special someone with whom you can watch shows all night and have both decided to take the plunge to get hitched and buy a house together. As you design the space, you may be thinking of many things, including the family you intend to grow there together. You may also be married with children and need to reconfigure your space so it matches the needs of your growing family. You may have decided that a sectional sofa is a perfect option for you already, but you don't want to spend an arm and a leg buying one—after all, that money could go toward something else, like a family vacation.
If you're looking for affordable sectionals, you should really consider shopping from 1StopBedrooms. Their entire sectional sofa collection can be viewed by visiting the sectional sofas portion of the website. Click on over to start browsing the amazing deals available right now.
There is a reason why sectional sofas are a favorite with families—their versatility allows you to make optimal use of the space, their durability can withstand the terrible two's and beyond, and their comfort makes them an ideal spot for the entire household to come together and enjoy some quality time—whether it's playing board games, watching TV, canceling orders on Big Basket because you never agree on the same thing, or simply doing individual activities in each other's company.
This becomes more and more important as the years pass. It isn't hard to capture the interest and attention of small children—at that age, you're the coolest person in the world to them, the person they want to be around most and with whom they want to share everything that pops into their minds. As they get a little older, the balance inevitably begins to shift. Teenagers are notoriously brooding and disinclined to spend quality time with their parents. It can feel like a struggle to get them to open up under the best of circumstances.
If your home is decorated with dingy furniture, it creates an atmosphere of negativity, and will only push your teen to crave an escape even more. To keep the family unit strong, you have to start by building a good foundation. You can think about the furniture in your home as one of the bricks that it takes to create that foundation. If you're using cheap materials, the house will probably collapse.
When purchasing furniture, you should think about it as an investment. Like any investment, you expect to yield a return. In this case, the returns are multiple folds. To create harmony in the home, you must first consider the environment. To create a harmonious environment, you have to look at what you're using to fill it. Purchasing quality furniture will take some of the burdens off your job as a parent and a partner by allowing you to focus on your relationships without being distracted by the state of your home.
When you shop 1Stop, you can be sure that you're receiving the best quality from the best brands. This is important for growing families because you'll ultimately be looking for pieces made with durability in mind—you want this furniture to stand the test of time and look as good as the day you bought it a decade, two decades, three decades from now and beyond.
You may be used to the quality coming with cost, which inevitably means compromise. Whether that means spending more than you can afford or spending less and getting less, you've probably been trained to believe it's impossible to have your cake and eat it, too. When you shop 1Stop, you're purchasing directly from the manufacturer. Because of this, you get a low-price guarantee that means you never have to compromise or choose between cost and quality ever again.
Often times customers shopping on 1Stop find the same products they've seen in stores at a fraction of the cost. This is extremely common. The reason is simple: shopping in stores means paying a premium for the store's—and the corporation's–overhead cost. Everything from those free refreshments at the door to the high commissions received by salesmen gets factored into the cost of goods. The result? A large percentage of what you're paying isn't going to the furniture you're purchasing at all.
Speaking of pushy salesmen, when you shop in-store, you will find that you rarely leave with the item you came in looking for. Your head may spin as you walk away with a brand-new dining room suite when all you went in for was a lamp. That's because salesmen are trained to use targeted sales tactics that are designed to help them part you from your money without actually helping you at all.
The designers at 1Stop are entirely commission-free. Their job is to make sure you're happy with your purchase. This is how 1Stop upholds its standard of integrity within the industry and its community of shoppers. The best products at the best prices are more than a sales pitch here—it's a guarantee.
If you're pretty sure what style you're looking for, you can make use of the handy filtering and search tools. With so many selections available, it's important to narrow your search. Make sure to take plenty of measurements of your space beforehand to compare to the dimensions listed in the product description—that way, you can be sure that whatever style you buy, the size will be exactly what you need for your unique space.
Growing a family is one of the most important things you will ever do in life. You want to ensure that the years to come are full of fond memories that you'll hold onto for the rest of your life. Buying a new sectional may seem like a small part of that process, but it's an important one to ensure that your children look back on their childhood as happy when they're all grown up—and to make sure that they bring their own children home for visits with their grandparents.
The Energy-Efficiency Advantages of Vinyl Window Replacement

Windows are more than just portals to the outside world; they play a significant role in determining the comfort and energy efficiency of your home. If you're looking to improve your home's energy efficiency, consider the advantages of vinyl window replacement. In this article, we'll... The post The Energy-Efficiency Advantages of Vinyl Window Replacement appeared […]