Moving into a new property is an exciting journey, with rooms to decorate and new memories to be made. No matter where your new rental property may be, whether it be a house in the Midlands or an apartment in Manchester City Centre, discover more today. Through a few simple steps, you can make your rental property feel like your own.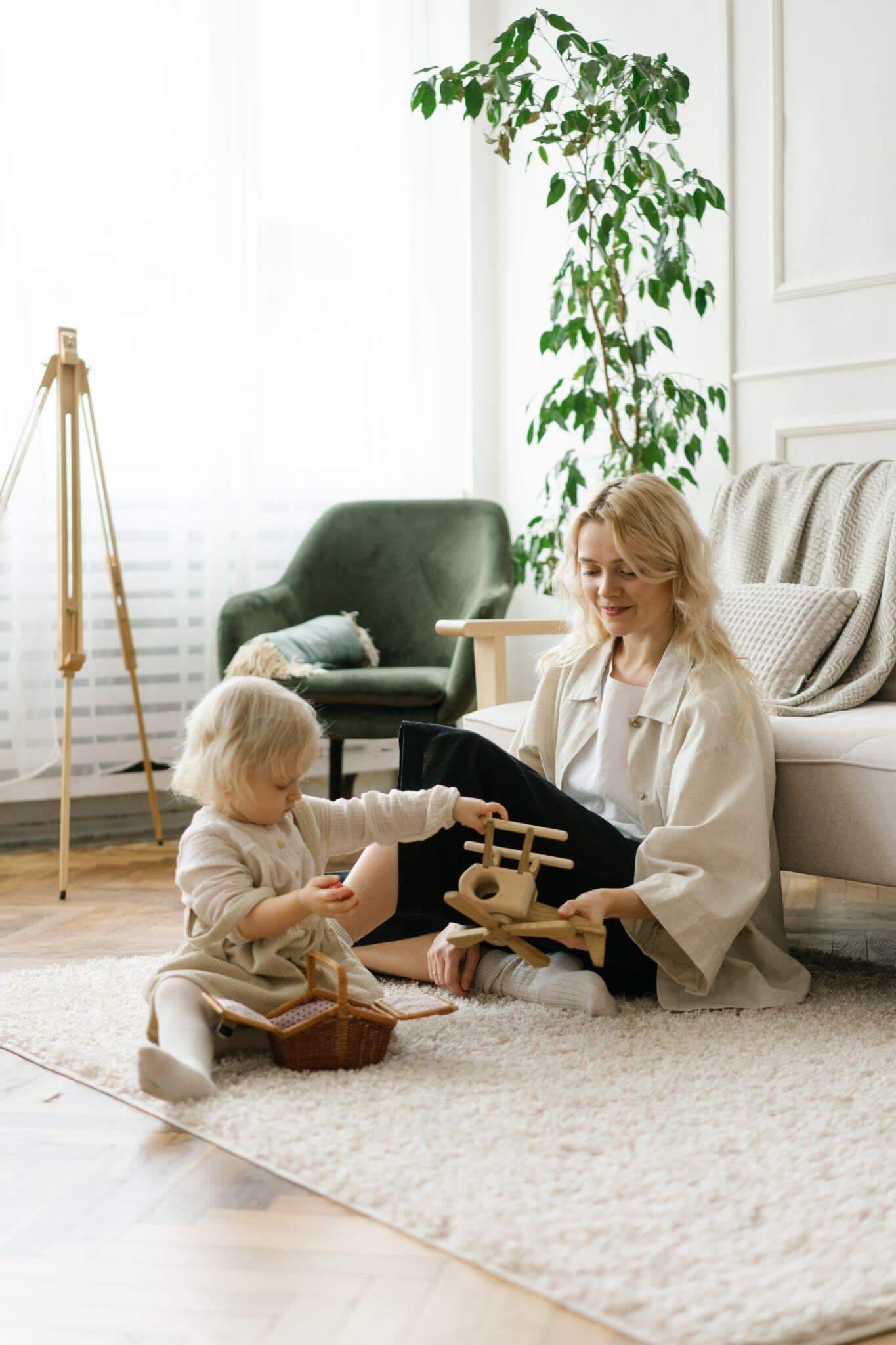 https://www.pexels.com/photo/cute-little-girl-playing-toys-with-mother-6957989/
Understand the do's and don'ts
Moving into and redesigning your rental property is an exciting time and a great opportunity to get creative. From top to bottom, you can let your personality shine through interior design. However, it's important to ensure you know exactly what you can and can't do in terms of styling your property. This will be stated by the landlord in the terms and conditions of the tenancy agreement.
Some landlords allow tenants to paint the walls, change light fixtures and flooring. Although some would not, it's important that all tenants ask their landlord this before doing so. If not, this could result in extra charges and possible tension to arise.
Budget and buy
Before purchasing items and equipment to be used within a rental property, it's a good idea to first workout a realistic budget. There's no point spending loads of money on a rental house, especially if the tenancy will only be short term. Although it's easy to get carried away and want to buy everything to fill a home and instantly make it your own, try to refrain from doing so.
Making a shopping list of things to decorate a home with can be a helpful way to keep track of your spending and prioritise the main items wanted to style each room. A list could be created for each separate room along with ideas on how to design it. Whether you are shopping in person or online, research and shop around a little to compare and find the best pieces. There are many places to find items for interior design to suit all budgets, from luxury to DIY. Places where gems are often found include:
Facebook marketplace
Etsy
Antique shops
Ebay
Make your rental property your own
Once you know the dos and don'ts, it's time to get started on making your rental property your own. There are a range of things that can make it feel more like home with Honeywell thermostats. This may include incorporating your favourite colour scheme, mirrors to enhance space and reflect light or rugs to provide warmth when you walk. With the below easy steps, your home will be transformed in no time.
Lovely lighting
Lighting can really make or break the look and feel of a room. Not enough lighting and the room may instantly feel smaller and dull however, too much bright lighting may be too dazzling or not relaxing enough in certain areas. Lighting should be used to complement the interior and this may vary across each room. A nicely positioned lamp in the corner of a room or hanging lights in a kitchen can dramatically enhance the atmosphere. The same way you can with accessories, there are a whole host of lighting options to suit personal taste.
Cool white lights help make people feel more refreshed and make a room feel more spacious, perfect for a kitchen or bathroom. For a bedroom, blue mood lighting can be used for calming purposes and warm lighting such as yellows are very popular in living spaces, particularly in the evening to promote relaxation.
Amazing accessories
Accessories are the perfect way to show a bit of flair and creativity, using a colour scheme of your choice. This is the perfect opportunity to add a pop of colour, whether that be bold vibrant pinks, cool blues or luxurious metallics, this can really help to turn a house into a home. This can be done with:
Cushions
Throws
Placemats
Curtains
Rugs
Vases
Mirrors
Plants are another great way to accessorise and add a beautiful appeal. It's a lovely way to bring a bit of nature indoors, this also offers psychological benefits including improved mood, lowers fatigue and increases focus. For those who love the look of plants indoors, but don't trust themselves to keep them alive for long, then low maintenance plants, such as peace lily, pothos and cacti are a perfect option. Along with fake ones, which are often indistinguishable from the real deal.
Wonderful wall art
Particularly in rental properties, whereby it is prohibited to paint the walls then adding wall art is a fantastic alternative. Whether contemporary, abstract, retro or wilderness art is more your thing, each will make a room look less boring and cover up those plain walls. Don't forget to add photos of loved ones to make it really feel like home. It's important to consider that not all landlords will allow photos to be nailed into a wall as it may damage them. Luckily, there are many hassle-free alternatives to this, such as standing them up in frames on windowsills or side tables. As well as hanging strips or adhesive hooks, these do the same job as nailing into the wall but without causing any damage, as they can be easily removed.
No matter how you choose to express yourself through your decor, adding a few staple pieces that fill you with joy will help to transform the house into a home.
The Energy-Efficiency Advantages of Vinyl Window Replacement

Windows are more than just portals to the outside world; they play a significant role in determining the comfort and energy efficiency of your home. If you're looking to improve your home's energy efficiency, consider the advantages of vinyl window replacement. In this article, we'll... The post The Energy-Efficiency Advantages of Vinyl Window Replacement appeared […]