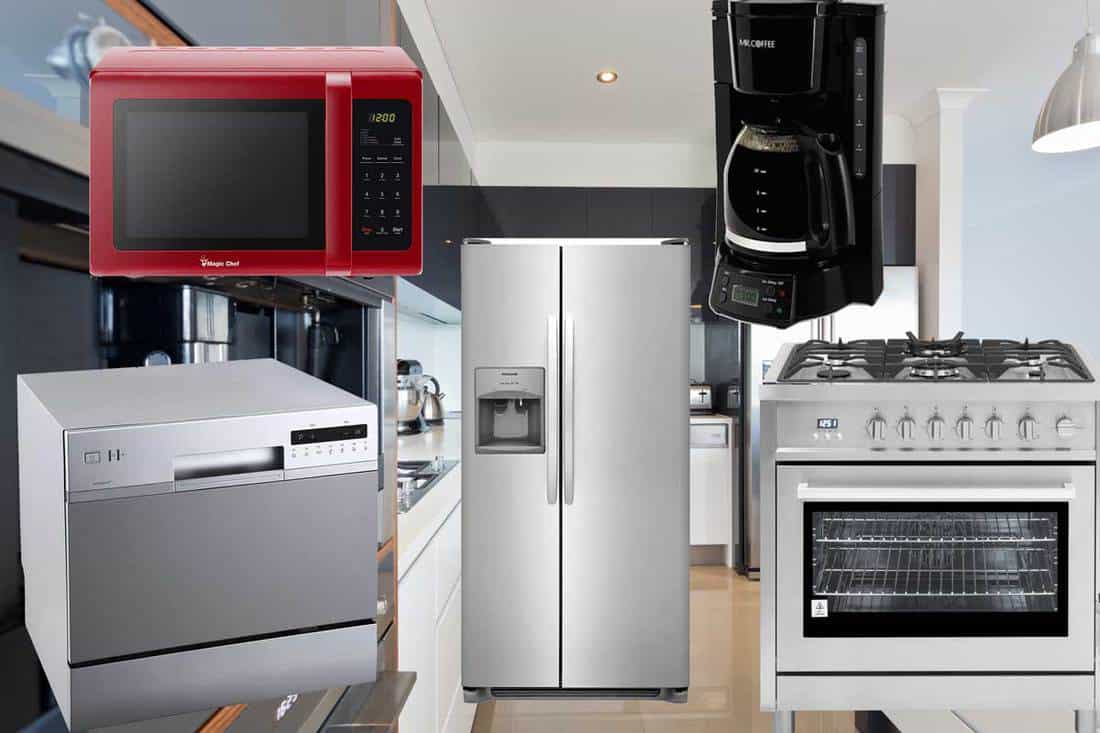 Your kitchen is one of the essential parts of your home, but it can quickly turn into a space you do not enjoy being in. Kitchen chores have been made so much easier due to the many innovations in appliances. Read reviews here and get some of the most commonly used and needed equipment when cooking and cleaning.
Coffee Maker
A coffee maker is the most needed kitchen appliance for those that love it and need it to kick start the day. There is an art and science to making your cup of this miracle morning b\oost. Creating the perfect cup of coffee takes time, patience, and the right tools.
Coffee makers come in all shapes and sizes. There are electric drip coffee makers, percolators, French presses, and more, and each has its pros and cons. Your taste and preference should guide the type you choose.
Microwave Oven
Microwave ovens are essential in every household because it makes it easier and faster to warm food and beverage. You could heat the leftovers, tea, or coffee, melt chocolate, defrost food, and much more in minutes.
The best microwaves should have the following features:
A digital screen with a clock display
An easy-to-use control panel
A timer for keeping track of cooking time (some models even have an automatic shutoff function)
Blender
A blender is one of the pieces of equipment that will come in handy in so many ways once you introduce it in your kitchen. Besides helping you improve your recipes, it makes it easier and faster. It is the tool you need if you enjoy making smoothies, soups, and sauces. You can also use some for grinding coffee beans.
As a mum, you have half the time and more work to do. Blenders are a lifesaver when making baby food, especially when weaning.
The best blender should be easy to operate, clean, and large enough to make plenty of food for your baby or the entire family. A good blender will also have robust features, i.e., the motor that allows you to blend different foods without clumping up or breaking.
Air Fryer
Air fryers are a great way to cook healthier food for you and your family. You may also use them to make delicious desserts for sweet tooths.
Air fryers use less oil than traditional deep fryers and don't require you to use cooking oil at all. You can use them to make fries, chicken wings, fish, and even cake. It's a great way to prepare foods, usually fried in oil. It also makes you make crispy foods without adding calories or fat.
The best air fryers have adjustable temperature settings and a timer to control how long your food is exposed to high heat. A digital display is also helpful but optional.
Food Processor
You prefer to spend less time in the kitchen but want to take care of your family, right? A food processor is a must-have in your kitchen. It's a multi-functional kitchen appliance that can chop, knead and blend foods. They're great for making dough and slicing vegetables, especially when making sauces and juice.
Some models are designed for general use, while others are for specific tasks. Look for a multipurpose food processor that can handle all ingredients and functions. Consider one with at least two or three blades, including an S-shaped and a chopping blade. Make sure it comes with a wide feed tube to ensure easy feeding of large items like whole potatoes or hard cheese rinds; this will also help prevent clogging.
Dishwasher
Do you like hosting, or do you have a vast family resulting in a massive pile of dishes in a blink of an eye? A dishwasher is one of the most valuable appliances you should have in your kitchen. It keeps dirty dishes out of sight and saves you time and money since you don't have to wash as many words by hand.
However, buying a dishwasher can only be suitable if you're careful. Here are some tips for buying a dishwasher to get the most bang for your buck:
Look at Energy Use
Type of cycle
Check Appliance Reviews
Consider the Noise level
A Pressure Cooker
You can make the cooking process much shorter by getting yourself a pressure cooker. It can also be used as a rice cooker, steamer, or slow cooker.
There are many different types of pressure cookers on the market today. The first step in choosing a pressure cooker is determining the size of the pot you need and the kind of food you plan on cooking. For the best results, get one with the following three safety features:
An overpressure release valve
An automatic temperature regulator
A gasket-sealed lid with locking rings on each side
Be Careful With Your Choice
Many kitchen appliances can make cooking and cleaning more enjoyable, but some are just a waste of money. The most needed kitchen appliances for your home help you quickly prepare meals and other chores. Purchase those that you need and will use.
Are Marble Kitchen Countertops a Good Idea?

When it comes to kitchen countertops, nothing exudes elegance quite like marble. Its natural beauty and timeless appeal have made it a popular choice among homeowners. But is it a good idea to have marble countertops in your kitchen? Let's explore the advantages and disadvantages.... The post Are Marble Kitchen Countertops a Good Idea? appeared […]