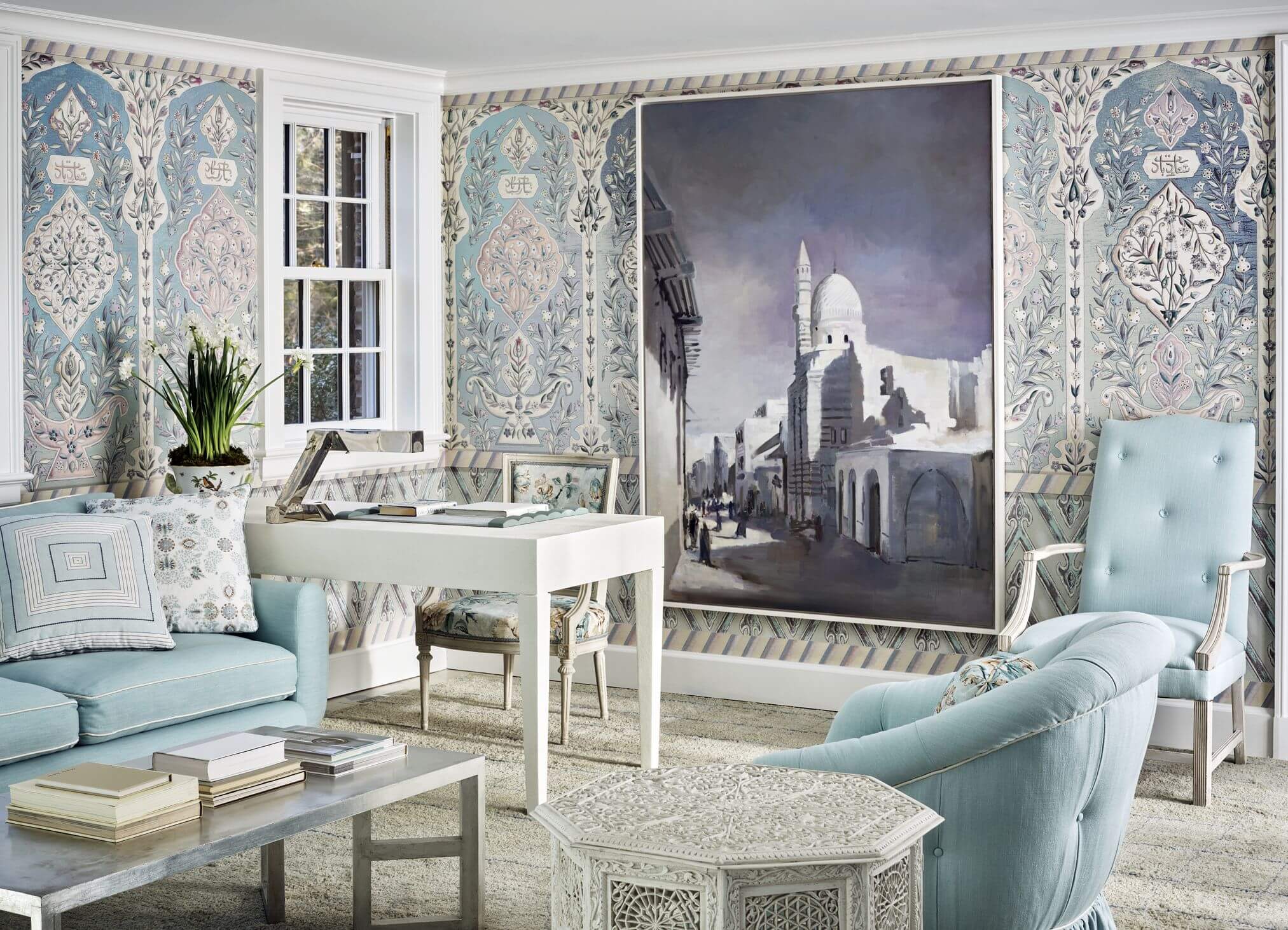 Whether you're looking to transform a bedroom or a living room, adding wallpaper to your home decor can be a great way to create an inviting atmosphere. It also adds depth to the room and can be a fun and easy way to bring your design style to life.
Choosing the right wallpaper for your home can be a daunting task. But, with the right tips and tricks, you will be able to make the right decision for your space.
Wallpaper Gives A Room Depth And Color
Using wallpaper in a room can bring depth and color to the space. However, it is important to choose the right design and pattern.
A well-made pattern can hide flaws in your wall and create a cohesive look. It can also make a room appear larger or smaller.
A subtle wallpaper can add warmth to your space, while a bolder pattern can make a room feel bigger.
Lighter shades of colors can also make a room appear open and airy. On the other hand, a dark color can close a room.
Things To Remember While Choosing A Wall Paper
Complimenting your furniture:
When choosing wallpaper, remember that it should complement the furniture, accessories, and lighting in the room. You should also consider the layout and dimensions of the room. It is a good idea to order samples of the wallpaper before making a purchase.
Add midcentury designs:
A midcentury modern design can be amazing. It features classic prints in cool colors and geometric patterns. Choosing a design that mimics marble or wood is a great way to achieve this contemporary look.
Use metallic wallpaper:
Metallic wallpaper adds a layer of texture to the room. It also reflects light and bounces it around the space. This can be an ideal choice for a room with poor natural lighting.
Get animal prints:
A popular fashion trend in wallpaper is animal prints. Grasscloth is a great choice for a home office accent wall or above wainscoting. It can also be a beautiful addition to a dining room.
Wallpaper is also meant to be a sublime piece of art they can tell great stories or depict picturesque art if you want it to represent the same. You can look for the Scandinavian art theme wallpaper that captures the picturesque art of Nordic nature. To avail of varied options, you can check out and choose from multiple options of scandinavian wallpaper by Scenolia.
Geometric Wallpaper Creates A Sense Of Continuous Space
Whether you're looking to add a pop of color or to add a bold focal point to your walls, geometric wallpaper is an easy way to create a new look in your home. Not only does it come in a wide variety of colors, styles, and patterns, but it also gives the impression of a continuous space. Depending on the size of your room, you can choose a design with vertical or horizontal elements. The latter will create a sense of height in your room, making it ideal for smaller spaces.
Similarly, if your ceilings are low, you can still use oversized stripes to make the space feel higher. On the other hand, if your ceilings are high, you can use non-traditional stripes to create a layered effect.
For a more minimalistic style, you can choose simple geometric patterns. This type of pattern consists of squares and triangles arranged in blocks. The effect is both interesting and serene.
Textured Wallpaper
Choosing the right texture wallpaper for a home can be difficult, but there are many different choices. Whether you want to make your room look like it's a cave or has a more contemporary style, there's textured wallpaper to suit your needs.
They elevate the interior designs:
Having textured wallpaper on your walls is one of the easiest and most effective ways to elevate your interior design on a budget. You don't have to cover the entire wall with it and can easily use it to accent an accent wall or around the door. It's also an excellent way to create a focal point in a room without having to buy expensive furniture.
Can disguise stains and imperfections on the wall:
The right textured wallpaper can elevate the look of any room. It can disguise stains and imperfections on the wall and can make a room appear larger and warmer. However, textured wallpaper can be difficult to install and remove, so it's important to choose a high-quality product.
Get a peel-and-stick:
If you're looking to cover your textured walls, consider getting peel-and-stick textured wallpaper. This type of wallpaper has a self-adhesive backing and requires no glue or pasting. It is also easy to change and remove.
Test a sample:
It's important to test a sample of a textured wallpaper to see if it will work on your walls before you purchase. It can be difficult to find a wallpaper that will stick to all surfaces, and a small test patch will help you decide.
It's A Great Way To Line Your Kitchen Drawers
Using wallpaper as drawer liners is a great way to give your furniture a unique look. It is also a good way to keep spills and crumbs from getting on the surface of the drawer. However, be sure to keep in mind that wallpaper is not designed to be washed.
To begin lining your drawers, you will need to cut the paper to fit. You will need to measure the length, width, and depth of the drawers. You may use a ruler or quilting ruler to help with measuring. Make sure to measure left to right, and from the bottom of the drawer to the top.
Once the paper has been cut, you should lay it down at the bottom of the drawer. Then you will need to fold it over the side and back edge of the drawer. Then you can use a rag to smooth out any creases or bubbles.
For a more finished look, you can apply liquid starch to the bottom of the drawer. Once the paper has been secured, you can tack the sides in place. This will prevent the paper from sliding. You can also track the tops in place.
Conclusion
The wallpaper must be integrated into home decor in such a curated way that they seem to be complementing each other rather than contrast,it can be done by integrating of ideas and colors careful to carefully create a story.
Are Marble Kitchen Countertops a Good Idea?

When it comes to kitchen countertops, nothing exudes elegance quite like marble. Its natural beauty and timeless appeal have made it a popular choice among homeowners. But is it a good idea to have marble countertops in your kitchen? Let's explore the advantages and disadvantages.... The post Are Marble Kitchen Countertops a Good Idea? appeared […]