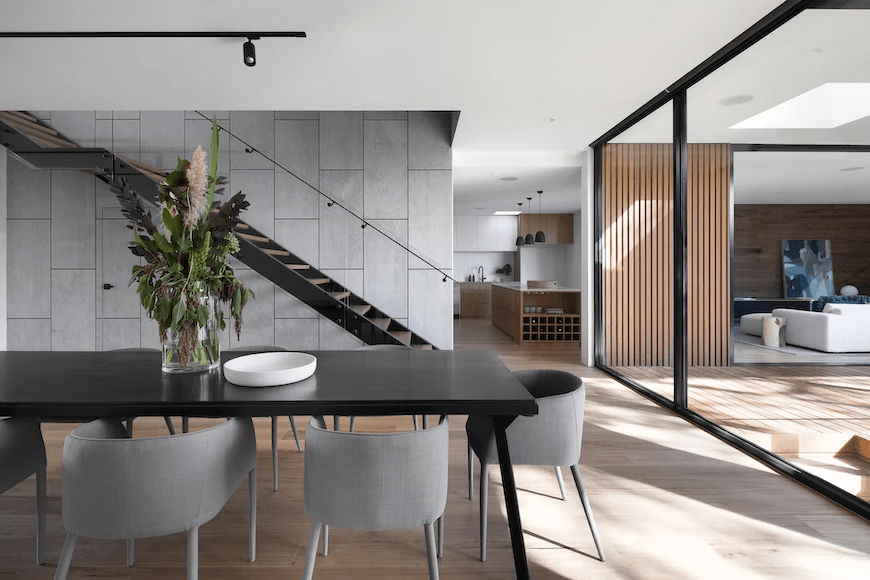 Modern elegance gives the right interior design ideas for individuals who want beauty and sophistication to be the focal point of their homes. Enhancing a space's luxury factor and establishing a comfortable atmosphere require modern, elegant home interior design. It is distinguished by a subtle, visually pleasant interior design that exudes a sleek and stylish vibe. This kind of atmosphere is created by combining various elements, from the flooring to the decor, contributing to the space's harmony and stunning appearance.
Simple elegance is what most homeowners aim for to give their spaces a high-end look. For a design to possess a distinctly formal look, symmetrical components and shiny accents are typically used. Fortunately, creating elegant interiors is not difficult when colour and detail are carefully considered. The result is a decorative style that is both traditional and luxurious.
Elegance stands for the union of aesthetics and utility. It is a style without frills. It chooses quality over quantity, such as luxury lampshades that give the home a classy but cosy feel. Here are some helpful home decorating tips to make your home more elegant.
Rethink your current colour scheme
An elegant home is known for its calming and delicate colours. A luxurious interior is all about using the simplest shades that complement each other, compared to loud and flashy hues. You can incorporate many colour palettes into any area of your house, including creamy white tones and more mysterious neutrals. Depending on what appeals to you, you can choose a dual tone that is either opposing or complementary. It is also best to carry on with simple and calming colours on your furniture and other decorative pieces to create a room that breathes elegance and beauty. The colour scheme of your home's interior is essential in giving it an elegant appearance.
Incorporate luxurious fabrics into your design
Use luxurious textiles. High-end fabrics in rich colours added to a room immediately give it a more opulent feel. Cover a bed with a beautiful damask comforter to make it look classier. Add velvet pillows for an extra touch of elegance. Place a faux fur throw over a chair in the living room to give your home more glitz. Choose your furniture wisely, preferably soft leather that is both stylish and comfortable. You can achieve an elegant look and feel by accentuating a dining room table with a delicately embroidered tablecloth and a vase of colourful blooms.
Take advantage of natural lighting
A dark, cramped space is everything that luxury is not. Therefore, windows should be made so natural light can find its way inside. You can also include mirrors to decorate and reflect light. For instance, a large, decorative mirror will stand out and reflect the light inside your house. Go for mirrors with interesting frames and a touch of sparkle.
Finally, remember that cluttered spaces can ruin even the best interior designs. Ensure there aren't any untidy nooks or piles of clothing, books, or documents scattered around the rooms. Instead, provide each object in your home a place of its own to maintain organisation.
Homeowners Guide to Black Mold Removal in Toronto

Learning that you may need black mold removal can be outright scary for many homeowners. Black mold is also known as toxic mold, which has been portrayed in the media as a threat to people, animals, and children. The truth about black mold is a... The post Homeowners Guide to Black Mold Removal in Toronto […]