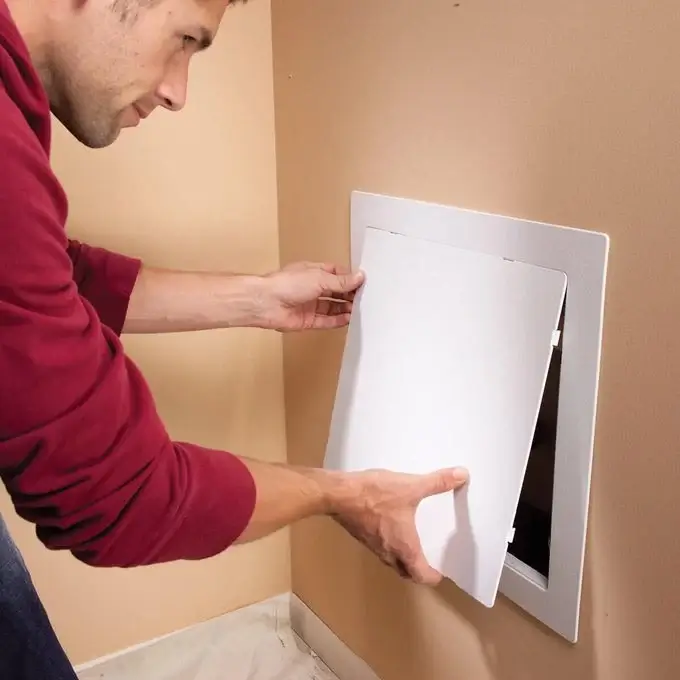 Depending on their applications and usage, heavy-duty access doors' purpose is to withstand severe weather conditions and protect the building's components and HVAC and plumbing systems. These access doors sometimes receive wheel loads or preserve the building's room from air and water leakage.
Thus, civil engineers and residential, industrial, and commercial contractors must ensure that the heavy-duty access doors are installed correctly for maximum function. Here's a quick guide to installing heavy-duty access doors.
How to Choose the Right Access Door
There are more than fifty models of access doors available in the market, so you need to carefully select which access panel you will buy since there are specific access doors that best fit your project.
For example, a general-purpose access door and panel are not ideal for laboratories and operating rooms that need air and water-tight. It would be best to have an access door with features perfect for laboratories and operating rooms for the best results.
Here are the essential things to consider when choosing the access door.
Function
Are you installing an access door to hide your building components simply? Or do you need heavy-duty access doors with large openings for exterior applications?
It is best to know the type of access door to use along with its features and benefits to ensure that it will serve its purpose for years. Thus, if you are looking for an access door for ductwork, choose the duct access door or a roof hatch designed for people to access your roof quickly.
Selecting the best access doors for your projects helps you save money over time, as most access doors are steel-made and are known to be durable, which means they will not deteriorate quickly.
Material
The material of the access door also plays a vital role in your residential or commercial projects, with its different materials. Some are aluminum-made, steel, or even plastic, each having an advantage when applied on a suitable surface.
Aluminum-Made Access Doors
Select aluminum access doors if you are looking for economical, lightweight, and typical access panels that can hide your cable wires or provide access to an additional storage area.
One of the best benefits of installing an aluminum-made access door is that it can prevent mold and mildew buildup, a health hazard that might critically affect the occupants. Thus, choose the aluminum-made access doors to protect the wirings and the people inside the building without spending more.
Stainless Steel Access Doors
Stainless steel access doors are ideal for indoor and outdoor applications, especially in areas mainly exposed to salt spray. So, if your building is in the beach area or near to it and at the same time you are protecting your building's vital systems both from extreme temperature and salt residues, select the stainless-steel access doors.
They are durable enough for outdoor installation and can withstand extreme temperatures. It makes them an excellent access panel when installed near heat-generating equipment like your generators and HVAC systems.
Galvanized Steel Access Doors
Galvanized steel access doors are primarily impact-rated, guaranteeing that your safe and other essential components are well-protected as they will not corrode and are weather-resistant.
The durability of the galvanized steel access doors has a proven track of not easily getting warped. They are also known for their longevity, which typically surpasses at least ten years.
Size
Size is another factor you must consider when choosing an access door as they come in different sizes, which can also be tailored-fit to your project's needs. Some sizes are ideal for the wirings behind the wall, and others function as the best access doors for moving heavy-duty equipment from inside the building to the rooftop.
Also, you must be careful in choosing the sizes, as the access door's frame must perfectly fit the surface's cut.
Now that you have a quick overview of what to consider when installing an access door, you must learn the standard access door options that most commercial contractors and building owners prefer.
3 Most Common Types of Access Door
The access door's design and features depend on its functions and purpose. Here are some commonly used types you might need to install in your building.
Drywall Access Doors
The drywall access doors are the most basic ones you can install in your building. It is ideal for drywall installation and provides easy access to wires, pipes, and vent systems just behind the wall.
Fire-rated access doors
If you need a fire-rated access door to match your fire-rated walls and ceilings, you can select the NFPA-approved fire-rated access doors. These access doors' primary function is to prevent fire spread for a specific period. Depending on the burning materials surrounding the access panel, they can withstand heat, smoke, and fire for up to three hours.
Security Access Doors
Jails, prisons, correctional facilities, behavioral units, and other medium and high-security facilities need extra security. These facilities need heavy-duty access panels with durable and tamper-proof locks to prevent unauthorized access to the facilities' important components and avoid forced entry to the building's safes.
How to Install Heavy-Duty Access Door
All types of access doors might have different functions and differ in size and design, as some have a flange, or they might be recessed or trimmed less. However, regardless of their various features, these access doors' installation process is almost similar to each other – the measurements must be well-calculated, precise, and thorough.
Additionally, it would be best if will remember the different types of access door installation surfaces, as you might need additional tools to successfully install the access doors on the floors, walls, or ceilings.
Basic Installation Materials that You Need
Safety goggles
Saw or utility knife
Sandpaper
Set Square
Electric Screwdriver
Pencil
Tape measurer
Access door and panel
Installation guide
Steps on Properly Installing the Access Door
1. Depending on the type of access door and panel you have selected, you must follow the general requirements of each access door. If it is fire-rated, you must have the list the NFPA or your local community provides for installing fire-rated access doors.
2. Granting that you already have an ideal area where you want to install the access door, hold up the access door to the wall and trace the site or the access door's perimeter with the pencil.
3. Using the drywall saw or knife, cut the drywall in increments to ensure the open space's measurement is precise.
4. Now that you have the correct opening size, use the drywall installation guide that comes with the package to install the type of access panel that you have correctly.
5. Fit the door inside the frame.
6. In some models, you must put glue around the frame or screw the access panel from behind the wall.
7. For a finishing touch, you may blend the access door to your wall or ceiling by painting it with the exact wall color of your interior.
Installing heavy-duty access doors may sound complex, but with the suitable access door, materials, and building contractor, you will surely enjoy all the benefits of an access door.
Lowe's and Home Depot can assist you with your construction needs by helping you coordinate with the best contractors and vendors in your area for your home renovation or commercial construction projects.
Are Marble Kitchen Countertops a Good Idea?

When it comes to kitchen countertops, nothing exudes elegance quite like marble. Its natural beauty and timeless appeal have made it a popular choice among homeowners. But is it a good idea to have marble countertops in your kitchen? Let's explore the advantages and disadvantages.... The post Are Marble Kitchen Countertops a Good Idea? appeared […]