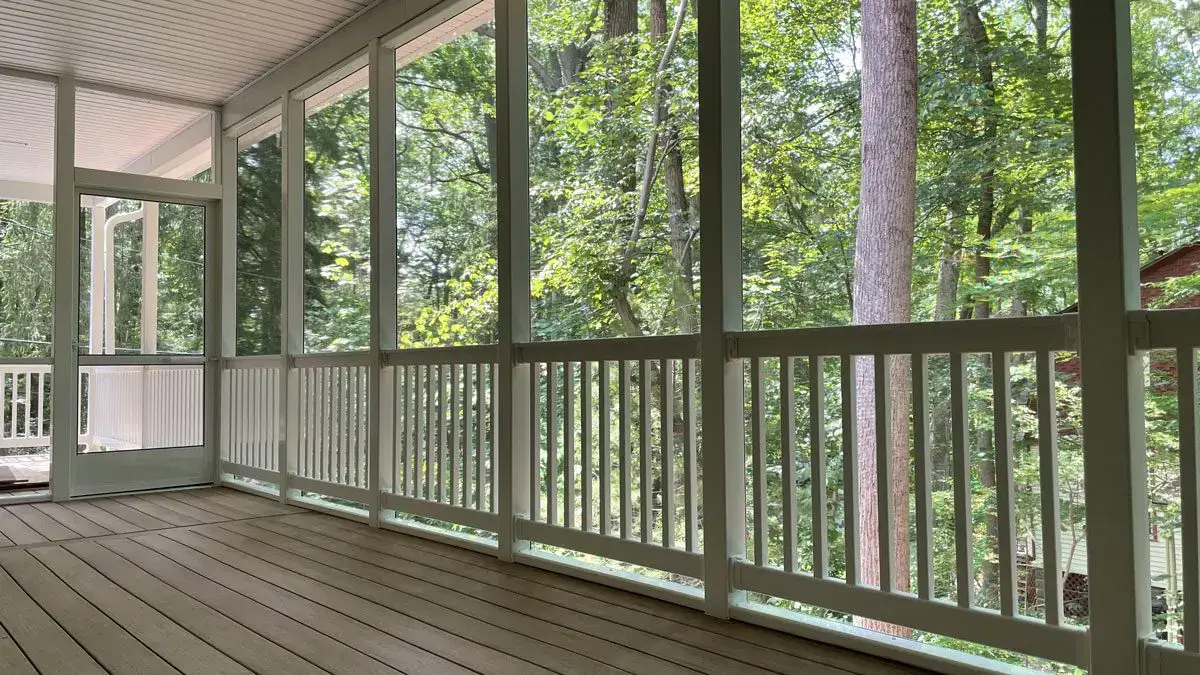 Remodeling your porch can be an expensive proposition. Depending on the size of your outdoor space and your ambition, the project can eat away a significant chunk of your remodeling budget. However, you don't necessarily have to spend much money to make an impression. Even more affordable interventions can improve your property's curb appeal and increase its resell value.
Your porch extends your living space and sets the tone for your entire design narrative. It provides an outlet where you can materialize your sense of style and an outdoor space where your family can spend time together.
Porch décor is one of the few ways people can customize their new homes and make them stand out from the rest of the community. So how do we achieve attractive design when remodeling the front?
According to Home Advisor, adding a front porch will cost between $4000 and $11,000, but the return on investment will be around 84%.
Set the color palate
Depending on your overall design narrative, and the architecture of the exterior, you can choose earthy or vibrant colors that contrast or complement one another.
Many homeowners are obsessed with the floor, yet few remember to take care of the ceiling. However, the ceiling covers a large, equally visible surface area, especially seated.
Choose quality wood paint, and ask your local depot how to protect the material with another layer of coating. Your location will dictate the level of protection, and you should also give the roof a brief inspection.
Install a ceiling fan
Details can transform any surface, so make sure to add something to the ceiling. An empty ceiling can be enough on its own when decorated with visible beams. Still, otherwise, it may look bland.
Fans, on the one hand, can provide perfect décor. On the other, they offer unmatched convenience by maintaining a steady breeze during the hot summer months. After all, the purpose of a porch is to provide comfort. Sure, it improves your curb appeal significantly, but great design is always pragmatic.
Pay attention to the entire scene.
Remember that your front door is part of your porch. With this in mind, it is wise to reconsider your overall design narrative. The front of your home should paint a perfect scene.
The easiest way would be to add décor on both sides of your entrance, in the form of plants and lanterns. For an added touch, you can repaint the front door, replace the frame, or refresh the paint of your entire front section.
Even small decorative items such as house numbers, door handles, and rugs can significantly affect the scene, so don't be afraid to experiment with highlights.
Think vertically
An attractive porch should leverage vertical space. To give you an idea, think about indoor living areas and try to replicate the concept. The more levels you are decorating on, the better.
Ideally, you'll add furniture, plants, curtains, and ceiling fans and cover your entire vertical space with accompanying décor.
Many homeowners draw the eye up by installing hanging planters. Similarly, they add curtains to emphasize different porch sections, create private space, and introduce a relaxing atmosphere.
Decorate the area in front of your porch
The path leading to your porch can complement the overall design narrative with some carefully chosen detail. A small feat of landscaping can go a long way towards improving the curb appeal of your property and, with it, its resell value.
If you are hesitant about planting, choose a single variety, space the plants away from one another, and invest in quality gravel. Contrasting colors make for a luxurious feel, so consider darker tones combined with vibrant green plants.
Create a designated seating area
To make the porch look like an extension of your living space, you must consider furniture. For many homeowners, adding upholstered chairs is a bit extreme. But get this: your furniture doesn't have to be a large set. You can certainly get away with two wooden chairs and a small table, as long as they convey the idea of a designated seating area.
Adding plants, pillows, blankets, and perhaps a tiny rug can solidify this design concept further, making your porch cozy and attractive.
After all, if you want to remodel your porch to increase the resell value of your property, it should be just space from one side to the other.
Update your lighting
Many homeowners would decorate their porch without worrying about how it looks during the evening. However, experienced designers would consider both sides of the coin.
Busy owners would likely spend time outside after completing their daily chores, so proper lighting is essential. Not only is it practical and enhances your living space, but it also improves the curb appeal whenever someone drives by your home.
How to Find a Good Locksmith in Germantown, MD | Tips You Need to Know

Choosing the wrong locksmiths in Germantown could put you and your family at risk. This is why you shouldn't just choose the first 24-hour locksmith you find. Whether you need to install a new high-security system or change a broken lock, ensuring your service provider... The post How to Find a Good Locksmith in Germantown, […]