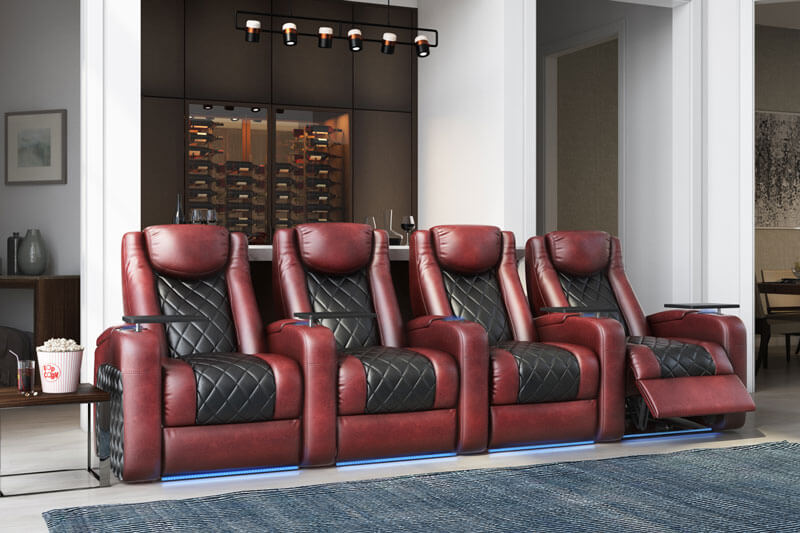 In the evolving digital age, home theatres are rapidly becoming a must-have in every contemporary household. A core element that significantly enhances your home cinema experience is comfortable seating. Customized cuddle sofas are at the forefront of this evolution with their unique blend of luxury, comfort, and style. Dive into the latest trends in a cuddle couch for home theatre seating and discover how they can transform your movie nights into immersive, cinema-like experiences.
Cuddle Sofas: Redefining Comfort
Cuddle sofas, also known as snuggle seats or love seats, offer a cozy and intimate alternative to traditional home theatre seating. They bring comfort to a new level, providing ample space to stretch out and snuggle up while enjoying your favourite films or TV series. Now, more than ever, homeowners are investing in these luxurious furniture pieces, customizing them to match their unique aesthetics and preferences.
Latest Trends in Customized Cuddle Sofas
Integrated Technology
As we lean towards smart homes, cuddle sofas have followed suit. Manufacturers are now incorporating technology like USB ports, built-in speakers, and wireless charging pads into their designs. Enjoy a clutter-free experience with these innovative additions while keeping your devices charged and ready.
Tailored Fabric and Material Choices
From plush velvet to rugged leather, the choice of material plays a crucial role in your cuddle sofa's overall aesthetic and comfort. Recent trends see a surge in demand for high-quality, sustainable fabrics that are both durable and easy to clean.
Personalized Color Schemes
While classic neutrals like gray, black, and beige are timeless, incorporating bold and vibrant hues is on the rise. Whether you want to match your home theatre's colour scheme or add a pop of colour, customized cuddle sofas offer a broad spectrum of colour options.
Adjustable Features
For the ultimate in personalized comfort, adjustable features such as power recliners, headrests, and footrests are becoming increasingly popular. These options allow everyone to find their perfect comfort spot, providing an unparalleled viewing experience.
Enhance Your Home Theater with a Cuddle Sofa
The right seating can make or break your home theatre experience. A customized cuddle couch can add an element of luxury, comfort, and style that will truly elevate your home cinema.
Space-Saving Designs
Modern cuddle sofas come in space-saving designs that fit any room size without compromising comfort. Some models even offer additional storage options, a welcome addition for those who love a tidy and clutter-free environment.
Sound Absorption
Did you know that your seating choice can impact the sound quality in your home theatre? Fabric cuddle sofas are excellent at absorbing sounds, helping to minimize echo and providing a more immersive audio experience.
Easy Maintenance
With easy-to-clean fabrics and materials, keeping your cuddle sofa in pristine condition is a breeze. Some models even feature removable and washable covers, ensuring your seating stays fresh and inviting.
A Deep Dive into Customization Options
Customization is the essence of any trend. With the rise of individual preferences and unique aesthetics, customizing cuddle sofas for home theatres has become a standard, not an exception.
Modular Design
One of the growing trends in cuddle sofas is the modular design. This trend lets you arrange and rearrange sofa sections to match your requirements or the room's layout. It gives you the flexibility to adjust seating as per the number of people or the mood of the gathering, offering a practical yet stylish solution to seating dilemmas.
LED Lighting
Imagine settling down for a movie night and the lights in your cuddle sofa slowly illuminating to set the perfect ambiance. Built-in LED lighting, with customizable colours and brightness, is becoming increasingly popular for an enhanced and cinematic home theatre experience.
Heating and Massage Features
As luxury meets technology, more homeowners are looking for cuddle sofas that offer features beyond comfort. Heated seats and massage features are becoming a hit in the market, providing relaxation and therapeutic benefits while you indulge in your favourite content.
The Green Trend in Customized Cuddle Sofas
The world is leaning towards sustainable solutions, and the furniture industry is no different. Eco-friendly options for cuddle sofas are the latest trend, offering an ideal choice for those conscious of their environmental footprint.
Sustainable Materials
Whether it's the fabric or the fillings, there's a surge in demand for ethically sourced materials with minimal environmental impact. Organic cotton, hemp, and recycled materials are becoming more common as upholstery options.
Low-Emission Manufacturing
Companies are focusing on low-emission manufacturing processes to reduce the environmental impact of their products. It's a trend encouraging the industry to rethink its practices and push for greener alternatives.
The Final Take
There's no denying that customized cuddle sofas are revolutionizing the concept of home theatres. They're redefining luxury, comfort, and style while integrating smart technology and sustainable practices. As this trend evolves, you can look forward to more innovative features and designs that redefine your movie-watching experience.
Discover the joy of a personalized, cozy, and intimate home theatre experience with a cuddle sofa. It's not just about watching a movie; it's about embracing a luxurious lifestyle within your home. With these latest trends in customized cuddle sofas, you're set to create a cinematic experience that's truly your own.
Benefits of a Moving Company

Moving can be an exciting yet daunting task, and if you've ever relocated to a new home or office, you know that it involves more than just packing your belongings into boxes. It's a process that requires careful planning, organization, and physical effort. This is... The post Benefits of a Moving Company appeared first on […]