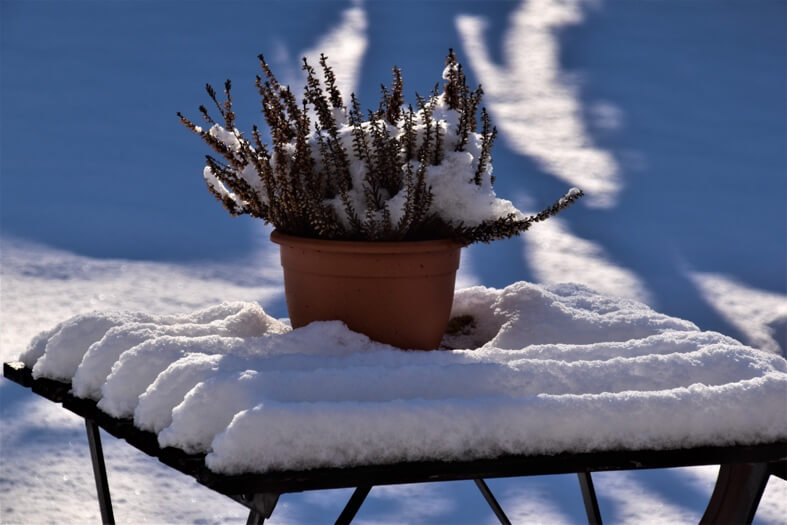 One of the best ways to make more of your garden during colder months is by creating outdoor seating. You may be under the impression that outdoor seating is only beneficial during the spring and summer, but there are a variety of methods that will allow you to continue to enjoy your outdoor space whilst keeping warm. In this article, we will outline a series of top tips and techniques for you to make the best of your outdoor seating this winter. Let's take a look…
Materials
Choosing what material to use for outdoor seating very much depends on the aesthetic you are trying to achieve in your garden space. Wrought iron for example in an incredibly stylish solution and is long lasting if treated properly with anti-rust solution. Adorning wrought iron chairs with hydrophobic cushions and other furnishings can make them a perfectly comfortable outdoor seating option.
Similarly, rattan weave chairs are increasingly popular, coming in a series of different colours and tones. More neutral toned rattan chairs can be effectively paired with other items and spaces in your garden, such as patio slabs, vibrant, colourful planting themes, or composite decking.
Fire pits
Whatever material you choose for your furniture, having your outdoor seating surrounding a fire pit is a great way to encourage you to spend more time in your garden during the winter. Fire pits and terracotta chimeras are a natural, relatively cheap way for you to keep warm during the colder seasons, and to create a space to entertain guests.
As well as keeping you and your guests cosy, a well-designed fire pit can serve an aesthetic purpose as well as a functional one. As your garden can appear empty and barren during the winter, creating a stylish focal point with a fire pit can make your garden appear more attractive, helping to maintain a considered, cultivated design when your planting themes are out of season.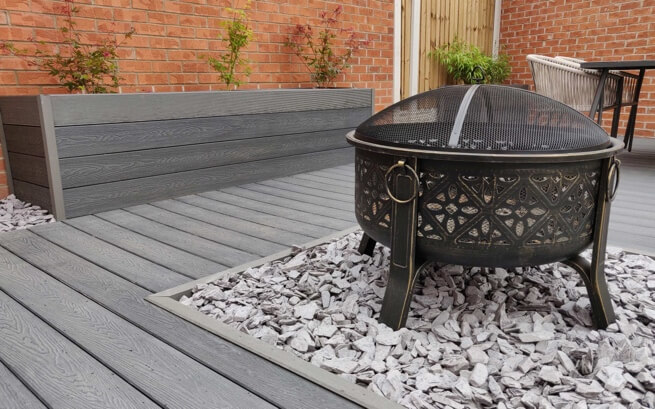 Patio heaters
If you do not want the hassle of building and stoking a fire, you may instead want to invest in overhead patio heaters. These can be activated by a simple switch attached to your wall, basking both yourself and any visitors in a cosy, inviting warm glow.
Like hand dryers and digital signage in commercial applications, patio heaters are already incredibly popular, such as outdoor seating areas in pubs and restaurants. Most patio heaters operate on a timer, helping you to preserve energy and switch them off when you are warm enough. Pairing heaters with outdoor lighting, you can enjoy an outdoor seating area well into the night.
Outdoor rooms
Should your budget allow for it, you may want to invest in creating an outdoor room for your garden space to create a more enclosed seating area. However, this does not need to be a complete building, and instead can be a simple shelter, such as a garden shed, gazebo or pergola.
If you do decide you wanted a more permanent outdoor room, you may choose to build a small studio, a perfect place to retreat to and relax in. Composite cladding is a perfect material to protect the exterior of an outdoor area, helping to preserve the integrity of the building against weathering, mould, and rot.
Zoning
Making individual garden zones has been a popular method for making a garden space feel larger. Creating an attractive, well-designed space for your outdoor seating may incentivise you to make more use of it in the winter.
Using composite decking as the flooring to your garden seating is a create way to combat the negative effects of the winter, as it is easy to clean and is slip resistant, as opposed to patios and timber decking, which can become mossy and incredibly slippery during the colder months of the year.
To conclude, there are many interesting ways to create outdoor seating in your garden space for the winter months, from fire pits, signage, heaters, lighting, outdoor rooms to choosing the material of the seating itself. Making an outdoor seating area that will combat the more negative effects of the winter, like the long nights and biting cold, can help you to make more use out of your garden even in these colder months. With such a wide variety of themes and ideas to choose from, we hope this article has given you lots of practical inspiration for your own outdoor seating project.
Benefits of a Moving Company

Moving can be an exciting yet daunting task, and if you've ever relocated to a new home or office, you know that it involves more than just packing your belongings into boxes. It's a process that requires careful planning, organization, and physical effort. This is... The post Benefits of a Moving Company appeared first on […]