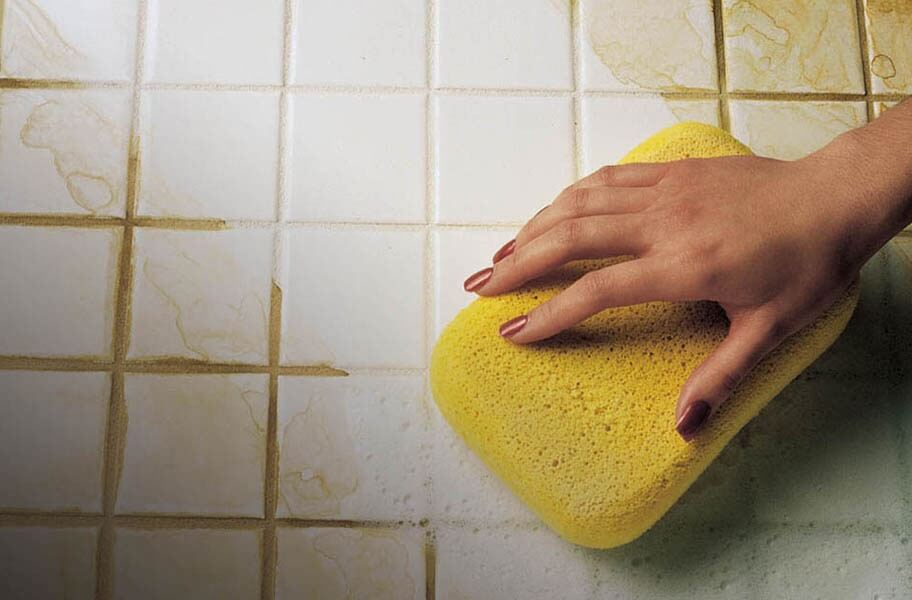 Dirty floors are not the most appealing things to look at in this world. But what's worse is tile floors with grout.
Not only is it a hygiene problem, but tiles with grout are health concerns. Many people don't pay enough attention. Hence years of grout get built. Yet, people complain about why their floors look dirty even though they clean often.
Well, your sorrows end here. Because we are here with the best way to clean tile floors and grout. By following our steps correctly, your tile floors will look as the first time you stepped on them. What's better is they don't take much time either.
Let's jump right into it.
Key Takeaways:
Professionals use chemicals such as stain cleaners to clean grout.
Tiles need to be cleaned properly before cleaning grout.
Bleach harms grout.
You can use a drill to speed up the scrubbing process.
How Do Professionals Clean Tile and Grout?
Professionals use chemicals along with some other components to clean tile and grout. Don't worry. You don't have to hire a cleaning crew to solve your grouting problem. But then again, it's their job for a reason. Mastermaid is a great professional cleaning service provider that we took inspiration from.
You can get similar results as professional tile and grout cleaning with the things you have at home.
Things You Will Need:
Bristled brush
Vacuum or broom
Microfiber cloth
Stain remover
Bucket
Water
Now that we have the ground tools let's see how the job is done.
Step 1: Vacuuming the area
It's not rocket science; you must vacuum the dust off the cleaning area. Besides, what's the point in performing all the steps for your tile and grout to be shiny and clean if there's still dust in there?
Depending on your preference, you can use a broom or vacuum cleaner.
Step 2: Clean the tiles without any crumbs
Before cleaning the grout, we have to scrub the tiles first. It's like learning to walk before running. Use a microfiber cloth or mop instead of brushes and sponges.
Try cleaning your tiles without leaving any dirt for the best outcome. Scrub the tiles with a microfiber cloth, add some cleaning agent, and you're good. Check out our post on how to clean tile floors without leaving any residue for more details. If you follow our steps, they come out perfect every time.
Hey, if you're a perfectionist, you can steam clean your tile floors too. Brownie points if you do so.
Step 3: Brush grout lines
Use your bristled brush with stain remover and scrub the grout lines. Don't be too aggressive with it.
You can use a bristle brush with handles or none, whatever you like. Here's a hack that will save you so much time, attach your brush to a drill. The entire process will be fast-forwarded.
If your brush doesn't have an attachment availability, then you can get a cleaning kit brush. They're inexpensive but will be a lifeline while cleaning grout lines.
We also recommend using the OxiClean stain remover. They're fast acting, versatile, and go as low as $15.
Step 4: Wipe the floor
After you're done scrubbing, retake your microfiber cloth, and make sure it's wet. Wipe everything from the floor. Remember, don't be too gentle or too aggressive. Find the sweet spot.
Once you're done wiping, take a dry towel or cloth and just give a final wipe. You know, just to ensure the last bits of dirt and grout are gone. Repeat step 4 at least twice because we want everything to be clear and pristine.
Step 5: Let it dry
Set aside everything, and don't walk over the tile floor for half an hour. The more you give it time to dry, the better it is. Or you could just wait until you lose patience, like the rest of us.
Once the waiting time is over, your tile floor should look clean and clear. Look, the cleaning process has been done with materials you probably have lying around. It's definitely not going to look overdramatically clean.
If you want everything to be neat and clean, you will need to get some professionals to do it. There are some excellent cleaning services North York has to offer, you can hire professionals if you live around.
Can You Clean Grout on Tile Floors Without Scrubbing?
This depends on your definition of "grout cleaning." Because, in ours, it's a no-no.
You can't "clean" grout without scrubbing, but you can make them less visible with other methods. Here's how:
Vinegar solution: Spraying good ol' vinegar solution, a mixture of baking soda, lemon, warm water, and vinegar, will make the grout less significant. It's definitely not long-term.
Mold remover: Yes, it does work in removing grout. But it will need scrubbing, even the slightest bit.
Bleach: God, no. They will demolish your tiles' color. Bleach will discolor any places you pour it.
Hydrogen peroxide: Another budget-friendly option like vinegar, but you will need scrubbing. Lots of it.
As you can see, you can't clean grout without scrubbing. It's one of the staples of getting nasty stains out of your tiles.
Why Does Grout Come Out of Tiles?
This is a technical problem by the tiler. The addition of too much water in the grout mix causes the grout to come out of the tiles.
Sometimes, it also happens if there's a lot of movement in tiles. These are two of the main reasons why grouting fails.
That's why we recommend getting your grouts sealed as soon as the tiling is done. Grout sealers are not heftily priced and are a great investment. Unless you want to spend hours cleaning your growth every six months.
The job of grout sealers is to seal every pore and overall increase the life of your tiles. With grout seals, it's hard for bacteria to get inside. Hence, natural deterioration becomes hard.
Final Thoughts
The best way to clean tile floors and grout is by scrubbing with stain removers. Of course, you have to vacuum and clean the surface beforehand. Error while grouting during tiling is what causes the grout to come out.
Nevertheless, we have explained the process only in five steps. And shared tips on how you can save time and money. So, the next time your grout starts acting up, you know what to do.
Are Marble Kitchen Countertops a Good Idea?

When it comes to kitchen countertops, nothing exudes elegance quite like marble. Its natural beauty and timeless appeal have made it a popular choice among homeowners. But is it a good idea to have marble countertops in your kitchen? Let's explore the advantages and disadvantages.... The post Are Marble Kitchen Countertops a Good Idea? appeared […]