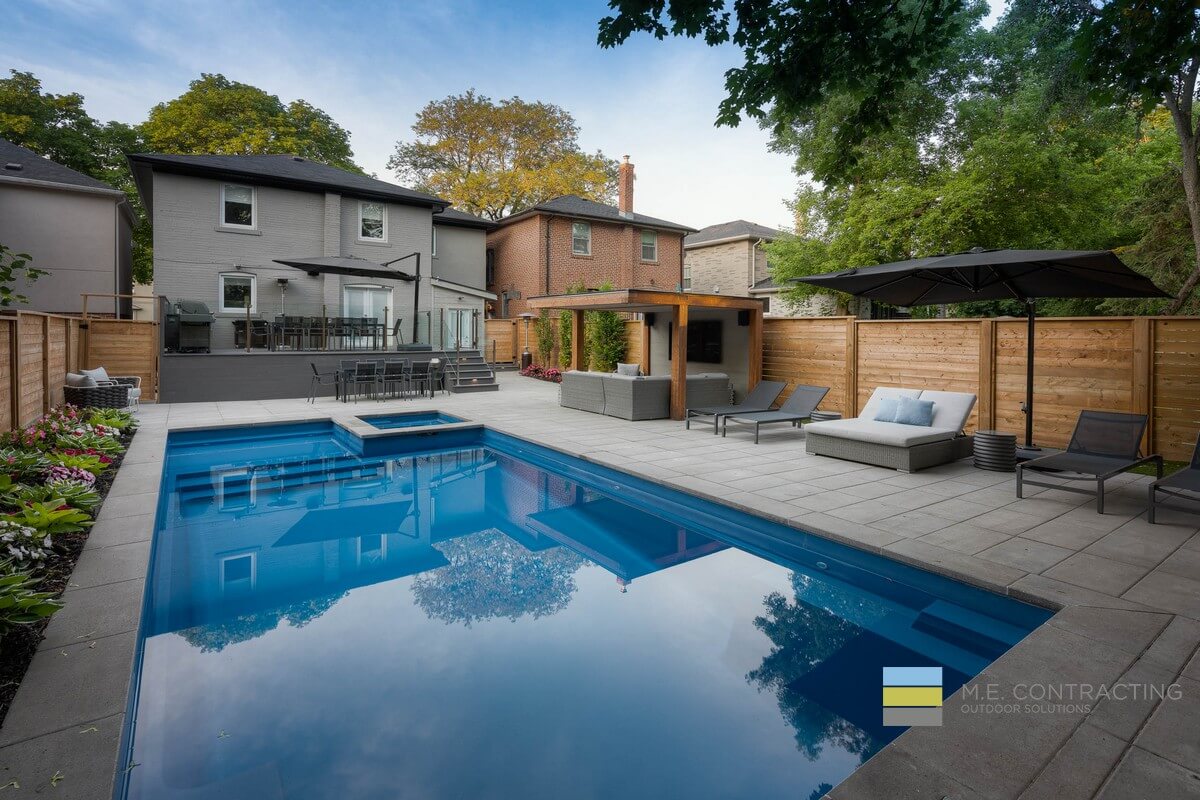 Since March, COVID has forced us all to stay in most, if not all of the time, to prevent further spreading of the virus. In that time, we have become very familiar with our homes, something that may cause fatigue but, we all have gone through 1Movies to fill our cravings for movies. Your home was once a place to retreat after work or going. Now, you must spend all of your time there, even more so if you started working from home.
Your space is most likely seeming dull and uninteresting as it is all you see now, making this the perfect time to enlist the help of a Toronto landscape company to help with a renovation.
A highly unused space that many don't take advantage of is the backyard. The backyard is perfect if you need a new place to kick back and relax, engage in hobbies, or work.
At M.E. Contracting, your trusted Toronto Landscaping Company, we will work with you to create a beautiful backyard, so your isolation is more enjoyable. We have taken our client's dreams and turned them into a reality for the past 15 plus years. Our varied experience and devotion to the task and hand ensure you can trust us with any project you have in mind, regardless of the scale or complexity. Some of the services we offer are professional landscaping, pool construction, outdoor kitchens, decking, and much more.
As an example of the excellence you can expect from M.E. Contracting, the premier Toronto landscaping company, we have chosen one of our favourite projects we have recently completed.
An Excellent Toronto Landscaping Company Project
Our client wanted their new fibreglass pool built right beside their fence, allowing for more than enough room to create a spacious lounge area. We also created a wooden structure, deck, outdoor kitchen, and more.
Here are each of the notable features we added broken down so you can see the thought process that went into each step: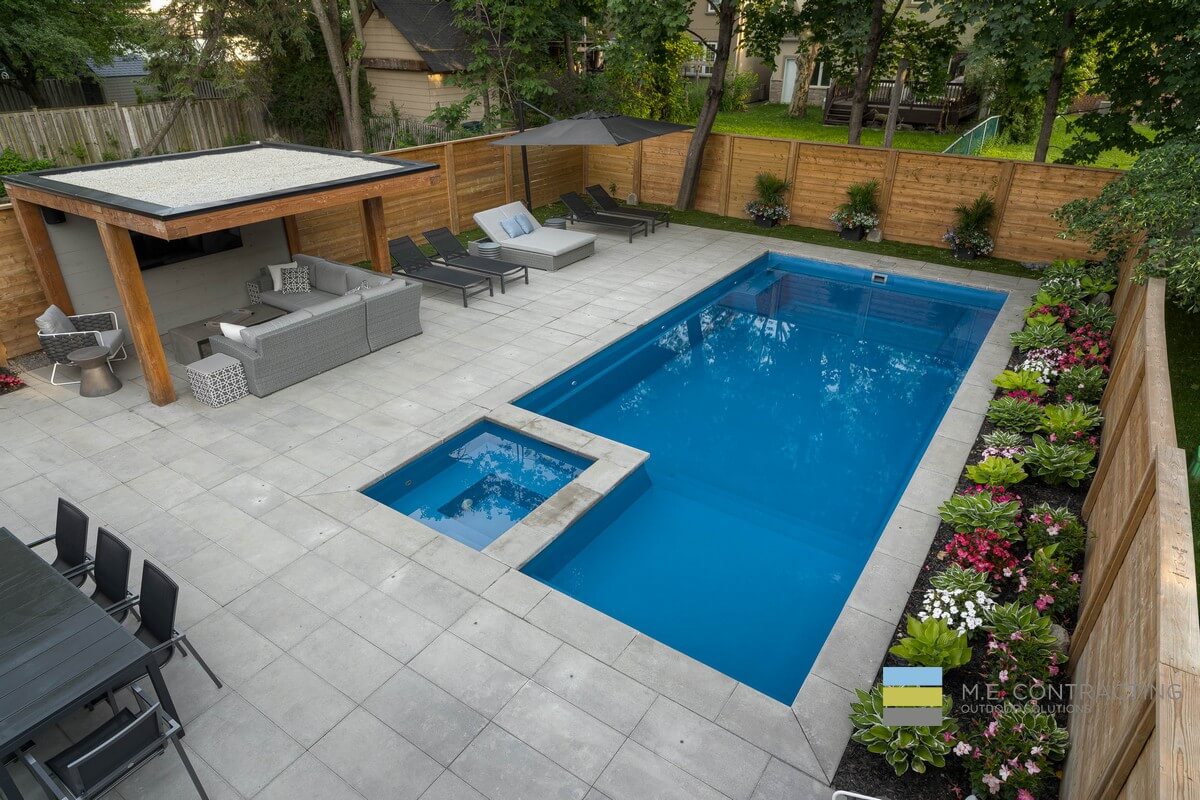 Fibreglass Pool
The fibreglass pool we built next to the fence also includes a jacuzzi, all of which sit within a single rectangle, giving it a minimalist look. Next to the pool is a seating area for lounging on warm days.
We have built a wide range of pools in our 15 years of experience, ranging widely in style and size. We construct pools that perfectly meld with your backyard and property, creating something unique and one of a kind.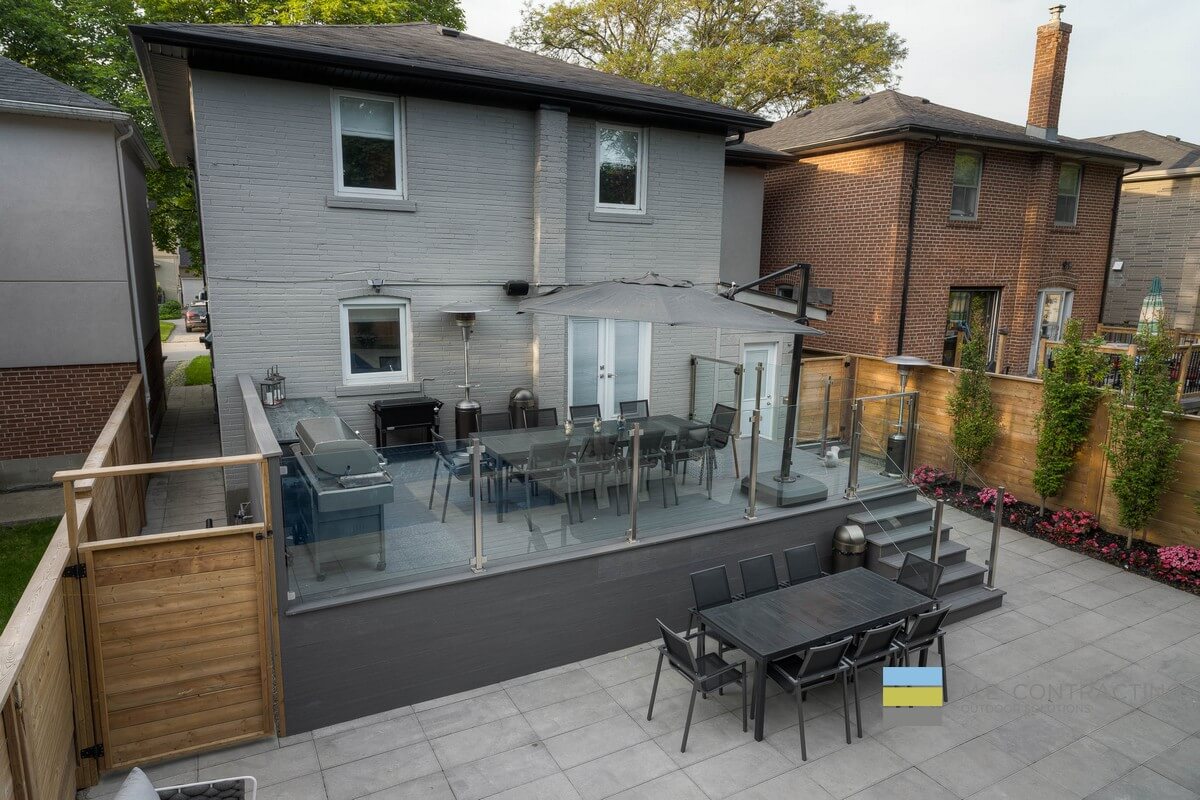 Deck
We created a large deck that leads into the home. Its size makes for a great area to have friends and family over for a barbeque dinner. The deck overlooks the entire yard and has a modern glass barrier that goes along the outside edge, providing an elegant look for the deck in the process.
The team at M.E. Contracting is always on top of everything in the renovation and backyard design world. No matter if it's outdoor bars/kitchens, jacuzzis, pool, fireplaces, or interlocking, our team is sure to be up to date on the latest and greatest design trends in the industry. With their vast knowledge, we can give property a modern and contemporary feel.
We understand that a deck shouldn't just be for aesthetic purposes; it also has to tend to the homeowner and improve their life. The best way to ensure you get your money's worth out of your home's new addition is to consider your need for a deck during the designing process. We will work with you on each step of the deck's construction process, so you get the most out of it.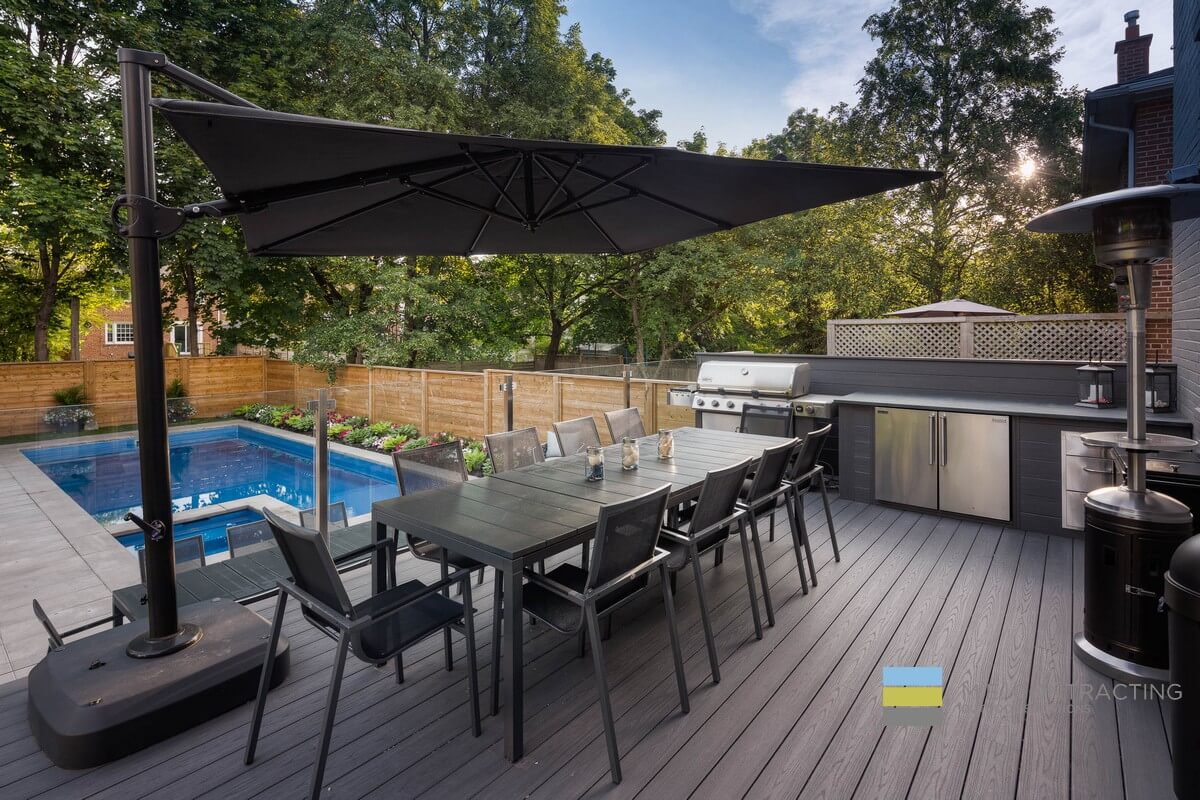 Outdoor Kitchen
Atop their brand-new deck, we installed a year-round outdoor kitchen. The kitchen consists of a countertop and barbeque that runs along the side of the deck. The kitchen matches the deck's colour and overall look, bringing a feeling of cohesion.
Our Toronto landscaping company will work closely with you, so your new additions work in tandem with your home.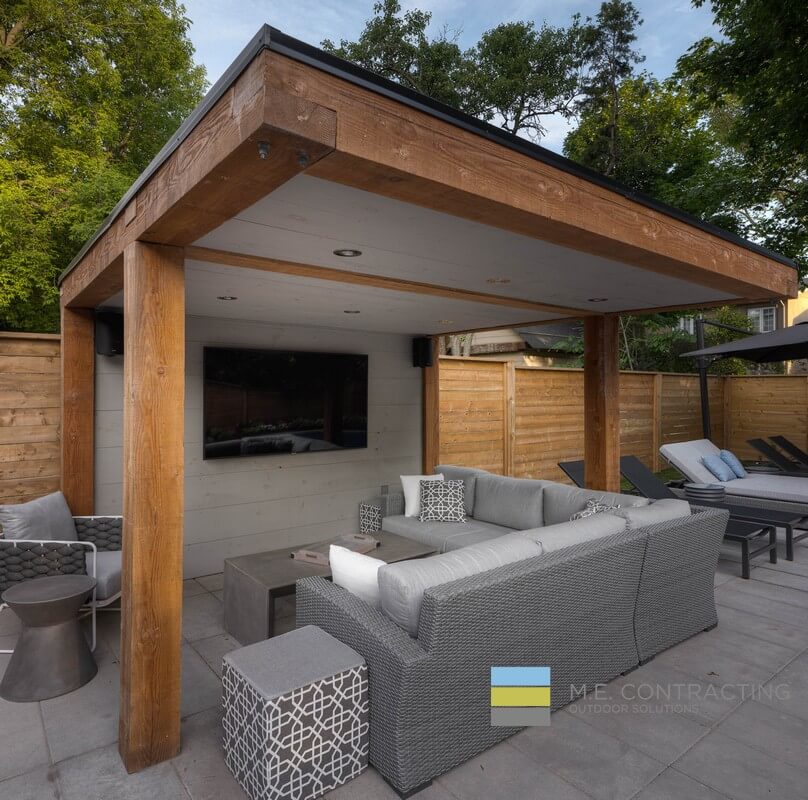 Seating Area
Beside the pool is a seating area with an overhanging ceiling and back wall for privacy and shade. Within this seating area is space for a large television so you can sit outside all summer long, whether you're taking a swim or catching up on a show.
While we advertise a set number of things that we can build for your home, we are more than happy to take on a new project and make you a completely original custom addition.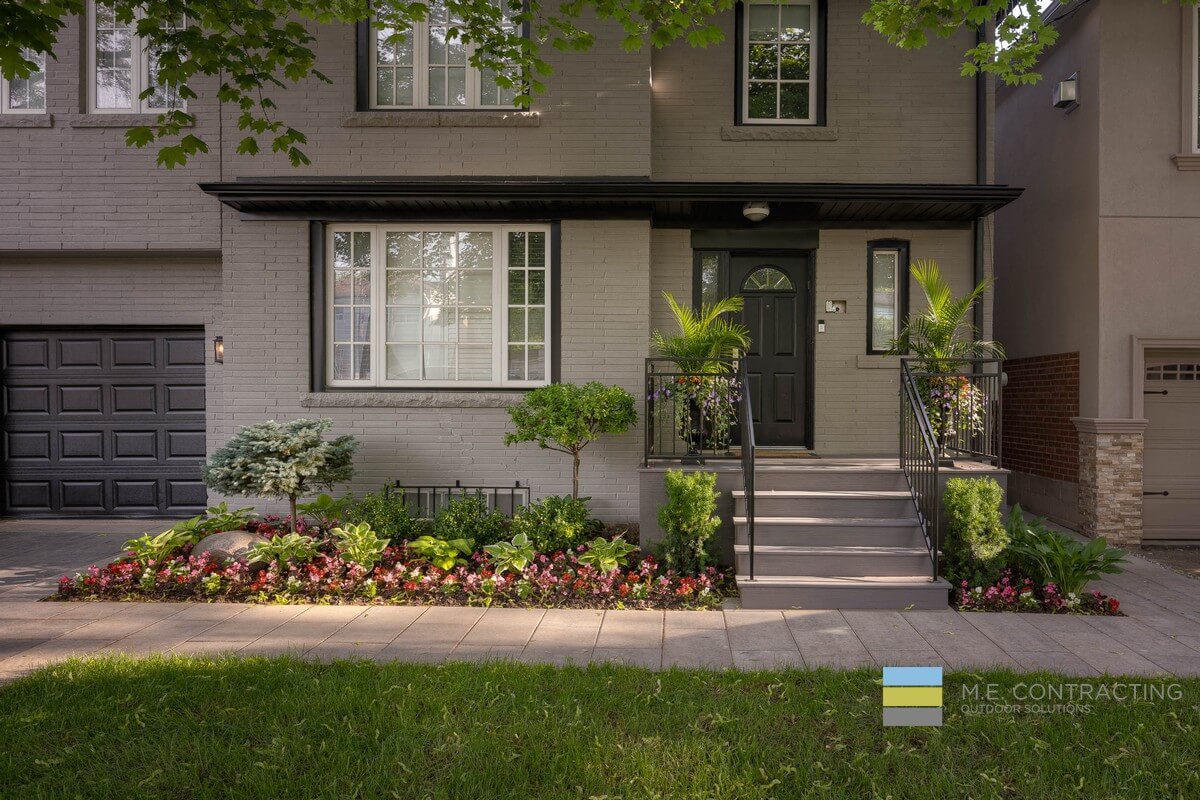 Interlocking
To bring the entire area together, we installed stone interlocking in both the front and back of the house, a luxurious addition that is ideal for minimal maintenance.
Interlocking is the perfect way to add a final touch to any backyard, driveway, or pathway. Our Toronto landscaping company specializes in interlocking, so we are sure to meet all of your expectations and provide results that will stand the test of time.
Your Toronto Landscaping Company
At M.E. Contracting, we will happily take all of your concerns and suggestions throughout the construction process. We instill a high level of quality and professionalism in each project we take on, so you never have to worry about our craftsmanship. We promise to deliver phenomenal results that are aesthetically pleasing and low maintenance.
If you are looking to build a custom deck for your property, we offer an in-depth Toronto deck builder guide to help you find the ideal deck for you. We help you choose the perfect deck by evaluating your need for the patio, your family's size, the expected amount of use, your property, and more.
Call M.E. Contracting today, your trusted Toronto landscaping company, for a free consultation regarding landscaping, pool construction and installation, interlocking, woodworking, stonework and deck building, and much more.
Request a free in-home estimate or visit our 7,000 sq. ft. Landscaping showroom for inspiration
Write for us
HeckHome does not necessarily share views expressed by opinion writers and advertisers. HeckHome regularly invites Bloggers across the World to seo blog + "write for us" in order to present their creative ideas.
Benefits of a Moving Company

Moving can be an exciting yet daunting task, and if you've ever relocated to a new home or office, you know that it involves more than just packing your belongings into boxes. It's a process that requires careful planning, organization, and physical effort. This is... The post Benefits of a Moving Company appeared first on […]