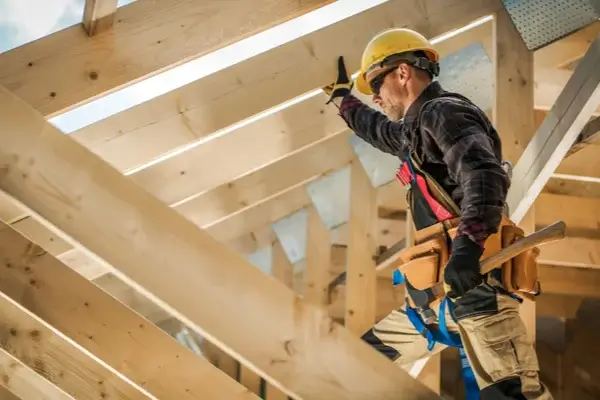 When you buy a new construction home, it's likely the builder will offer a homebuilder's warranty. This is not the same as a warranty for your home that you could purchase on your own. A homebuilder's warranty is specific to new construction homes and remodels a builder completes.
The following are some of the most important things to know about a builder warranty.
1. New Home Defects
Most builders will issue owners a warranty, which you may see referred to as a limited warranty on their work. This warranty might be listed within the sales contract. It can also be a separate document. The warranties aren't required by state law in most cases but are still common.
It can take, in many cases, at least a year of changes in seasons to put a new build to the test. For example, in the winter, a homeowner of a new construction home might notice that water comes into the basement or that there are mudslides because of poor grading of landscaping.
If you found yourself in a situation where you had a construction defect, it would be unlikely your homeowners' insurance policy would cover it, so you might need to use your builder's warranty.
2. Coverage
A warranty that a homebuilder offers to a buyer is meant to protect them from expensive repairs for work that wasn't initially done correctly or because of the use of defective materials. The builder usually funds the warranty themselves unless you can reset the thermostat, or they'll do it through a third-party company. A builder might integrate the cost of the warranty into the sales price of the home, but you won't be paying any monthly costs for it.
While policies vary, some of the things that coverage might include are:
Major structural defects—these might be components that affect your home's safety, like load-bearing walls, floor systems, and masonry arches. The warranty should cover your foundation, and structural warranties are the most important because if there are issues with these elements of your home, they're most expensive to fix, along with creating a potentially dangerous living environment.
Exterior elements—a warranty might cover the materials and items making up your home's exterior, like siding, windows, garage doors, and shingle roofing.
Workmanship—the warranty could cover defects stemming from workmanship that doesn't meet standards. As an example, if windows are incorrectly installed, then moisture might come in.
Every warranty is different, and a builder should give you a list of everything that's covered in detail and how long you'll have coverage.
3. Length of the Warranty
The amount of time your coverage lasts for a construction warranty depends on the contract, and it can often vary for the different components.
There's typically one year of limited warranty coverage for things like materials and workmanship when they're not covered by a warranty from the manufacturer.
There might be two years of limited warranty coverage for the major systems of the home, such as the plumbing, HVAC, and electrical systems. Then, for major structural defects, such as foundation issues, there might be ten years of limited warranty coverage.
There is usually not any coverage if there's damage due to things like weather or neglect, so these warranties are considered limited as a result.
4. Builders' Home Warranty vs. Homeowners' Warranty
If you have a builders' home warranty, it's not the same as a homeowners' warranty. You can get a traditional warranty from a seller or through a third-party company if you choose. If you do so, you'll pay a monthly fee and then a service fee when you need repairs.
A homebuilder's warranty's more like a traditional warranty since it covers certain work and materials that are used or completed by your contractor as they're building your home. Home warranties function more like a service contract, covering systems and things that break down due to normal wear and tear, and don't have coverage under a manufacturer warranty anymore.
A homebuilders' warranty also has specific terms, and you won't be able to customize it. With home warranties, you can choose the coverage you want.
5. Filing a Claim
If you have a damaged or defective component of your home and it's covered by a builders' warranty, you need to read it to figure out what steps you're supposed to take to file a claim. Most warranties will require that as a homeowner, you send written notice to your builder. Sometimes, the warranty company will instead give you a number to call.
No matter what instructions are provided by the warranty company, it can be a good idea to send something to your builder in writing. This shows them you're going to assert your rights, and if you end up in court, you're creating a paper trail of evidence. You should send the letter by certified mail and get a return receipt.
Any time you talk with your builder, keep detailed notes about what's said and the dates you speak.
Sometimes, if you let a builder know you're having problems within your warranty period, that's enough to protect yourself. There are, unfortunately, other warranties that are written so that a builder can string you along until your warranty period runs out and you no longer have rights.
6. A Missing Builder
If your builder goes missing and you can't locate them after the work is done or close to done, you'll need to speak to a lawyer.
7. Pros and Cons
Finally, there are pros and cons of a builders' warranty. The advantage is that there's no cost to you if you're buying a new construction property. There's also coverage of potentially expensive repairs. For example, if you need a foundation repair, it can be tens of thousands of dollars.
The downsides are that you do need to make sure you're aware of any coverage limitations and restrictions, including excluded items and the coverage period, and how long it will last.
After your coverage period ends, you don't have the same level of financial protection, and you'll probably have to pay out of pocket if something happens.
Benefits of a Moving Company

Moving can be an exciting yet daunting task, and if you've ever relocated to a new home or office, you know that it involves more than just packing your belongings into boxes. It's a process that requires careful planning, organization, and physical effort. This is... The post Benefits of a Moving Company appeared first on […]