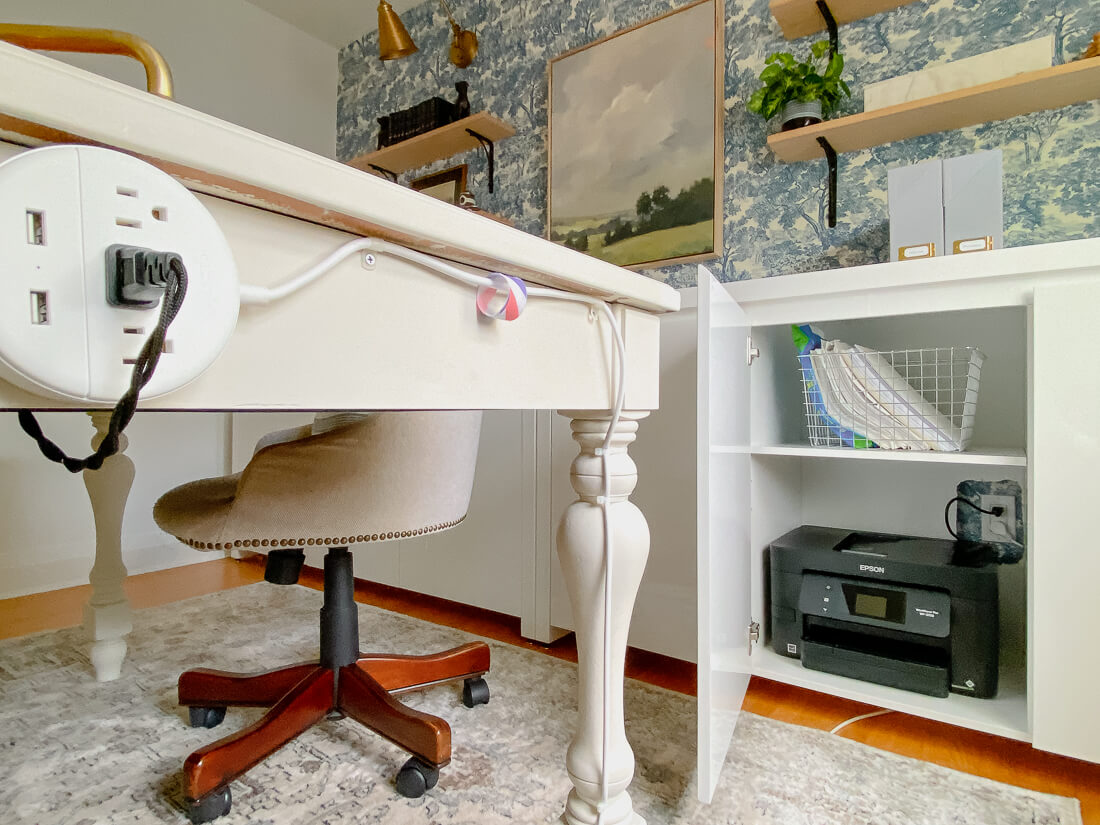 Spending more time at home is here to stay, whether we like it or not, so we might as well do it correctly.
Many businesses are closing their offices for the time being and expanding their work-from-home policy, which means your home office might be your sole workplace for the time being.
You may have already purchased a tiny home office desk, acquired an unobtrusive office chair, and even adorned your workspace with a few knickknacks and desk basics.
What about all those unsightly, tangled wires, chargers, and power strips? Even if they're merely to make your room less of an eyesore, you can't overlook the less-fun home office decorations.
If that's the case, there are a few ingenious ways to hide unsightly computer desk connections and cables while still keeping your office orderly. There are cable management solutions such as under-desk racks that hold all of your computer connections from dangling, cable boxes that hide your power strips, cable ties that keep everything together, and even stick-on clips that keep your chargers close by.
Below is a compiled list of cord organizers and cable ties to help you finally arrange your crowded home office workstation.
Utilize Cable Ties
One of the most serious issues with some cables is their length. Long cables are helpful when the power outlet is far away, but they tend to tangle or lie around looking dirty the rest of the time.
Make these lengthy cords shorter. Zip ties or reusable cable ties can ‌help secure them in place. Use bright cable ties to keep your cables organized and easy to find.
Obtain a Cable Basket
One of the simplest ways to conceal power strips and wires is to use baskets. Put your power strip in a basket or an open box, and you're good to go. The basket covers the clutter while yet allowing easy access to everything from neon lights to paper clips.
Look for a basket or box that can accommodate your power strips and any spare cables Choose a modest wicker basket or a huge colorful box to hide the cords while adding flair to the home office.
Consider the Use of a Cable Sleeve
If you have a lot of wires flowing in the same way, bundle them up and disguise them with cable wraps. Zippered cable wraps keep your cables organized and protected from harm.
Multiple cable wraps can ‌help identify and segregate groupings of cables. You can always consider shopping for a variety of cable sleeving products on Croylek if guaranteed quality is what you are looking for.
Make Use of Rugs To Save the Day
Power outlets aren't usually close to the workstation, resulting in cables running all over the place.
This might be much more of an issue if you have floor lamps with lengthy cables and visible controls.
This problem has a straightforward solution. Run the cables through the floor, then cover them with a rug. Use a thicker rug or put extra rugs on top of the rug that feels uneven. The disadvantage of this technique is that you may not realize it has been harmed until too late.
Invest in a Cable Box for Your Workstation
A cable box can help keep your office nice and clean if you use a power strip on your desk. The box has enough room to keep phones, tablets, and other gadgets on top of it while still concealing cords. You may use it as a one-stop charging station while keeping your desk free of cords.
Utilize The Legs of Your Furniture
Cords and wires stand out like a sore thumb in a minimalist home office arrangement. Add to that the sleek contemporary furniture leaves little area for hiding cables behind it. To guide all of your cords, place little sticky hooks on the back and legs of your table. These hooks will secure the wires beneath your desk's legs and hide them neatly.
Consider The Housing of Cables in Cabinets
Sideboards and storage cabinets are valuable additions to the home office. They also come in handy when it comes to concealing unsightly cords.
Running the cables under cabinets is one method to accomplish this. Wires can be hung on the wall or the back of the cabinet with hooks.
Another alternative is to keep wires and cables in one cabinet section. Power strips and chargers can be stored in this place.
Consider Purchasing a Cord Protector
In your home office, adhesive cord covers are a terrific way to hide cables. To utilize them, measure the length of your wires' path and trim the covers to fit.
Special attachments that go around corners are included with the cable coverings. These sticky cable covers come in various colors, and you may paint them to match your existing cords. Run the wires to the power socket through the covers once they're in place.
Utilize The Drawers
Untidy wires may be easily hidden in desk and cabinet drawers.
Drawers may ‌help store chargers and cords without taking up more desk space. The opening at the back of drawers is large enough for cables to pass through effortlessly.
The advantage of a setup like this is plenty of room inside the desk to house all of your wires and components.
To construct a charging station with designated locations for all your gadgets, add some drawer organizers to the arrangement.
Make Use of a Cable Tray
Cable management trays are a great way to keep your wires and accessories organized. The trays may be fastened or nailed to your desk and provide storage underneath.
Wire baskets that clip to the back of your desk are simple to utilize. Choose an under-desk raceway for office cables if your desk has a closed back.
To store wires and adapters, you may use sticky drawers and boxes that cling to the bottom of the desk.
Conceal Cables Beneath Skirting
If your wires run the room's length, keep them near the skirting board or baseboard to conceal them.
These extra-long cables can be routed through trunking or a cord cover attached to the skirting. These enable wires to travel across rooms without being apparent. To make the skirting disappear, match the colors to the existing skirting. Another option for hiding wires is to install a skirting board cover and route the cords through it.
Make The Most of Your Accessories
Books and décor have a dual purpose in your home office.
Hide power plugs, switches, and additional wiring lengths with your workplace design. You may even disguise your cords by running them through a wall shelf.
Plants and accessories should be placed in front of adapters, and books should be placed over wires on your desk to hide them. Run the cables through a skirting board cover on your wall.
Accept and Enhance Your Cables
Sometimes the easiest way to hide wires is to leave them exposed. Wrap wires with colorful threads or tubing to make them become attractive components in your home office. Before wrapping the wires, bundle them together if there are too many.
To give your fabric cable sleeves a great look that complements your office, decorate them with different colors and designs.
As a result, wires may become a fascinating part of your workstation decor rather than being something to hide.
Conclusion
With these easy solutions, you can manage and hide your wires in any location, allowing your home office to fit in with the rest of your room design. Your home office will be cleaner and safer, and you will have easier access to wires while making modifications.
The Energy-Efficiency Advantages of Vinyl Window Replacement

Windows are more than just portals to the outside world; they play a significant role in determining the comfort and energy efficiency of your home. If you're looking to improve your home's energy efficiency, consider the advantages of vinyl window replacement. In this article, we'll... The post The Energy-Efficiency Advantages of Vinyl Window Replacement appeared […]