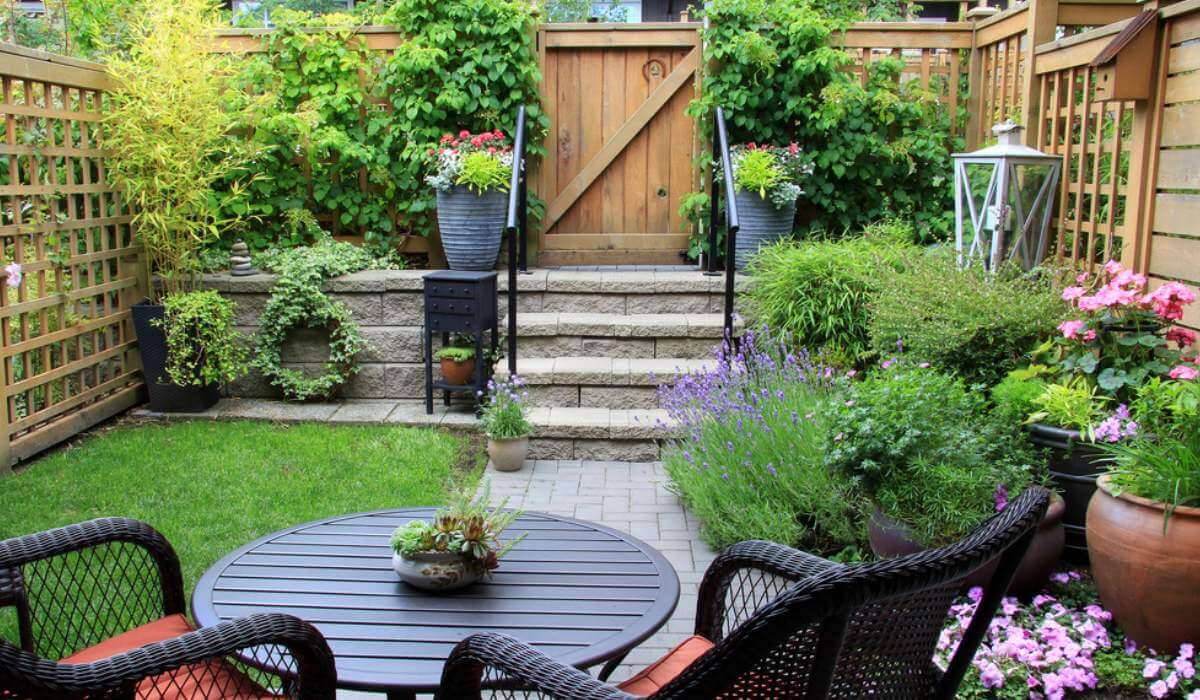 A relaxing summer enclave is a great addition to your home. Here are 10 ways to create a relaxing garden.
1. Design a Private Hideaway
You don't need to occupy your entire backyard; instead, carve out a tranquil, hidden corner just for yourself. Begin by selecting bushes or shrubs to establish a sense of privacy and build upon that foundation.
If your space is enclosed by a fence, consider growing climbing plants or hanging foliage to cover the fencing, creating a lush, green ambiance. Why not buy custom gates from Gates Scotland to increase your privacy?
2. Use Scented Flora
A quick way to unwind is through aromatherapy, and incorporating fragrant plants into your garden makes this easily achievable. Select from container-grown or in-ground plants to place around your sitting area. Options like gardenia, lavender, and clematis offer delicate, lasting scents throughout spring and summer.
3. Opt for Organic Materials
Incorporating natural materials such as wicker, wood, or rattan in your seating area can make the space more inviting and conducive to relaxation. Organic materials blend seamlessly with the surrounding environment and avoid the cold, harsh feeling that may arise from using metallic or synthetic furnishings. Additionally, fluid lines and smooth angles can contribute to a sense of harmony and balance within your garden sanctuary.
4. Get Some Wind Chimes
Introduce a serene element to your garden with wind chimes. Choose from bamboo or metal materials, both of which can endure various weather conditions without suffering damage.
Consider placing several wind chimes around your sitting area for a calming atmosphere at an affordable price.
5. Integrate a Water Element
Incorporating a small pond or waterfall into your garden can serve multiple functions. Firstly, the gentle sound of flowing water creates a soothing ambiance, and observing the water movement can help drown out external noise. Additionally, you can introduce Koi fish to your pond or cultivate aquatic plants in and around the water feature to establish an eye-catching focal point.
6. Incorporate Decorative Figures or Inscriptions
For individuals who find solace in spirituality, adding small angel statues, Buddha figures, or other spiritual symbols to your garden can create a serene atmosphere. Alternatively, display your favorite quotes, poems, or inspirational sayings on plaques or signs. These focal points can serve as reminders to breathe, reflect, and find inner peace amidst the natural setting.
7. Embrace Simplicity
When selecting containers for your plants, opt for understated textures that can enhance the overall design without being overpowering. Aged terra-cotta pots, tarnished metals, or subtly glazed containers can provide a rustic and harmonious touch. By choosing larger pots and planting tall grasses or plants, you create movable barriers that contribute to a sense of privacy and seclusion, allowing you to transform your space as desired.
8. Add Comfy Seating Arrangements
Comfort is key when enjoying your garden, so invest in cozy seating to encourage relaxation. There are a variety of options, from chairs and loungers to compact benches.
Your seating should ideally be weather-resistant and simple to clean, as it will be exposed to the elements. If you already have seating without cushions, purchase outdoor cushions and secure them to your seats as a cost-effective solution. Buying a hammock is also a good option and adds a very relaxed feel.
9. Introduce Soft Colors
Incorporating pastel hues into your garden design can create a calming atmosphere. Soft, muted colors can be applied to flowers, furniture, cushions, and other decorative elements. Choosing gentle and neutral tones for ground covers, sculptures, seating, and masonry helps you establish a soothing environment that promotes relaxation and peaceful contemplation.
Consider planting flowers such as lilacs, pale roses, or baby's breath to bring delicate color and fragrance to your garden, and select furniture with light-colored finishes or pastel-colored cushions to complete the tranquil setting.
10. Utilize Plush Floor Pillows
In smaller garden spaces or for those seeking alternative seating options, comfortable floor cushions can be a perfect solution. Available in a variety of shapes, sizes, and colors, these pillows can be easily moved and arranged to suit your needs. The plush cushions encourage you to stretch out, relax, and fully immerse yourself in the beauty of your garden surroundings.
To elevate your relaxation experience, incorporate a mix of large and small cushions in coordinating colors and patterns. This not only adds visual interest but also allows you to customize your lounging area to your comfort preferences, creating the ideal oasis for unwinding and enjoying nature's bounty.
How to Find a Good Locksmith in Germantown, MD | Tips You Need to Know

Choosing the wrong locksmiths in Germantown could put you and your family at risk. This is why you shouldn't just choose the first 24-hour locksmith you find. Whether you need to install a new high-security system or change a broken lock, ensuring your service provider... The post How to Find a Good Locksmith in Germantown, […]