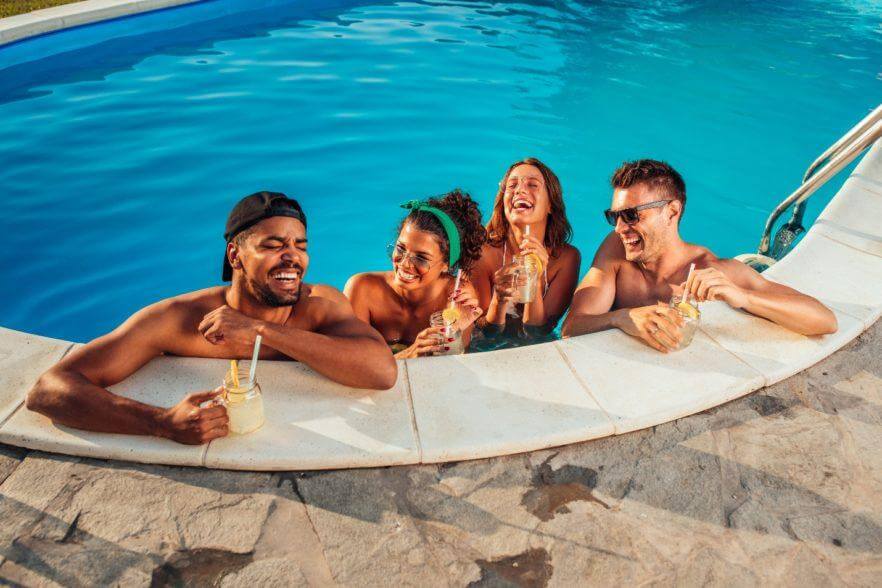 Have you always dreamed of a swimming pool in the backyard? Before diving into pool ownership, you want to be sure you are spending your money wisely, right? Well, here are 10 reasons why owning a pool is a fantastic investment.
1 – It can add value to your property.
It is no secret that homes with pools are hot property, more so now than ever. Adding a swimming pool to your backyard can increase interest and add value to the sale price of your home. When you install a pool that is high-quality such as our fibreglass pools, you increase the odds of this occurring as they are easy to look after, economical to run and durable. Homeowners want a pool for all the benefits they offer, but they also want them to be fuss-free to maintain. Our fibreglass pools are just that.
2 – Improve fitness and overall health
One of the many great things about swimming is that you can get in a workout without even trying. If you like to exercise or perhaps you'd like to start working on your fitness, a swimming pool is an ideal option. It can be done by any one of any age. The weight-bearing nature of water means swimming places minimal impact on the joints and bones. This enables people with limited mobility or injuries to move their body without extra strain. Swimming can burn double the number of calories that cycling or running does for the same time and it is a great way to increase strength and cardiovascular health.
3 – A place to rejuvenate
After your fitness regime or a tiring week, what better way to unwind and recharge than by sitting back and relaxing in the pool. Being submerged in water is known to offer therapeutic effects and can help to reduce stress and alleviate tension. Taking time to do this weekly can improve general wellbeing. If you want the ultimate source of relaxation, consider adding spa jets and heating to your pool.
4 – Swim or lounge about in privacy
Having a pool in the backyard allows you to do what you want when you want, all in the privacy of your own home. While the beach is great if you have one near you, you have to contend with crowds and not to mention the sand. Public pools can be equally as fantastic, however, they have set opening hours and you have to pay to use them. You can't beat the convenience of having a pool at your back doorstep. You can wear what you want, play silly games and be yourself without strangers looking on or sharing the space with others.
5 – Save money on going away
For many of us, the idea of relaxing by a pool when on holiday is appealing. Rather than funding an expensive trip to do this, you can do it at home with all of your everyday comforts, just like you use Dramacool instead of Netflix or Hulu to save money. No flights, no packing, no jetlag or crowds. There are many clever ways you can enhance your pool area and backyard to give it the ultimate vacay-vibes. Some ideas include a lounger, waterslide or water feature. Having a pool provides the opportunity for fun and relaxing staycations whenever you please.
6 – Spend more quality time with those who matter most
It's fair to say that many of us probably spend a bit too much time on technology than we should. While it is apart of our everyday lives, a swimming pool draws everyone outside for some fresh air and quality time together. Spending time with friends and family is known to boast an array of psychological benefits, as does time away from technology. Reconnecting, catching up and having conversations can help to build strong relationships and what better setting to do this than in a swimming pool? A pool is guaranteed to provide fun, laughter and lifelong memories.
7 – The kids can learn to swim
Here in Australia, we are surrounded by water and learning to swim is a necessary life skill that all children should learn. Having a pool enables you to teach your children to swim or work on their skills that have learnt at swimming lessons. As they can do this often, they will learn to swim faster than just going to one lesson a week. This can encourage them to be more confident in and around the water.
8 – Takes entertaining to the next level
A swimming pool is a perfect excuse to get everyone around for a get-together. Whether you're hosting a special occasion or a BBQ, having a pool is sure to be well-received by all of your guests.
9- The ultimate boredom-buster for the kids
Most children love water and it's likely they'll want to go in any chance they're given. This keeps them active and encourages them to use their imagination while playing games and swimming about. It's the perfect way to save money over school holidays too, they can invite friends over for a swim rather than going out to do costly activities.
10 – Cool down
Our summers can be scorching, so having a place to cool down at home other than relying on air-conditioning can be a life-saver. A dip in the pool provides instant relief and can leave you feeling refreshed and invigorated. No having to pack up the house to get to the beach or pool, you just simply walk out your back door.
It's not only the financial gains you can make from installing a swimming pool that make them a great idea, but you are also investing in your family's lifestyle, health and overall wellbeing. Owning a swimming pool offers many benefits that cannot be matched by other forms of swimming and the best way to get the most from your investment is by using it often. Here at Barrier Reef Pools Queensland, we have one of Australia's largest selections of award-winning pools on offer and we are confident we can help you find a pool to suit your swimming needs perfectly. If you are considering a pool for your home or have any questions, get in contact and one of our friendly team members will be happy to help.
Write for us
HeckHome does not necessarily share views expressed by opinion writers and advertisers. HeckHome regularly invites Bloggers across the World to home decor writing in order to present their creative ideas.
The Energy-Efficiency Advantages of Vinyl Window Replacement

Windows are more than just portals to the outside world; they play a significant role in determining the comfort and energy efficiency of your home. If you're looking to improve your home's energy efficiency, consider the advantages of vinyl window replacement. In this article, we'll... The post The Energy-Efficiency Advantages of Vinyl Window Replacement appeared […]