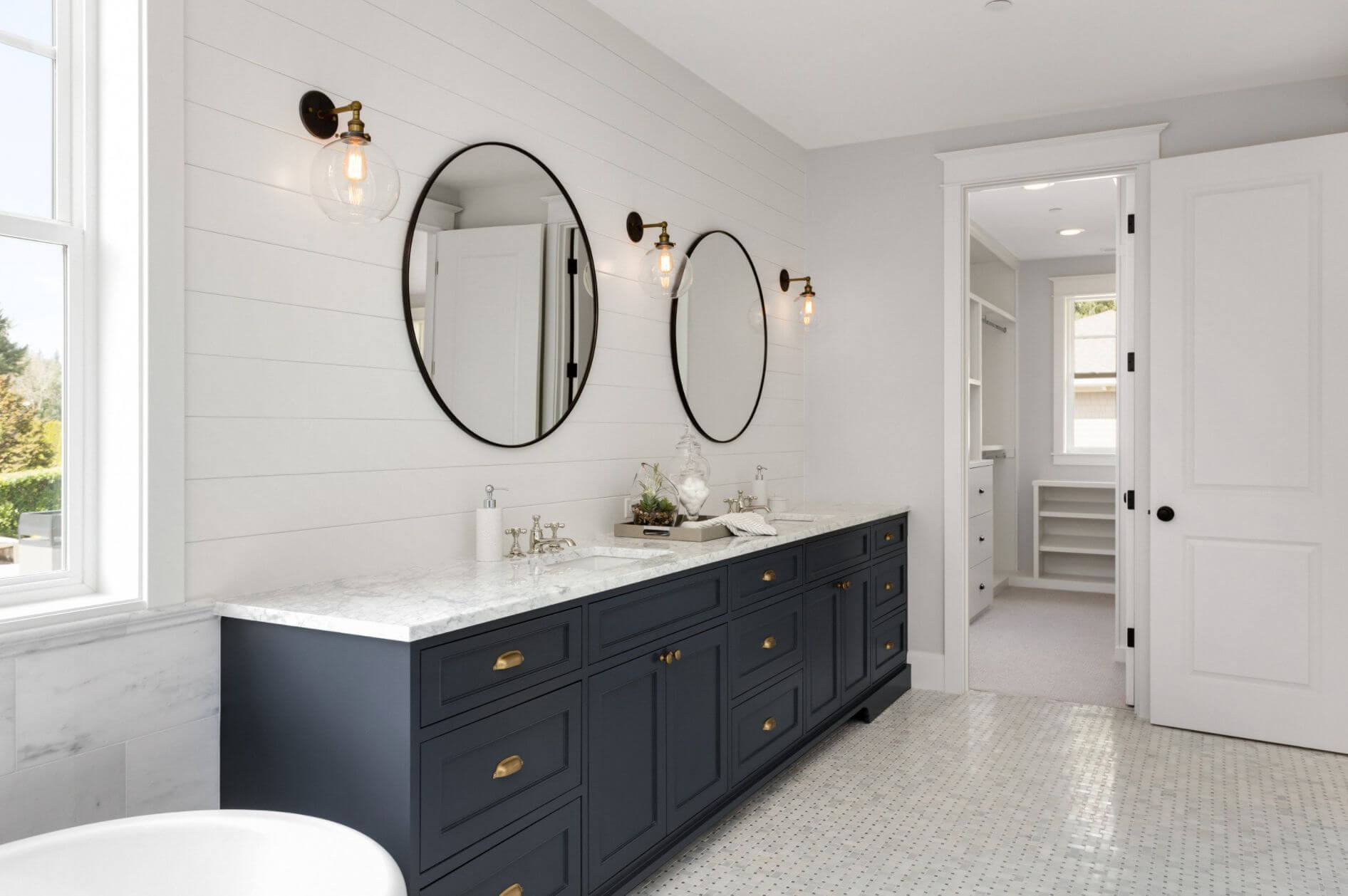 Is your bathroom looking a little outdated like it looked in the 1960s movies? Perhaps it could use a refresh! Of course, with the average cost of a full bathroom renovation hovering around $11,000, a complete remodel is not in everybody's budget. The good news? There are plenty of inexpensive DIY projects that can help you achieve high-end looks on a budget. With any combination of these, you can turn your lackluster bathroom into a spa-like oasis!
1. Replace a Dated Bathroom Faucet
One of the simplest upgrades you can make to your bathroom, without the help of a professional, is simply swapping out that dated faucet with something fresh and modern. These days, brushed nickel and stainless steel are both popular finish options — so pop over to your local home improvement store to see what catches your eye! From there, you can have your faucet replaced in as little as an hour, depending on your level of experience with this type of project.
2. Swap Out That Old Hardware
In addition to replacing an old faucet, installing new hardware on your vanity cabinets can make all the difference as well. Here, you can opt for the same type of finish as your faucet (if you want things to match) or mix things up a little. It's entirely up to you! To make swapping out your hardware even quicker and easier, look for cabinet pulls and knobs that will require the same type and number of screws to install. This way, you won't have to drill any new holes.
3. Refinish Your Vanity Cabinets
If your bathroom vanity is looking a little worse for wear, you may be able to freshen it up with a simple coat of paint or stain! This is ideal if your existing vanity is made of wood, as this material is easy to sand down and repaint or refinish. However, you can paint just about any vanity material with success with the right primer and technique. Consider, for example, updating a dated oak vanity with a sleek coat of white or gray paint for a modern look!
4. Upgrade Your Entire Vanity
Sometimes, even a coat of paint and new hardware isn't enough to bring an outdated vanity into this decade (or century, for that matter). The good news is that completely replacing your vanity doesn't have to break the bank. Stop by your local home improvement store, and you'll find a wide range of vanity styles and sizes to suit your budget. From there, it's simply a matter of ripping out your old vanity (be sure to shut off the water supply to your sink first!) and installing the new one for an instant bathroom upgrade.
5. Brighten Up the Space With Paint
A fresh coat of paint can not only work wonders for a dated vanity but your walls as well! If you're looking to make a huge impact without spending a lot of money in the process, repainting your bathroom is probably the easiest thing you can do. If you're working with a smaller bathroom space, consider choosing lighter colors to brighten things up and create the illusion of a larger room. If you want to get a little creative, you might even consider painting one wall (such as the wall where your vanity is located) with a bold accent color.
6. Add a Tile Backsplash
You don't have to be a master tile worker to install a backsplash along the wall where your bathroom vanity is located. There are actually a lot of great peel-and-stick options that require very little skill to install. Still, this type of upgrade can add a lot of elegance to your bathroom without costing you much money at all.
7. Install New Mirrors
If your bathroom has dated, builder-grade mirrors, swapping these out for something a little more aesthetically pleasing can make a huge difference. You can find bathroom mirrors at your local home improvement store or even a home goods store — and you might be surprised at how inexpensive a beautiful new mirror can be.
8. Recaulk Around Tubs and Showers
Old caulk around tubs and showers not only makes your bathroom look dated but can lead to mold and mildew problems as well. By spending a couple of hours removing old caulk and applying a new layer around these areas, you can freshen up the appearance of your bathroom while also protecting against moisture problems. All this project will cost you is a few dollars for a tube of caulk!
9. Add Interest With Beadboard
Adding beadboard or wainscoting to your bathroom is a great way to give it a more cozy feel. You can find beadboard materials at your home improvement store for relatively cheap; from there, you just need to cut and install it to fit your space. And since bathrooms tend to be on the smaller side, this upgrade typically doesn't cost very much to complete.
10. Upgrade Your Showerhead
Replacing an old showerhead with something more modern can improve your shower experience while upgrading your bathroom in the process. Rainfall showerheads are especially popular these days and can help your bathroom deliver a more spa-like experience. If you really want to get fancy, there are even showerheads with built-in Bluetooth speakers! Meanwhile, replacing a showerhead is a quick and simple project — even if you don't have a lot of DIY experience.
Get Started With Your Do-It-Yourself Bathroom Upgrade Today!
With these tips and tricks, taking on a home renovation doesn't have to cost you a pretty penny. In fact, you can complete many of these projects for less than $100. Likewise, you don't need to have much experience with bathroom renovations or DIY projects to tackle these yourself from installing thermostats to tiles. With a little help from some online tutorials or DIY magazines, you'll be well on your way to updating your bathroom with confidence. From there, you can also add a little value to your home.
Homeowners Guide to Black Mold Removal in Toronto

Learning that you may need black mold removal can be outright scary for many homeowners. Black mold is also known as toxic mold, which has been portrayed in the media as a threat to people, animals, and children. The truth about black mold is a... The post Homeowners Guide to Black Mold Removal in Toronto […]