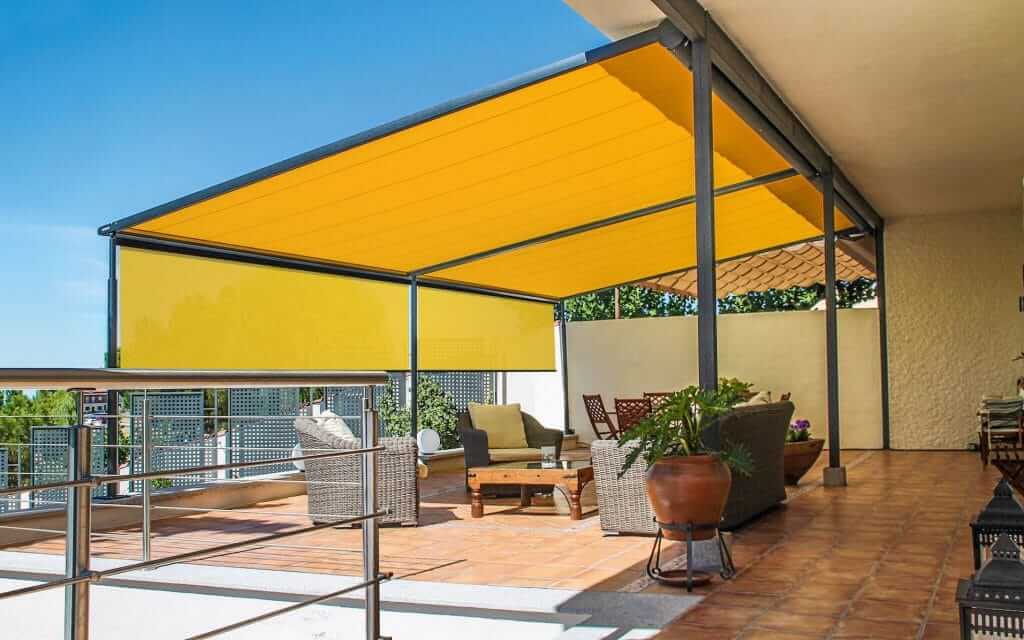 Home improvements can be challenging, and the array of choices available is confusing. Choosing something like an awning for an outdoor space comes with its own set of questions. You'd like it to repel rain and other moisture, but what's the difference between waterproof and water-resistant? The answers to these questions come down to the materials used and how they're utilized.
In short, a waterproof awning is the more desirable of the two. Waterproof awnings won't need any maintenance from you to keep them in excellent condition, whereas water-resistant ones will require upkeep. Read along to find out more about the two types of awnings, and discover which is the best choice for you before you commit to a roofing contractor in Orland Park.
What Is a Waterproof Awning
For an awning to be waterproof, it needs to be impermeable to water. That means that at no point on the surface of the awning should water be able to penetrate. It also means that the material won't break down over time from exposure to the elements.
Waterproof awnings are either made from a fabric of artificial materials meant to repel water or solid plastic or metal sealed to repel water. Anywhere there's a joint where water might get through, the awning will have been sealed or filled in to prevent leakage.
Vinyl and Composite Awnings
Vinyl and composite awnings are excellent choices if you're looking for an awning that's permanent and waterproof. These awnings come in different styles and colors and won't let any water through.
In addition to being waterproof, vinyl and composite awnings are fire-resistant. They hold tight to the frame they're stretched over and are light and flexible. This makes them ideal for any number of circumstances.
As vinyl and composite awnings are flexible, they're excellent options for retractable awnings. By retracting the awnings when there's severe weather, you can extend the lifespan of your covering as they won't be exposed to extreme wear.
These awnings have a lifespan of about five to seven years, depending on the quality and how well you take care of them.
Plastic Awnings
Awnings made of solid plastic are sure to be waterproof. There are a number available on the market, and you're likely to find stylish ones for reasonable prices. The difference between a plastic awning and one made from vinyl or composite fabric is its durability.
Solid plastic will be more durable and resistant to harsh weather. However, your plastic awning is unlikely to be retractable, a feature some homeowners desire.
A high-quality plastic awning can last you at least ten years, if not more, making it a worthwhile investment if you're looking for a more permanent addition to your home.
Metal Awning
Of all the waterproof awnings, metal is the most durable. The material is highly resistant to impact and stands well against weather, sun, and other conditions. It can be fused together to stop water from penetrating entirely.
The downside to metal is that it's more costly than vinyl, composite, or plastic awnings. But they're also permanent in a way that the others aren't. A quality metal awning can last for 20 years or more.
Moreover, they require little maintenance, but you should occasionally inspect them for rust. Otherwise, you could see material deterioration and, eventually, holes that let in water. Metal awnings can be much heavier, and you would be better off having a professional install one.
What Is a Water-Resistant Awning
A water-resistant awning is any fabric treated to resist water. That means the material itself is not waterproof, and you would need to maintain or replace the awning over time. Fabrics used can be natural or artificial.
They are sprayed with a sealant or painted with a waterproofing material to repel water. Over time, that treatment will wear away, and the awning will no longer protect against rain or other elements.
Wear can be caused by retractable awnings moving, the sun shining down on the fabric, rain, wind, and snow.
You can maintain an awning by keeping up with the sealant, but some find it easier to purchase a replacement when the current one wears away.
Water-resistant awnings last about three to five years, a longevity that might not be as appealing to customers wishing for something long-term.
How To Choose the Right Awning for You
With all that said, what's the right awning for your house? Several factors might impact which is better in your eyes, so consider these before you contact a roofing contractor in Orland Park.
Weather
What your local weather looks like is the most crucial question for you to answer. A fabric awning may be perfectly acceptable if you live in a sunny location and don't experience frequent rains or severe weather. It will give you all the shade from the sun you need, and water will only be an occasional inconvenience.
Still, you'll likely need to check for damage from the sun and, due to that, may eventually need to replace your awning.
For areas that do see severe weather more frequently, vinyl, composite, plastic, or metal may be more appropriate choices for you. They won't break down quite as quickly, and as long as you keep them clean and inspect them for damage, they can last for many years.
House Structure
Not every house or yard is built the same. The kind of awning you should get depends on where you'll be attaching that awning.
A large metal awning might be desirable for its curbside appeal and longevity, but it can also be heavy. Some houses won't withstand that extra weight, so choosing a plastic, or vinyl awning would be better.
In other circumstances, you may wish to cover only a tiny space and won't need to worry as much over what the material is constructed from.
Style
Fabric, vinyl, and composite awnings are more flexible than a few more durable counterparts. That makes them attractive if you're looking to switch up the style of your property without having to make a significant financial investment.
Longevity
Awnings that are water-resistant rather than waterproof don't have as long of a lifespan. They won't stand up to the test of time or weather, and the protective agents applied to them will wear away over time.
If you're planning on installing an awning meant to last for a few years between projects before you can replace it with a more permanent solution, then water-resistant awnings are fine.
On the other hand, waterproof options are more cost-effective if you don't want a relatively frequent turnover of awnings. Instead, you can choose something durable and long-lasting that will complement your home and personal sense of style.
Maintenance
Water-resistant awnings need maintenance, so you'll want to factor that into your plans. If you intend to draw out the lifespan of your awning, you'll need to reapply a sealant to prevent rainwater from getting in.
You may also need to clean your fabric awning as it accumulates dirt and debris from the outside. Unlike a plastic or metal awning that can take a veritable beating (and be cleaned that way!), you'll find that you have to be more delicate with the fabric so as not to degrade the sealant.
What To Look Out For
If you're planning on purchasing a waterproof awning without the help of an experienced contractor, you'll want to take precautions. Many companies will advertise their awning as waterproof when it's just water-resistant to cash in on customers wanting waterproof products.
With that in mind, be sure to check the product's information about what material it's made from, and see if there is a mention of anything about a sealant or other coating.
Another hint that you can pick up on is the price. A water-resistant fabric awning is likely cheaper than one that is inherently waterproof. So if you see a price that seems too good to be true, it probably is.
Recap: What We Learned
To bring this to a conclusion, there are a wide variety of awning choices out there. Waterproof options are more permanent, keep you safe and dry, and are better if you're trying to keep the rain out. In contrast, water-resistant awnings will provide shade but, over time, deteriorate.
You'll need to keep an eye out for companies that try and mislead you into choosing their cheaper, water-resistant awnings but labeling them as waterproof.
But a consultation with an approved roofer will get you on the right track to picking the perfect awning for your home.
Hire an Expert
Before you even purchase your new awning, it's best to consult with an expert roofing contractor in Orland Park. In general, someone knowledgeable in the installation and care of awnings and roofing will be crucial to ensure you get one that matches your vision.
After all, there's more than just the selection of the awning but the installation itself. Baltic Roofing is here to give you peace of mind. Our team of trusted roofing professionals will walk you through all the options available to you and help you pick the right choice. So, contact us today! We're here to help!
Author Bio for Louis Hanley
Louis Hanley
Community Manager
Louis is a community manager for Baltic Roofing where they help the greater Chicago community with everything from high-quality roof replacements to skylight repairs. He is an expert on all things roofing and home improvement. Outside of work, he's a huge Cubs fan and enjoys spending time with his dog, Roscoe.
Homeowners Guide to Black Mold Removal in Toronto

Learning that you may need black mold removal can be outright scary for many homeowners. Black mold is also known as toxic mold, which has been portrayed in the media as a threat to people, animals, and children. The truth about black mold is a... The post Homeowners Guide to Black Mold Removal in Toronto […]