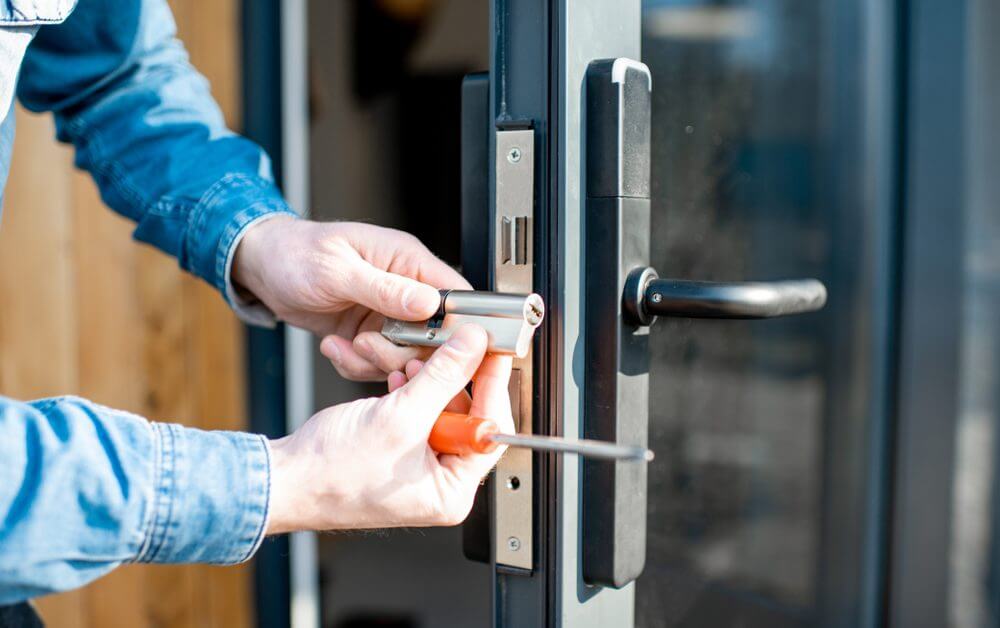 If you own a business, you know how important secure locks are to keeping your facility, assets, documents, and employees safe. With the assistance of a locksmith, you can ensure your locks are installed correctly to provide optimum levels of security. Not to mention, if you find yourself locked out, needing a duplicate key, or in need of updated locks on your filing cabinets or doors, a commercial locksmith has got you covered. Read on to learn more about commercial locksmiths, the specific services they offer, and tips on finding the right locksmith for your business.
What Is a Commercial Locksmith?
A commercial locksmith is a professional who specializes in providing lock and key-related services in a business setting. Whether the business is large or small, a commercial locksmith can help ensure the security and safety of the business. This type of locksmith has specialized knowledge in the installation and maintenance of a variety of safety systems, door locks, cabinet locks, high-security locks, and master key systems. Commercial locksmiths may also be experienced in lockout services, rekeying existing locks, and duplicating keys to provide access to restricted areas and ensure the security of your premises.
What Specific Services Does a Commercial Locksmith Offer?
Commercial locksmiths provide a variety of services to businesses, including:
•Lockout Services: There is nothing worse than realizing you've locked your only set of keys inside the building. The next time you find yourself locked out, don't despair. A commercial locksmith can get you back inside in a hurry.
•Rekeying and Replacing Locks: If you want to change the locks on your existing doors or filing cabinets, a commercial locksmith is able to rekey or replace them. That way you can ensure that only authorized personnel have access to your premises and confidential documents.
•Duplicating Keys: If you need a spare key for your business, a commercial locksmith can make copies of existing keys. This is especially helpful if you have new hires, if one of your employees lost their key, or if you want to keep a backup on hand. Regardless of whether you need a magnetic key, transponder key, smart key, or traditional key, a commercial locksmith can help!
•Installing Master Key Systems: A commercial locksmith is the ideal person to install a master key system at your establishment. These innovative systems put the power to control every area of your business back into your hands. The right locksmith will be able to help you identify your needs, determine which areas the system should cover, and can create, as well as program the system.
•Installing A Door Security Bar: Installing a door security bar is another great way to increase the safety of your business. A commercial locksmith can help you choose the right size (length and width) and type of bar (aluminum or steel) for your premises and then install it to ensure that no unauthorized personnel can enter.
•Adding A Window Security Bar: Windows are one of the most vulnerable areas of a building, making them an attractive point of entry for unscrupulous characters. As such, installing a window security bar is another popular service that a commercial locksmith can provide. This device prevents burglars from entering your premises (through a window), providing an additional layer of protection for your business. A locksmith will be able to measure the size of your window and install the correct size and type of security bar to keep intruders out and your business secure.
• Adding or Replacing an Existing Security Door: Doors are another common point of entry for burglars and vandals. Thankfully, a commercial locksmith has the solution to beefing up the security of your doors. With a brand-new security door, you can offer superior protection for your assets and employees. Consider the popular option of a fireproof or panic exit door for a safer work environment.
In addition, a commercial locksmith can install high-security locks, program keyless entry systems, fix broken locks, perform routine maintenance and upgrades, and provide other services that can help keep your business secure.
Tips For Finding the Right Commercial Locksmith
When it comes to finding the right commercial locksmith for your business, there are a few key factors to keep in mind.
The first and most important factor to consider, when finding a locksmith, is to make sure they are licensed, insured, and bonded. Moreover, it is also important that the locksmith you choose is reputable, experienced, and knowledgeable about commercial locksmith services. This will ensure that you are working with a reputable professional who will provide quality services.
Next, be sure to do your research prior to hiring a specific company. When it comes to selecting the right commercial locksmith for your business, it's important to do your due diligence and research different companies in your area. Read reviews from previous customers, check out the locksmith's experience and expertise, inquire about warranties, and get an idea of the type of services they offer. During this process, don't be afraid to ask around to see who other businesses in your area recommend.
Furthermore, be sure any locksmith you are considering is willing to provide you with a free written estimate. Any professional that is reputable, will not hesitate to provide you with an estimate. You should always feel completely comfortable with the estimated costs, prior to committing to having any job completed.
Finally, it's important to find a locksmith who is willing to work around your schedule. If you are looking for someone to come in after hours or on weekends, make sure the locksmith you hire can accommodate your needs. This will be especially important if you ever find yourself in need of emergency lockout services during the evening or weekend.
By taking the time to do your research, you can narrow down your options and then make your selection based upon the unique needs of your business. Doing your due diligence can help ensure that you are choosing the right commercial locksmith for your business.
In conclusion, a commercial locksmith can be a huge asset to the security of your business! With the wide range of expertise these professionals provide, you can rest easy knowing your business is as secure as possible. So, what are you waiting for? Consider how a commercial locksmith could help your business today!
Homeowners Guide to Black Mold Removal in Toronto

Learning that you may need black mold removal can be outright scary for many homeowners. Black mold is also known as toxic mold, which has been portrayed in the media as a threat to people, animals, and children. The truth about black mold is a... The post Homeowners Guide to Black Mold Removal in Toronto […]