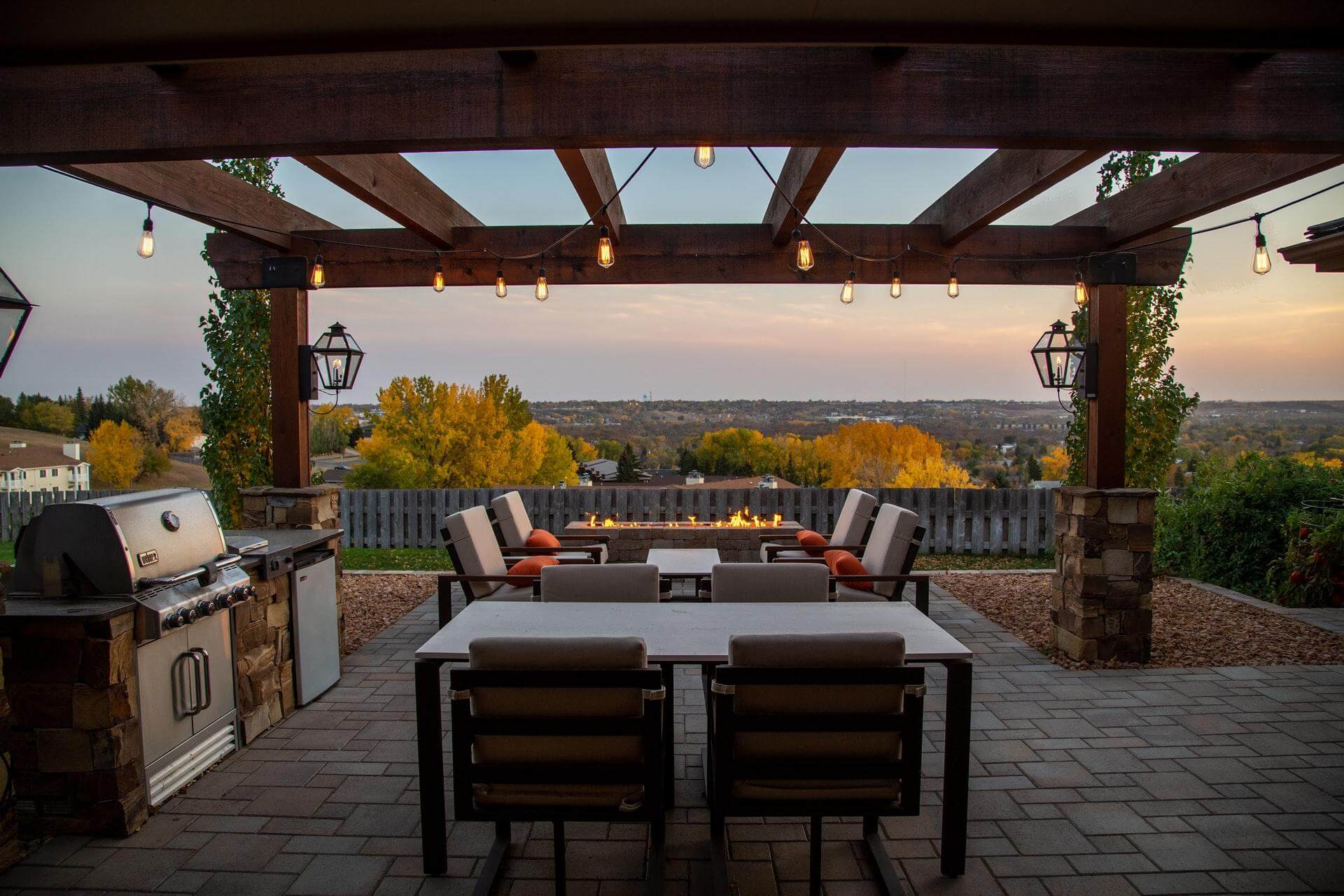 This 2021, climate change has made the weather warmer, especially during the summer. This made most homeowners switch their attention to their backyard and start talking with a concrete patio contractor. Patios are no longer used for afternoon tea time or barbecue nights. Today. People are even using their patios as an extension to their office, enjoying the sun and fresh air while working.
With the increasing purpose of a patio, here are Nine 2021 trendy patio designs that you can consider in building a concrete patio.
Glowing Wood Pergola
This patio is a combination of concrete and wood, with most of the patio built on concrete. It also involves minimal design – it means less furniture. If you are putting up a manly patio, this design is for you. add monochrome furniture, a plant on every corner, a mirror on one corner, and on your pergola, add some cherry stain to give it a fiery look. It is simple yet elegant and is very charming to the eye.
Residential Garden Design
Don't let the limited space in your backyard stop you from having a concrete patio. Use whatever is already in your backyards such as a big tree or shrubs. If there are walls, use them as a foundation and basis for color coordination. Give your space a city-garden look and take it to the next level. Once furnished with furniture, you can now have your morning coffees and afternoon paperwork in your residential garden.
Enclosed Garden Patio
You can start by designing your open patio. Add pieces of furniture you want to have. For an enclosed patio, you can use banners or voiles as hanging walls. It doesn't have to cover the entire patio. It should cover at least a quarter (from the top). If you are hanging long voiles, you can knot it at a certain height. Make sure to match the furniture color with the voiles you are using. Since it is covered, you can use your patio anytime and just use the voiles as cover against the sun (if needed). and if you have fully enclosed patio don't forget to install thermostats from Honeywell.
Cozy Outdoor Patio
Your concrete patio doesn't need to have round metal tables and wooden chairs. You can make it as comfortable as possible with a set of cozy furniture. Add inviting pieces of furniture such as a large sofa with soft pillows and a small table where you can put your drinks. You can also add a curtain to give you privacy in case you want to take a nap or take a private talk with someone.
Elegant Rustic Patio
An elegant rustic design includes a concrete patio with a concrete fireplace next to it. Tell your concrete patio contractor that you want a rustic-like concrete patio and they can do it for you. Though it is hot in Los Angeles, you can light the fireplace at night, sip your beer and enjoy a cozy night with your family or loved ones.
Permanent Concrete Seats
Permanent or built-in concrete seats are also a trendy design for patios this year. Built-in concrete seats can be designed with different cushions and pillows, depending on your mood and the weather. Within the concrete seats that your concrete patio contractor, you can also use it to set a bed outdoor. Now you have a patio with seating furniture and a bed in one. Add a removable curtain for added privacy.
Rooftop Patio with Modern Design
Turn your rooftop into a modern patio by giving it a colorful yet minimal look. Use green for decors and keep the bare concrete as it is but with a twist – use it to hang stylish light fixtures and small plants. This will turn your bare rooftop into a simple yet elegant oasis. For your sofa, add a few pillows, three would do.
Atrium Style Patio
For a concrete patio, giving it an atrium look is one design you can try to achieve this 2021. Atrium design means integrating your patio design with your interior home's existing design. One good example of an atrium design can be seen way back in the Roman era. It was the time when the dining area, sitting area, and garden area had the same designs. The colors are hot and bold and are present across the entire home.
Casual Style Patios
A casual or laid-back patio uses earth color to give off a casual atmosphere. It doesn't require a large space and is best set up with a wall. Use your wall for hanging plants and lighting fixtures. Since it is earth color-themed, it is best to use a single color for furniture and other decors like rugs and woven decors.
Final Thoughts
For a successful concrete patio, you can ask your Los Angeles Concrete Company for tips and ideas. You can also use the ideas we have and ask for their opinion. A professional concrete contractor can help you picture your concrete patio with words before even building it. This way, you can easily understand how your patio will look and decide whether to stick with it or change your patio style.
Are Marble Kitchen Countertops a Good Idea?

When it comes to kitchen countertops, nothing exudes elegance quite like marble. Its natural beauty and timeless appeal have made it a popular choice among homeowners. But is it a good idea to have marble countertops in your kitchen? Let's explore the advantages and disadvantages.... The post Are Marble Kitchen Countertops a Good Idea? appeared […]