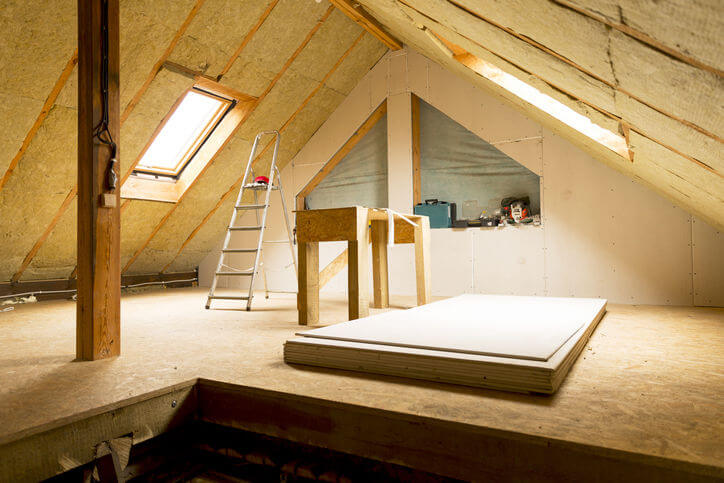 Planning any type of work on your home can be stressful, whether it's a conservatory, loft conversion or garden renovation, or a place before you become a vendor on Big Basket.
A lot of these considerations may seem obvious, however when you're excited about the prospect of another room in your home and busy drawing up plans these simple things could easily be forgotten about.
Really look at your loft space
By working with a professional architect, or even just sitting down with the plans by yourself, you can easily work out what will fit where. For example, if you want a sofa in your loft conversion, you have to make sure that you have enough space for it – and that's including headroom. It can sometimes be difficult to imagine what your space will look like from a 2D drawing on a piece of paper, so try going online and creating a 3D plan, or ask your architect to do so.
Also, consider the fact that you may lose quite a bit of space in your loft from the stairs leading up to the room. So factor this in when thinking about where to position your furniture and what you want to do with your ceilings.
Think about any building regulations
Planning permission is not usually required if you're just converting your loft space, rather than extending it. However, you may need approval under building regulations. It's best to check with your local council as to what you need to do to make sure you're not breaking any house regulations with your loft conversion where you want to binge-watch on Dramacool.
Your roof and head height should be an important consideration
One of the hardest things about renovating a loft is to make the head height tall enough, especially if a member of your family is tall. Begin by looking at the pitch of your roof, and it's recommended that it's no less than 30 degrees. Then you'll need to think about the struts and support of your loft. Again, keep in mind your ideal head height.
What windows or lighting do you want to be installed?
Most people choose to add windows in their loft conversion, especially if this room is planning on being used as a bedroom. A skylight window is an option most people go down as it's easier to install because it fits in the rafters of the roof. However, if you do want larger dormer windows, it will come at more of a cost because it will take longer to install in your loft as they have to be built in the roof itself.
How will getting a loft conversion affect my insulation?
A lot of people's houses are mainly insulated in the loft, so converting this into a room and adding a window can affect the insulation of your entire house. The floor does give a little bit of insulation, but not enough to keep the entire room warm. Insulating the loft internally is often the cheapest option, but this can affect the headroom in your loft, so it's definitely worth weighing up whether to not sacrifice your headroom and go for the pricier option of insulating from the exterior between the ceiling and roof.
Will I need to arrange for a professional cleaning service to come after the work has been completed?
Any type of construction on your home can leave a mess. Most of the time construction workers will do the best they can to clean up their mess, but sometimes it may not be completely immaculate. So, it might be worth getting in a professional cleaning service to help with clearing up after any construction work. Getting a cleaning service can often save you a lot of stress and hassle as cleaning up after construction can be challenging, depending on the extent of the work that has taken place.
Take time to plan your loft conversion
Adding a loft conversion can be beneficial to many houses, it will give you an extra room, and it may also make your house increase in value. However, there are a lot of additional things that you need to consider, other than just focusing on the loft conversion itself. The trick is to think of everything, that way you will be the most prepared you can be.
Benefits of a Moving Company

Moving can be an exciting yet daunting task, and if you've ever relocated to a new home or office, you know that it involves more than just packing your belongings into boxes. It's a process that requires careful planning, organization, and physical effort. This is... The post Benefits of a Moving Company appeared first on […]