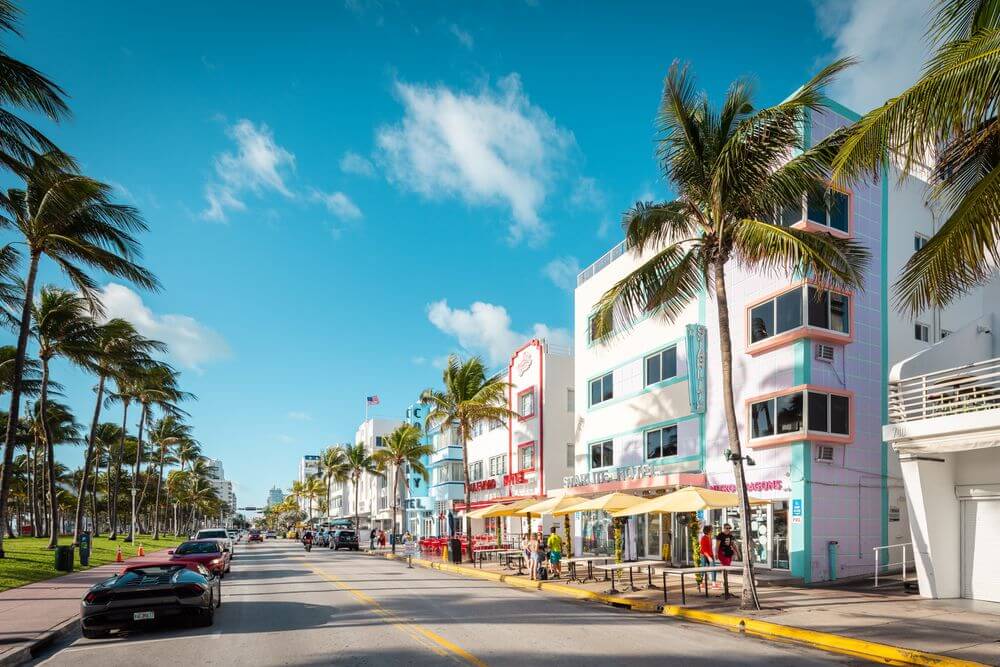 Moving in Miami: 5 Tips You Should Know
Andres Walsh, 7 days ago
0
5 min

read
10

Miami is a city of contrasts, where the palm trees sway in the breeze and the nightclubs pulse with energy. It's a city where you can find everything from world-class art museums to vibrant street art. And with its diverse population, Miami is a melting pot of cultures where you can taste everything from Cuban cuisine to Haitian food.
Whether you're relocating to Miami for a new job or to retire, you're sure to find a place to call home. With the help of experienced Miami movers – Shark Moving in Miami, you can make your move as smooth as possible.
Prepare Yourself for the Weather
Miami has a humid and tropical monsoon climate, which means that it is warm year-round and receives a lot of rain, especially during the summer months. This climate also makes Miami susceptible to large hurricanes, rotating storms that can cause extensive damage.
If you are moving to Miami, it is important to be prepared for the possibility of a hurricane. The Centers for Disease Control and Prevention (CDC) recommends that residents of hurricane-prone areas have an emergency plan in place, including a list of essential supplies and a way to evacuate if necessary. You should also familiarize yourself with ways to protect your home during a hurricane, such as securing windows and using sandbags.
Look Into Parking Permits and Public Transportation
Miami's heavy traffic makes walking and public transportation popular alternatives to driving everywhere. However, the public transportation system can be difficult to navigate for newcomers, so it's a good idea to familiarize yourself with it before you start using it.
One of the transportation options in South Florida is Freebee, a free shuttle service that advertisers fund. The shuttles are marked with ads on their doors, and riders are expected to tip the driver.
While public transportation can be a convenient and affordable way to get around Miami, it is not always efficient in all areas. If you must commute to work by car, you will likely need to get a parking permit. Parking in Miami can be difficult and expensive, so it's important to plan.
Consider Learning Spanish
Miami is a vibrant and multicultural city where people from all over the world come together to live, work, and play. As many as 80 different languages are spoken in Miami, but English and Spanish are the most common.
Spanish is the native language of many Miami residents, and it is estimated that up to 70% of the city's population speaks Spanish at home. This means that you will likely hear Spanish spoken everywhere you go in Miami, from the grocery store to the doctor's office.
While it is not necessary to speak Spanish to live in Miami, it can be helpful to know a few basic phrases. This will make it easier to communicate with locals and get around the city. Many resources are available to help you learn Spanish, such as language classes, apps, and online tutorials.
In addition to being a useful language for communication, Spanish is also a valuable asset for business in Miami. Many businesses in Miami have a Spanish-speaking clientele, so being able to speak Spanish can give you a competitive edge in the job market.
Stay organized with a moving checklist
You could dream about your life in Miami but don't forget there is work to be done before you reach your destination. As soon as you've scheduled your move with Miami Moving Company, you should start with planning and packing. The following timeline can help keep you on track for making the arrangements for living in your new city. This checklist will also ensure that you are packed up and ready on a moving day:
6 Weeks Before Moving Day:
Start packing non-essential items.
Cancel your utilities and memberships.
Give your landlord or property manager notice of your move.
Start researching schools and daycares, if applicable.
Book a moving truck or hire movers.
4 Weeks Before Moving Day:
Finalize your moving budget.
Start packing essential items.
Order moving supplies, such as boxes, tape, and bubble wrap.
Notify your employer of your move.
Start making arrangements for your pets, if applicable.
2 Weeks Before Moving Day:
Clean your home thoroughly.
Disconnect your appliances and electronics.
Pack your car or hire a car service to transport your belongings to your new home.
Finalize your plans for moving day.
1 Week Before Moving Day:
Dispose of any unwanted items.
Give your movers a final list of your belongings.
Disconnect your internet and cable services.
Pick up your mail from your old address.
Moving Day:
Be at your home for the movers to arrive.
Direct the movers where to place your belongings.
Inspect your belongings after the move to make sure they are all accounted for.
Hire a Local Miami Moving Company
Moving to Miami is an exciting prospect, but it can also be a daunting task. There are so many things to think about, from packing your belongings to finding a new place to live. That's where Shark Moving company can help. We are a full-service moving company that can handle every aspect of your move, from local to long-distance and international.
What sets us apart from other moving companies is our dedication to customer service. We offer a dedicated move coordinator who will be your point of contact throughout the entire process. Your move coordinator will walk you through each step of the move, from packing to unpacking, and will answer any questions you have. They will also keep you updated on the progress of your move so that you can have peace of mind.
In addition to our excellent customer service, we also offer a wide range of services to make your move as easy as possible. We provide packing and unpacking services, as well as climate-controlled storage options. We also offer white glove moving services for those who want the highest level of care for their belongings.
Andres Walsh
My name is Andres Walsh and as far as I can recall, I have had only one passion in my life – a love of fixing things! Growing up, my friends and even my family members called me "wrench." The nickname has somehow stuck even through to my adult life.
Related posts
Benefits of a Moving Company

Moving can be an exciting yet daunting task, and if you've ever relocated to a new home or office, you know that it involves more than just packing your belongings into boxes. It's a process that requires careful planning, organization, and physical effort. This is... The post Benefits of a Moving Company appeared first on […]