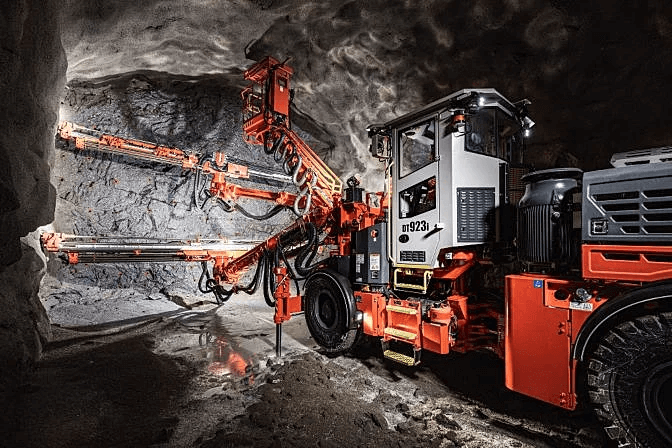 There are many different kinds of mining equipment. Instead of listing all the tools on one list, we've arranged this list of the various mining techniques and the tools employed for each.
Before we get into the particular categories, we want to present an inventory of mining equipment and equipment by category so you can understand what each comprises.
Here's a comprehensive listing of mining tools and equipment:
Tools for miners–tools that miners carry with them, such as pickaxes and chisels.
Mining equipment for the surface–all the mining tools and equipment used in surface mining.
Equipment for mining underground–all the mining tools and machines used to mine underground.
Now that we've covered the basics at a high level Let's get into each category.
Miner Tools
Today mining workers still employ traditional mining equipment, such as:
Pickaxes.
Hammers.
Chisels.
Shovels (for both underground and surface mining).
Surface Mining Equipment
These are the different kinds of mining equipment used for surface mining.
BLASTHOLE DRILLS
Explosive blast hole drills comprise mining equipment that drills holes in the earth's surface to place explosives.
BUCKET-WHEEL EXCAVATORS
Excavators with bucket wheels are utilized to mine open-pit. Mining equipment continuously digs through, transports, and load material and machines as long-stroke hydraulic cylinders removing as much as 240,000 cubic tons of minerals daily.
DRAGLINE EXCAVATORS
Dragline excavators are utilized in strip mining for the removal of the overburden. The huge bucket system is linked to massive booms and is dragged across the ground to dig. This is among the largest pieces of mining equipment utilized in mining or any sector.
HIGHWALL MINERS
The high-wall mining machinery removes coal from seams that are exposed. Highwall miners move between walls and grind mineral deposits off the walls. Mining tools can also be used to mine trenches.
MINING TRUCKS
Mining trucks are large dump trucks that are used to mine. The latest technology has created fully autonomous mining vehicles using radar and LiDAR to move within a mining site easily.
WHEEL TRACTOR SCRAPERS
Scrapers for wheel tractors are a different earthmover that works the same way as the carpenter's plane. Scrapers, unlike dozers, can load and move materials.
Underground Mining Equipment
Below are the various types of mining equipment used for underground mining.
CRANE LIFTS
Crane lifts can be used when it comes to underground mining. They can be used to transport explosives, as well as carry various heavy loads and mining equipment.
CONTINUOUS MINERS
Continuous miners are the type of equipment employed in pillar and room mining. They have an enormous rotating drum with carbide teeth that scrape coal from seams. They can mine at least five tons of coal per minute and are responsible for around 45 percent of the underground coal mine.
There are conveyor belts that move coal, which makes this an automated process that can be managed remotely.
DRONES
Underground mining drones such as the Flyability Elios 3. can be used to inspect stops, ore passes, ventilation conveyor belts, shafts, and various other areas of underground mines. Drone technology allows inspections to be carried out in areas that aren't safe for human beings to access and is a valuable instrument in these hazardous environments.
However, not all drones can be utilized in mines. Working in underground mines must be capable of functioning with no GPS.
LOADERS AND HAULERS
The haulers and loaders can be described as small and easy-to-maneuver equipment for underground mining. It is specially designed for underground mining. As their names, they take minerals and load them onto haulers.
LONGWALL MINING MACHINES
Longwall mining machines are among the most commonly used machines for underground mines. They are utilized to construct underground galleries and tunnels using the machine's shearing capability.
PERSONNEL VEHICLES
Transporters transport miners and their gear down a shaft to an underground mine.
REFUGE CHAMBERS
Refuge chambers are separate safe chambers for miners with oxygen and food, water, and other sanitary requirements in the event of an emergency. These chambers can hold miners for up to 96 hours or eight days.
ROCK DUSTERS
Dusters on rocks are crucial in preventing mine shafts from exploding. Dusters apply inert, or dust that contains a tiny amount of combustible material to neutralize this coal dust. This is crucial when explosions planned for the future are happening.
Are Marble Kitchen Countertops a Good Idea?

When it comes to kitchen countertops, nothing exudes elegance quite like marble. Its natural beauty and timeless appeal have made it a popular choice among homeowners. But is it a good idea to have marble countertops in your kitchen? Let's explore the advantages and disadvantages.... The post Are Marble Kitchen Countertops a Good Idea? appeared […]