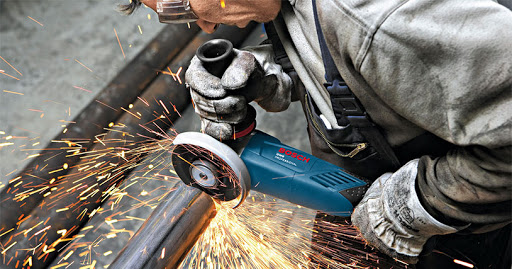 How to Use an Angle Grinder?
Andres Walsh, 3 years ago
0
5 min

read
1402
You can make use of the best angle grinders for sanding, cleaning, cutting, and grinding as these are powerful electrical devices having detachable grinding wheels. Well, if you know how to use an angle grinder, then it will prove to be a versatile and beneficial tool for polishing, eliminating extra things, sharpening, and many more home maintenance and unlimited DIY tasks. So, in this article, you will get to know how to use and how to make the best use of your angle grinder by going through all the necessary things. Let's begin –
Your Safety is the First Priority
You need to get a protection gear if you want to make use of your best angle grinder. It generates a tremendous amount of debris all around, and it is quite loud. In addition to this, you need to do cutting apart from just polishing or grinding. And its wheel may turn into high-speed shrapnel if you don't do your job with extreme caution or you may face hard luck.
So, for all the reasons mentioned above, you need to get personal protective equipment that incorporates gloves, long sleeves, something to cover your face, and hearing protection.
Match the RPM of your angle grinder with your accessories
You need to check all the specifications given by the manufacturer when you attach the cup, disc, or wheel. Ensure that the maximum RPM of the grinder is met or exceeded with the accessory's maximum RPM.
Set the Tool Accurately and Look for Sparks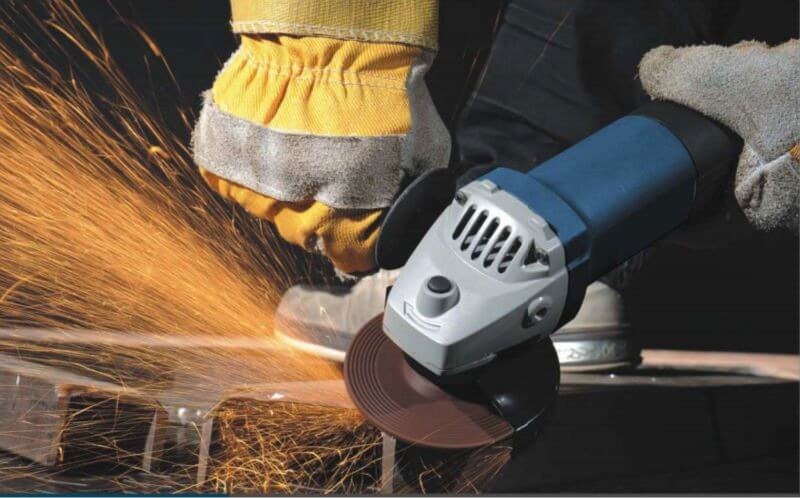 Direct all the sparks away
If you set up the tool accurately, then you'll lessen the risk as to the best angle grinders rapidly eliminate a lot of materials. However, it would be best if you contemplated that different attachments, tasks, and applications need distinct angles. So, there are very few chances of getting injured if you make sure that debris and sparks fly away from your body. Not only you'll not get injured, but also your clothes will be more durable.
Flap discs and surface grinding
Keep the angle of 20o – 30o in the middle of your work surface and tool and make use of the flat part of the wheel for surface grinding.
To direct the flap, discover the material, you need to make use of an even back and forth movement. Well, allow the wheel to perform its job; however, you should not feel reluctant to apply sufficient pressure to make sure that you are quite dynamic and prolific.
Cutting wheels
In the case you need to make use of the wheel's edge to cut into the work surface, you need to focus on managing cutting straightly. Well, do not bend the cutting wheel in any way and remain cautious while doing this. To save you from debris, the guard needs to be on the top in this mode. You'll also get protected from early disc failure if you cover your face with a face shield. Don't forget to move the guard until it isn't in the middle of your face and cutting disc.
Light Grinding or Sanding
Set the instrument at 5o – 10o angle to the work surface to sand jobs. Carry out just minimum pressure for grinder tasks. Well, you need to permit the wheel and tool to perform the entire laborious task.
There are some more things you should know on how to make use of the best angle grinders.
Read the manual and get to know all about your tool
Do not ever use an angle grinder in the rain as it may give you an electric shock. Make sure that no one enters your workplace while you are using an angle grinder. So, for all such things and to get familiar with the best angle grinders, it is essential to read its manual.Don't ever grab a metal piece in your hand to cut it
Don't use a grinder without making use of a side handle
In the case of torque reaction and kickback, the side handle of your angle grinder will permit you to have more control over the device. If you are holding your grinder having its power on, then do not ever roam around your work region.
Grab the device with a firm grip with both of your hands
Keep your one hand on the side handle and others on the grinder's body. Don't ever use it with one hand.
Never force the disk into the cut
It would be best if you made sure that the sparks are flown away either in the middle or at the side of your legs. So, angle your grinder accurately. In addition to this, do not ever permit the sparks to focus on a single point of your clothes as they may ignite them. You can make use of a leather apron to save your clothes.
Do not ever grind in the event you are tired
You may end up causing a personal injury or accident if you grind with a lack of concentration. Spread your feet wide apart. It will support your body in the right way, and there are very fewer chances that your body will lose balance. Make sure that the extension cords and power flex are at your back so that they won't fall into the way of grinding.
Final words
Now you must be familiar with how to use an angle grinder. Hopefully, the article has substantially assisted you with all the tips and tricks that you can perform with your best angle grinders. You can do all the grinding, sharpening, cutting, and many more tasks with your tool that it is made for. Get the most out of this article, and don't forget to ensure your safety while performing such kinds of tasks.
Write for us
HeckHome does not necessarily share views expressed by opinion writers and advertisers. HeckHome regularly invites Bloggers across the World to home "write for us" in order to present their creative ideas.
Andres Walsh
My name is Andres Walsh and as far as I can recall, I have had only one passion in my life – a love of fixing things! Growing up, my friends and even my family members called me "wrench." The nickname has somehow stuck even through to my adult life.
Related posts
Are Marble Kitchen Countertops a Good Idea?

When it comes to kitchen countertops, nothing exudes elegance quite like marble. Its natural beauty and timeless appeal have made it a popular choice among homeowners. But is it a good idea to have marble countertops in your kitchen? Let's explore the advantages and disadvantages.... The post Are Marble Kitchen Countertops a Good Idea? appeared […]