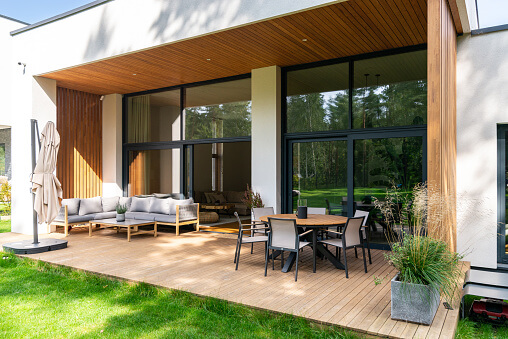 Do you have a concrete patio that you dream of better incorporating into a humble garden? Well, as the famed British gardener Monty Don would say, there are no small gardens, only small aspirations. It is in this spirit that a concrete patio can be refurbished and turned into the focal point of any outdoor space that makes your home look better. That is, with a bit of planning and effort.
From painting a pattern to laying tile, there are a lot of uses for an old concrete patio that has seen better days. If the patio is too far gone for rehabbing, a replacement pad can often be installed with the help of a professional. Something as simple as placing planters around the patio can also help freshen up the space.
If you have a concrete patio that is dominating your limited garden space, be sure to read on for five ideas that will help you reclaim the space and reimagine what it could be.
Paint a Pattern
One quick and simple way to refurbish a tired-looking patio is to paint a simple pattern or geometric design over it. This can be a fun do-it-yourself (DIY) project that the whole family can be a part of. Aside from traditional painting supplies like brushes, trays, tapes, and rollers, the only extra equipment you'll need is specialty concrete paint. The key to getting perfect straight lines is a combination of careful measurements and painter's tape.
Lay Tiles
A concrete patio in reasonably good shape provides an excellent surface to add tiles to. If you have experience tiling you can try to undertake this task yourself, however, if you are out of practice (or you've never attempted to tile before) you may want to regain your tiling skills on a piece of plyboard before placing anything permanent on your patio. For those that are feeling adventurous, experimenting with a geometric pattern can be a fun way to add some flair to an otherwise sedate tile job. Don't be afraid of colors. A simple mosaic pattern can be easily achieved with a little planning.
Stain the Concrete
If tiling seems too involved there is a shortcut available to those who are willing to try something novel: staining a concrete patio to make it look like it's tiled. This process is fairly straight-forward. With some automotive tape, the stain you like, and a few free hours, you can do this all on your own. For more details on how to tackle this project, check out this DIY blog to see all of what the process entails.
One word of warning in regards to over applying around the painter's tape, be careful not to get any under the tape. It is common for heavy amounts of stain to bleed through or under the tape and this can seep into the grout lines. In doing so, it can rob the patio of the desired tiled effect.
Replace The Old Concrete Pad
If your concrete patio has seen better days and it may be past saving, it could be time to consider a replacement.
Of course, before you install a new patio, you'll want to make sure that the site has been adequately prepared. This is where finding a trustworthy contractor can make all the difference. A nearby contractor will be familiar with the local environment and how to best lay and treat a new concrete patio for your area. A concrete contractor in Grant County, IN will likely give different advice on the winter maintenance of a patio than a contractor in Arizona might, for example. In short, this means that consumers are best served by going with a local provider for their concrete needs.
Put Down Decking
For those that have a patio, but wish they had a deck, you have options. There are systems available where you can place decking-style tiles down on top of your existing patio's surface. These systems can be much cheaper than building a deck – with a 10 square foot box of decking running approximately $69 at Home Depot. The best part is that these decking systems come in unique colors, such as Grecian Blue and Japanese Cedar, that would be nearly impossible to replicate with natural materials. While this is not a true replacement for a real deck, these tiles can still provide some of the style and class of the real thing.
Of course, it must be mentioned that such decking systems can have similar issues (like splintering and cracking) just as any real deck would if not properly maintained. Be sure to confirm what ongoing maintenance you need to perform to keep your deck in tip-top shape.
Don't Let an Old Patio Stop Your Garden Dreams
In summary, we've looked at five ideas that are sure to breathe new life into even the most dilapidated concrete patio. Almost all of these projects – with the exception of completely replacing the patio – can be undertaken by a homeowner as a DIY project. Doing so will allow homeowners to regain agency over their patio and help turn it into the outdoor space of their dreams with aesthetic lights.
This just further proves that a concrete patio is in no way a hindrance to creating an inviting and exciting outdoor oasis. By updating your patio's looks, you are allowing yourself to imagine the space anew, activating it in ways you previously wouldn't. As Monty would say, it is only once we are able to see the world anew that our best dreams for the future can truly begin. What a wonderful gift to receive.
Benefits of a Moving Company

Moving can be an exciting yet daunting task, and if you've ever relocated to a new home or office, you know that it involves more than just packing your belongings into boxes. It's a process that requires careful planning, organization, and physical effort. This is... The post Benefits of a Moving Company appeared first on […]