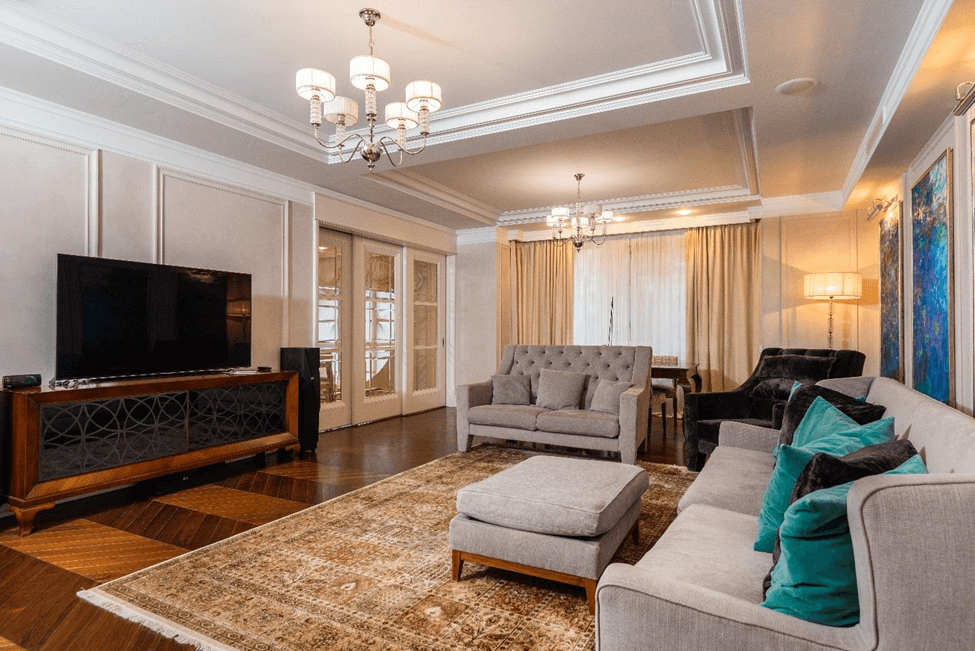 A high-quality wooden or marble flooring is beautiful on its own but can look barren and empty without a carpet. Naturally, you wouldn't want to cover up the whole flooring with carpet because you have spent enough on sprucing it up with the home decor.
But area rugs, runners, or mini carpets are always a good idea to enhance your interior décor and floor aesthetic including carpet tiles. So to make things easier for you, here we have compiled a list of tips that will help you enhance your floor aesthetic with carpets of all types and variations.
So let's get started, shall we?
✔ Area Rugs for the Win
Area rugs are one of the best ways to spruce up a living room, a bedroom or almost any room as long as they are perfectly measured up with their size. You can place area rugs on their own or layer them up over a solid carpet base.
Moreover, area rugs aren't even as expensive to purchase or maintain because of their size. You can get them in almost any colour, design, or texture as you like to go with the room's theme or colour combination.
✔ Creating a Center of Attention
Many people like to place rugs and carpets in the centre of the room for symmetrical aesthetic purposes. However, it would be even better if you get yourself a bold coloured or a rug with a bold print on it and place it in the centre.
It will create a centre of attention or focal point for everyone in the room. For instance, you can achieve this by placing the carpet or rug underneath the centre table with the couches facing towards it.
✔ Bring Everything Together
Believe it or not but carpet brings everything together. They create a harmony of spaces where sometimes, a room may look empty without a carpet. Just how a background colour scheme ties everything together, a carpet with coordinating colours, patterns or texture works too.
For instance, if you are placing a rug to cover up space beside a sofa set, try to match it with the texture of the sofa than its lining. The floor space left in between would do more for the style aesthetic than a complete matchy-matchy.
✔ Cozy It Up For the Winter Season
If you don't want carpets all year long because of cleanliness and maintenance reasons, then cozy up your spaces for the winter season. You can easily have your carpets dry cleaned professionally, roll them up and store them in a clean, dry place after winters are over.
However, thanks to ducted air con units, carpet cleaning and maintenance have become much more manageable thanks to ducted air con units. Moreover, your rooms also stay temperature regulated instead of heating up the more you layer with carpets.
✔ Runners in the Hallway
Hallways are corridors that connect all the other rooms in the house. However, that doesn't mean the space itself doesn't serve a purpose and should be left untamed and empty. In fact, runners are specialized long carpets that go extremely well in hallways.
The choices are endless, from bright, statement runners to animal and bohemian themed prints. You can spruce up the space however you like without much thought. And it is always better to have a runner than to leave the hallway vacant.
✔ Don't Shy Away From Shapes.
Traditionally, carpets and rugs are rectangular doesn't mean that you should abide by the norm. Instead, do not shy away from other geometric, funky shapes. Choose the shape you like best in your room, from quizzical rhombuses to peculiar circles.
However, it is important to note here that uncoordinated shapes may look extremely overdone at times. So keep an eye out for not overdoing it. Instead, pay attention to detail how the room comes together after placing an oddly shaped rug or not.
✔ A Liner to Keep the Rug from Running Away
Lastly, do not forget to place a liner underneath your carpets, rugs, and runners. You don't want them slipping and running around on your floor. According to the floor and rug material, a liner that is the perfect size keeps it stuck to the floor and from slipping.
Moreover, slipping rugs are dangerous. Stepping onto one without much care can cause you to slip, fall or injure yourself. Therefore, it is always a good idea to have a liner layered underneath your rug or runner to save everyone in the household.
Wrap Up
Carpets are beautiful, soft, and utterly cozy-chic to add to a barren and boring room. We hope with the interior décor tips that we have shared. You can enhance your floor aesthetic with carpets, rugs, runners, or any other type of floor ornaments. Happy Decorating!
The Energy-Efficiency Advantages of Vinyl Window Replacement

Windows are more than just portals to the outside world; they play a significant role in determining the comfort and energy efficiency of your home. If you're looking to improve your home's energy efficiency, consider the advantages of vinyl window replacement. In this article, we'll... The post The Energy-Efficiency Advantages of Vinyl Window Replacement appeared […]