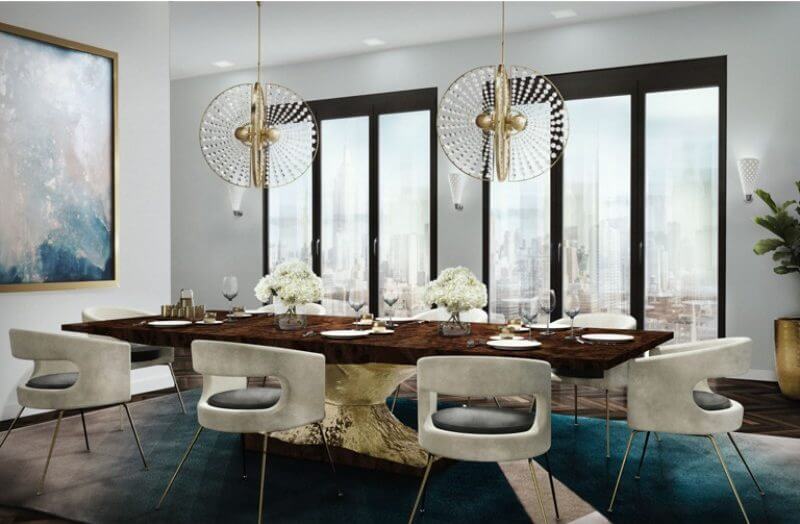 Designing the dining room, or any room in the house, of your dreams, can be a difficult task. The key to achieving the dream is understanding what you need to avoid doing, and what to make sure is done right.
By following these eight rules, hopefully, will make the task of creating your dream dining space a lot easier.
Do Work Your Dining Room Around Your Most Expensive or Favourite Item
If you love a piece of furniture for your dining room, do what you can to incorporate the piece. You sometimes hear of people not buying a piece of furniture that they love because it doesn't fit 'their style'. But surely if you fall in love with a piece, it's meant to be?
One of the most important pieces of advice when trying to create your dream home, is to follow and use pieces, styles and colours that you love.
Don't Use Rugs That are too Small or the Wrong Shape for Your Dining Space
A very common mistake that people usually make when decorating their dining space, is choosing the wrong size or shape rug. You want the rug shape to reflect the table shape, so if you have a round table, choose a round rug. If you have a rectangle dining table, choose a rectangle shaped rug, and so on.
So that's the first part of selecting the right rug, the next part is choosing the right size. You want there to be enough space so you can pull your dining chairs out to sit down, and they will still be placed on the rug.
It can become annoying to have the back legs of chairs off the rug, as this creates an unbalanced feeling while sitting on the chair.
Another tip for choosing the right rug, consider the colour. For example, if you have a dark coloured table, a light coloured rug will make the table stand out and create a contrast. A dark table on top of a dark rug can blend the pieces together.
Do Use Comfortable Dining Chairs
How do you imagine using your dream dining room? Is it to spend time with family? Is it to host fabulous dinner parties? Or is it just to have some time to yourself after a busy day? Whatever it may be, one important piece to your dream dining room is comfy chairs to make spending time there more comfortable.
Used in stylish interiors all over the world, are the iconic Eiffel Chairs and their ergonomically designed plastic seat. A truly timeless design that uplifts any dining room setting, making you one step closer to achieving your dream space. Designers also bring more comfort to the chair by incorporating sheepskin throws or cushions.
Don't Push Your Furniture Against the Wall
Walls are good for appliances like thermostats or air conditioners but for placing furniture. If you have the space to have your furniture away from the wall, it is recommended to design your dining room in this way to create the possibility for intimate conversations. Dinnertime or any other meals are a great time to connect with the people you live with or family members. By making your dining room a social space, you will find more value for the room and enjoy spending more time there.
Do Use Your Favourite Colours
Whether that's timeless neutrals, bold pops of colour or a selection of monochromatic hues. It doesn't have to be anything crazy, unless you want it to be. By adding your favourite colours to your dining room, it will help to achieve a room that reflects you and your personality.
Interior designers usually use a selection of yellow and orange tones, as the warm and energetic colors encourage conversation and make the room feel more lively. However, this comes down to personal preference and if you are wanting a relaxing dining room, neutrals, shades of blue and green are perfect for achieving a relaxing space.
Don't Use Too Many Patterns Or Unusual Details
Now this look can be achieved, but it can be very difficult to pull off correctly. If you are looking for a dining room that incorporates this eclectic style, professional advice may make creating your dream dining room an easier task.
Why do we not recommend too many patterns or unusual details? These can age quickly and start to feel dated or out of fashion quickly. It can also result in your dining room feeling cluttered and claustrophobic.
Instead look for timeless colours and patterns. By choosing more understated prints and details, it will be easier to update your dining room.
Interior designers learn that one of the reasons you will find an interior interesting is because it challenges your brain. But challenging your brain too much can lead to a feeling of stress or agitated feeling, as your brain is on overdrive trying to understand the space. This can be down to the individual preferences though, some people can feel calmness among the madness which is fine if this is you.
Do Use A Range of Lighting
The right lighting can be important for setting the right mood. If you are using your dining room to do some work, then you will want more intense, bright lighting like overhead lighting. In the evening, if you are enjoying dinner then you may want dimmer lighting from a table or floor lamp. Having a mix gives you the opportunity to choose the right style of lighting, and won't lead you to feel frustrated with the wrong lighting.
Don't Ignore the Need for Storage in Your Dining Room
More storage will mean less clutter needs to be out for you and guests to see. Even if you are trying to achieve that polished, picture-perfect dining room look, storage is the key otherwise where will you store the abundant groceries that you shopped for by referring a friend. Shelves can also be used to bring some character to this space, by displaying memorabilia or your favorite accessories.
We hope you are feeling inspired and learn ways to improve your approach to creating your dining room. If you are still feeling uninspired, look at creating mood boards that will hopefully make the look you are trying to achieve easier to understand.
Benefits of a Moving Company

Moving can be an exciting yet daunting task, and if you've ever relocated to a new home or office, you know that it involves more than just packing your belongings into boxes. It's a process that requires careful planning, organization, and physical effort. This is... The post Benefits of a Moving Company appeared first on […]