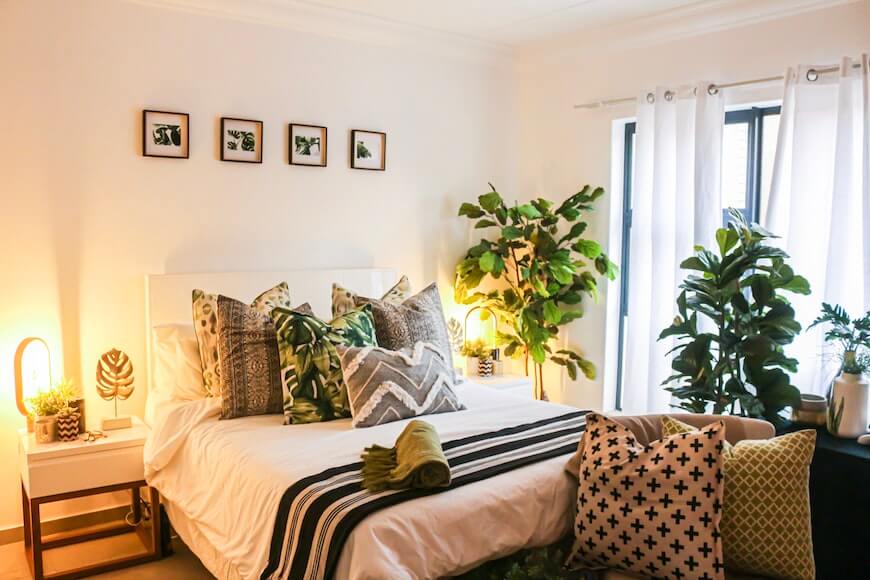 Of all rooms in a home, the bedroom is, perhaps, the most interesting one. Despite being a space that scarcely meets the public eye, it deserves a greater degree of reverence in terms of function and aesthetics. Just think about it – interior designers often strive to introduce open-floor concepts for a functional kitchen; they aim to discover the right architectural focal point to make a living room appealing, but the snooze sanctuary requires a holistic approach that is conducive to relaxation, sleep, and comfort.
One way designers have hit their jackpot is through botanical décor, which takes its inspiration from nature. What would this look like? The very epitome of serenity as you walk into a room featuring different kinds of air-purifying plants, heavy use of natural materials, and a careful juxtaposition of man-made and natural motifs.
Well, this is just the tip of the iceberg. Keep reading to know the ins and outs of creating a botanical-themed bedroom that transports you to Slumberland as soon as your head hits the pillow.
1. Introduce Plants, Lots of Them!
When you open the windows of your sacred haven, what do you see? Whether it's a panoramic view of the New York skyline, the rugged treat of mountain slopes, or the textured topography of the woods, a lack of greenery inside will leave you anxious and craving more.
Bring the outdoors within, or offset the concrete jungle by introducing plenty of plants. The choice is entirely up to you in terms of the plant type and the shape, style, and size of the planters. For instance – you can choose a mix of air-purifying houseplants and bright, vibrant flowers that can grow indoors, including peace lilies, orchids, and African violets.
As for the pots, Crescent Garden suggests playing around with round or square containers for those awkward corners. You can also introduce small, eclectic-shaped pots that complement the décor of the accent table, vanity, or window sill. Plants will add a pop of color and liveliness, but most importantly, they will heal you and promote overall well-being.
2. Amp up the Tranquility Factor with an Accent Wall
An accent wall is any wall that is aesthetically different from the rest of the walls in the bedroom. The choice of the accent wall can be made based on personal taste, or you can pick a side that offers the best scope to become an architectural focal point. A good example would be a wall with a wooden fireplace attached.
The fun part is there are myriads of ways to decorate an accent wall, including –
A rustic wood-textured wall
A wallpaper that features beautiful flowers, greenery, or a landscape
Nature-heavy Bohemian elements like jute-scroll wall hangings
Realistic or artistic nature image canvases nailed to the wall
Negative space around a nature image (including a nature-themed quote) acts as the breathing room for the eyes to rest.
Whatever idea you choose, the ultimate aim is to produce a calming effect on the nerves.
3. Keep the Bedding Nature-Inspired
In a botanical bedroom, the bed is among the most important elements that must reflect the room's décor theme. Since it is the centerpiece, you should add as many natural elements as possible. So, what are your options?
You can start by keeping the comforter a mild green color with the duvet covers and pillowcases beautifully floral-printed. In lieu of floral, you can also choose bedding printed with ferns, vines, and grasslands. Ideally, the bed should be carved of wood with a rustic headboard that further complements the theme.
As for any prints, keep them realistic and not creative. You can even choose 3D nature-inspired prints if you're comfortable with that.
4. Hang Flowy Curtains That Complement the Accent Wall
Picture a bedroom conveniently decorated with small and tall plants along the perimeter of a nature-inspired bed resting across a soothing accent wall. But out of nowhere, heavily patterned curtains in bold colors steal the show from the beautiful vista outside.
This is a bedroom design malfunction you want to avoid, especially with the botanical theme. Since the goal is to keep things calm and undisturbed, create a sense of continuity in the space by hanging lightweight, flowy curtains in neutral colors.
You can choose lace or silk for the material and match the color with the accent wall (provided the curtains rest opposite or across the said wall). Refrain from printed curtains, even nature-themed ones, since they may take away from the elegance of the space. Think of them as the framing to the beautiful outdoors – would you want the frame to snatch the spotlight from the picture?
5. Introduce Natural Furnishings
While certain décor styles, such as the Mid-century and Minimalism, may go well together, there is not much room to integrate the botanical theme with the ultra-modern or eclectic designs. Meaning you can't impart serenity to your haven unless you're willing to do away with loud furniture pieces that distract attention.
Consider incorporating natural furnishings and trinkets such as cotton tufts in a glass vase, real wood (branches) bookshelves, pine cones displayed as the table's centerpiece, terrariums or a self-sustaining ecosystem, and even a tree trunk table!
6. Invest in Atmospheric Lighting
Just like loud colors and décor pieces do not sit well with the botanical-theme bedroom, neither do super bright lights. Does that mean you should not have any bright ambient lights in the room? No! You can keep them for secondary purposes, but the primary atmospheric lights of your bedroom should be balanced, slightly dim, and preferably not dazzling white.
A lampshade is a must-have by your bedside table, along with some flute lights and maybe leaf or flower-inspired string lights running along the walls. Additionally, you can even have a couple of ceiling pendant lights focused on a small canopy framed by artificial leaves.
Parting Thoughts
The modern lifestyle is hectic, sometimes even soul-sucking, and can only be counterbalanced with adequate sound sleep. Well, if your sleeping chamber is not allowing you to sleep tight and dream sweetly, it's time for an overhaul.
As you follow the tips mentioned above, don't forget to relax your senses with the help of some aromatherapy. You can keep this process completely natural using reed diffusers and ceramic oil burners. If that's not your cup of tea, spray a whiff of calming floral room mist that vibes with the rest of the theme, and prepare yourself to tour the wonders of Slumberland!
Benefits of a Moving Company

Moving can be an exciting yet daunting task, and if you've ever relocated to a new home or office, you know that it involves more than just packing your belongings into boxes. It's a process that requires careful planning, organization, and physical effort. This is... The post Benefits of a Moving Company appeared first on […]