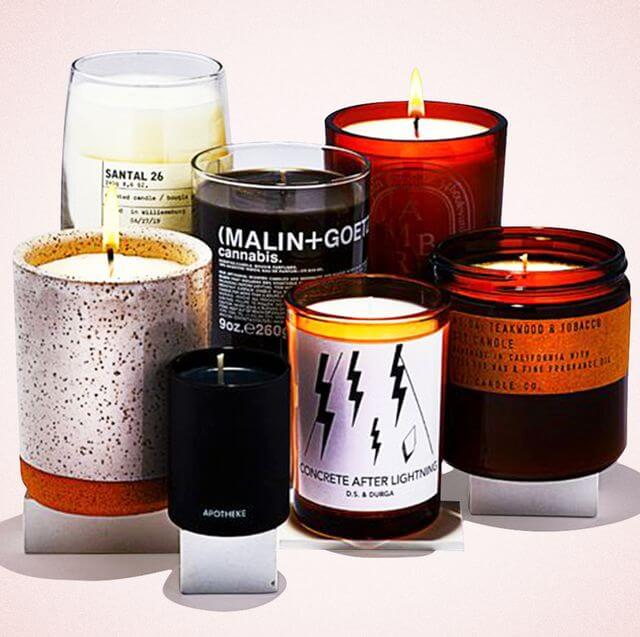 Winters are essentially seasons of festivities, family, and tons of celebration. The season is also about decorating Christmas trees with your loved ones, taking polaroid pictures to hang on the tree, and wrapping gifts. Candles are an exceptional way to make the occasion even more special. What could be better than having the scent of pine cones and lavenders in your living room while you snuggle up with a hot cup of cocoa on your couch watching a movie?
You can find a variety of options online. They also work as air fresheners and are almost a necessity if you have kids or pets. Candle sellers usually come out with season-specific scents. You have plenty of options, from primary vanilla scents to complex ones that are blends of multiple beautiful fragrances.
Scented candles and incense have been around nearly as long as candles themselves. They add a significant backdrop when it comes to a romantic dinner, having guests home, or just having a long shower after a hectic day.
Vanilla Scented Candles
Though vanilla flavored candles are by far the most common type of candles, they are still magical. The smell of vanilla reminds everyone of ice cream, baking, goodies, and dessert, making them an excellent choice for the holiday season.
Additionally, vanilla has soothing properties and is excellent for making you feel relaxed and calm at the end of long workdays. While you can buy them in many different colors, they are most widely available in white. White candles work with pretty much any colors or themes you use to decorate your home.
Apple Cinnamon Scented Candle
These are some of the best candle options for the holiday season since apple and cinnamon are Christmasy in scents. Everyone has memories of delicious apple and cinnamon Christmas dishes that used to define childhood. Additionally, everyone loves the combination.
Cinnamon offers excellent relaxation properties and can help you relieve mental fatigue and even headaches. Most candle lovers assert that the scents of spices are milder and more "natural" than that of fruits or vanilla. This is because spices already have inherently deep smells, and candle manufacturers don't have to use too many fragrance agents or chemicals to bring out stronger scents from spice essential oils.
Fruit and Berry Scented Candles
Fruit and berry scented candles are usually trendy around the holiday season. They bring fruity cheer to your home and make your winter days brighter. While winters are about fun and celebration, the drab weather, cold, and the lack of bright, natural sunlight can make anyone feel low sometimes.
Scents of citrus fruits and berries are natural mood boosters. So it's always best to have a few fun, fruity scents around the house in winter. You can even buy fig-scented ones to take the occasion to the next level.
Floral Scents
The scents of roses and lavenders can make any occasion better. However, it's vital to buy from trusted brands that use the best quality essential oils and waxes to make your scented candles. Try out a few scents first before buying loads of floral candles. Stats show that several people are allergic to specific floral scents even if your home looked great. If you are a family member who has strong allergic tendencies, then best to be extra careful.
Evergreen and Pinecone Scents
Fir and pine trees grow in abundance in cold places. This is why pine cones are associated with winters and Christmas. They have an almost therapeutic scent and are excellent for anyone who loves classic Christmas decor.
If your Christmas tree has original or crafted pinecone ornaments, then these candles can make your theme seem even more surreal. The scent of pine cones can make you relax and feel the Christmas spirit almost instantly. Additionally, these scents are pretty complex and contain plenty of notes and undertones.
Christmas Dessert Scents
Incense and other scent-based industries have seen rapid growth over the past few years. Scents like gingerbread and cookies are intensely popular. So look for candles based on your favorite Christmas or thanksgiving desserts. You can also find candles like the famous "fir and snow" candles that give out the scent of fresh snow and fir trees. They can make your house smell like a Christmas tree farm, so it is one of the best choices if you've put up a tree. Candles that come with scents of ginger and nutmeg are also trendy during winter.
Winter-Themed Scents
Search online for candles based on your favorite books or movies, and you will have minimal trouble finding them.
Wrapping Up
Check the reviews and ratings of the candle before you order them online. Choose a good brand that only uses the best flavors and wax.
Benefits of a Moving Company

Moving can be an exciting yet daunting task, and if you've ever relocated to a new home or office, you know that it involves more than just packing your belongings into boxes. It's a process that requires careful planning, organization, and physical effort. This is... The post Benefits of a Moving Company appeared first on […]