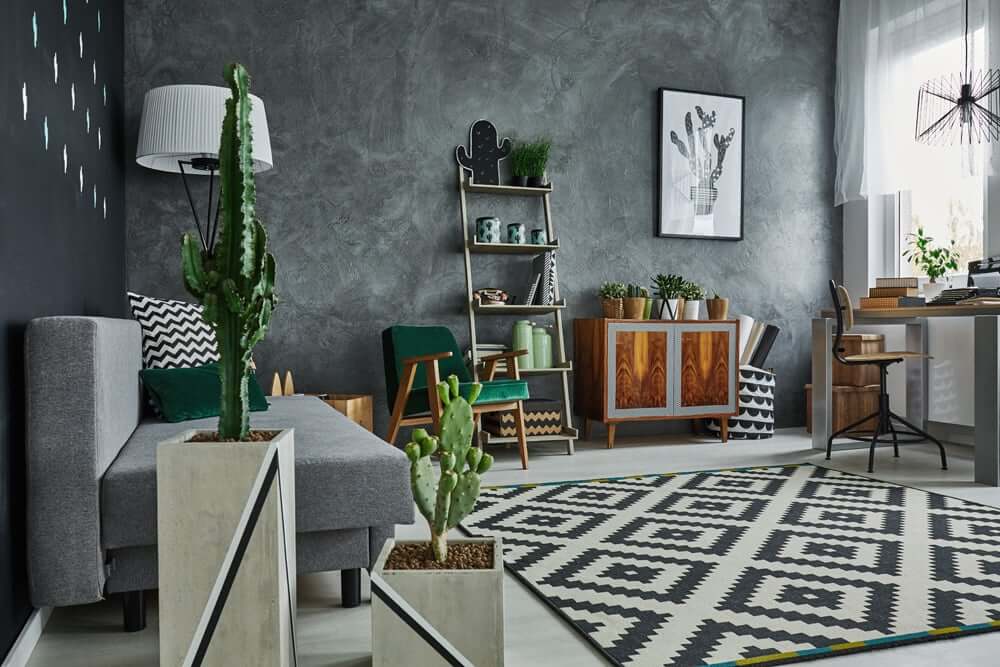 Home is where the heart is. It is the place where you feel relaxed, safe and calm.  It is the place to which you escape after a long and tiring day. It holds one of the most important places in every person's life- then why not make it look appealing and eye-pleasing?
If you think that redecorating a house means putting a hole in the wall or your pocket then you are mistaken. You can add a stylish atmospheric ambience to your home décor with simple yet classy accessories. Just a few simple albeit strategic changes can change the whole look of your house. How? Read on to find more!
Quick, Simple, and Efficient Ways to Transform Your Home
Here are some ideas through which you can modify your house and its look.
Neutral Shades and Neutral Palettes
Muted, ambient shades are much easier to match and contrast with your furnishings as compared to brighter shades. They are also much more soothing and appealing to the eyes. Some people find muted colours boring but if you use them correctly, neutral colours can help you create a simple, elegant and soothing aura in your house.
Try using shades such as off-white, cream, ivory, taupe and beige with textures and patterns. You can accentuate these shades with pale tan, gold, or faded yellows to make the room more 'vibrant' and less sterile.
Go Green!
Live plants can add life to any room in little to no time. Plants not only make the room look more vibrant, lively, and beautiful but having plants will also help you to relax and calm down. Taking care of the plants and watching them grow, bud and blossom under your care is genuinely a calming and lovely experience.
Just remember to keep them in light and check if they are poisonous to you, your kids or your pets!
Accent Walls to Glam Up the Drabbiest Rooms
Accent walls are in vogue nowadays and rightly so- they add a sense of novelty to your otherwise old room with little resources. There are many ways to transform your home instantly using accent walls and one of them is with 3d tiles.
There are many 3D tiles design available in the market that can be used to create simple, bold, and outstanding accent walls.
Change Things Around
Changing is the rule of life- no this is not a spiritual or a philosophical blog, but regardless, no one can deny that change is necessary, and it is especially necessary if you want to make your house look new and different.
Changing things around your room does not mean throwing out all the old things and replacing them with new ones, rather it involves careful replacements and repositioning of your things.
If you don't want to spend thousands on buying new furniture, you can buy new covers, tablecloths, table runners, and similar accessories to make your house look new.
Fiery Fiestas
A fireplace can be the focal point of your room or it can be an eyesore- the choice is in your hands. A fireplace need not be burning bright all the time to create a warm and fuzzy atmosphere, your fireplace should look appealing and attractive even when it is unlit.
You can decorate your fireplace or cover it with pretty doilies and arrangement of vases to make it stand out uniquely.
Fresh Paint Fresh House
Sometimes your house just needs a fresh look with a new coat of paint. Change the colour of your room or your whole house to go with the times or change it according to your tastes. Tastes and preferences evolve with time, for instance, if pink was your shade of choice a decade ago, now it might be blue. Do use samples to check what shades go best with your house. And don't forget to add accent walls with 3D tiles!
Be De-Lighted
Different kinds of lighting and fixtures can be used to create a different ambience in your house. Lights are of different types viz. ambient, natural, and task lighting.
Certain places need task lights while others look better with pendants, chandeliers, floor lamps, and desk lamps. Having a sunroof and large windows for natural light can make your house seem more lively.
Delight the 'Scents-es'
Imagine you come across a pretty flower one day. You see it from a distance and run towards it only to realise that it smells like garbage! There is no use of looks if the flower does not smell good (or at least neutral).
Similarly, a house should not only look good but should also smell nice. Use scented candles, essential oil diffusers, aroma filters, and incense sticks to make your house seem more pleasant. You can also plant various flowering plants around and inside your house for a natural fragrance.
With the right tools and some subtle changes, you can make your house look more appealing in no time. These ideas are just for inspiration, use them and let your creativity fly free!
Homeowners Guide to Black Mold Removal in Toronto

Learning that you may need black mold removal can be outright scary for many homeowners. Black mold is also known as toxic mold, which has been portrayed in the media as a threat to people, animals, and children. The truth about black mold is a... The post Homeowners Guide to Black Mold Removal in Toronto […]