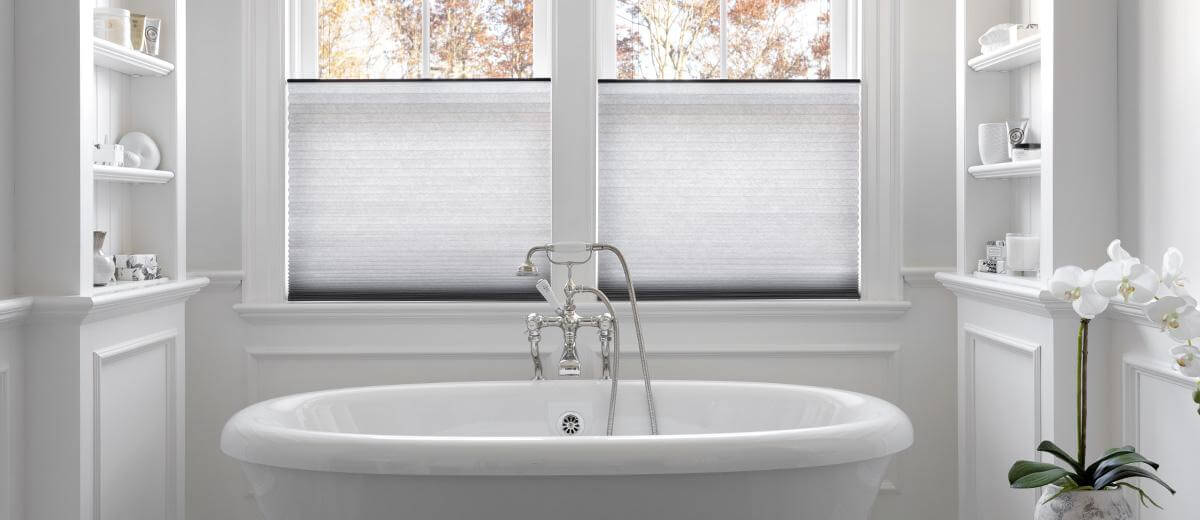 Window blinds are a popular window covering choice for many homeowners. They come in a variety of colours, styles, and materials to fit any décor. Blinds can also provide privacy and insulation for your home. But are they good for bathrooms?
According to Express Blinds, the answer is yes, blinds can be a great option for bathrooms. The amount of privacy and light control you get from them makes them ideal for bathrooms where privacy and proper lighting are of the utmost importance. Not only do they help keep out prying eyes, but they also block out bright sunlight that can damage bathroom fixtures or make it difficult to relax in the bathtub
Blinds also come with their own set of advantages in terms of style and installation. Many styles come with cords that allow you to easily adjust how much light comes into the room, and some even come with waterproof materials so you don't have to worry about mould or mildew buildup. Additionally, there is no need to drill holes into the walls for installation, and you can easily remove them to clean or replace them when necessary.
Types of Blinds that are Good for the Bathroom
When it comes to blinds for your bathroom, there are several types that you can choose from. Here are a few of the most popular ones
Venetian Blinds: Venetian blinds are an excellent choice for a bathroom. They offer a range of benefits when it comes to covering the windows and providing privacy. Venetian blinds consist of horizontal slats which you can adjust to varying the amount of light coming into the room. The slats are available in a variety of materials, ranging from wood to aluminium, so you can choose one that best fits your interior decor. With Venetian blinds, you have complete control over the amount of light and airflow entering the room—you simply need to tilt or raise or lower the slats accordingly.
Venetian blinds also provide great insulation for your bathroom space in both hot and cold climates. During summer months, you can keep out direct sunlight and keep the room cooler by lowering or angling the slats so that less direct light enters the room. In winter months, Venetian blinds can be raised up high enough to allow natural sunlight into your bathroom while still maintaining some degree of privacy and insulation on colder days. In addition, many modern Venetian blinds come with blackout material built into them that helps block out sunlight even more effectively than traditional dust-proof roller shades.
Roller Blinds: Roller blinds are easy to operate and come in a variety of materials, including waterproof ones. They're also easy to clean, making them an excellent option for bathrooms
Roman Blinds: Roman blinds provide excellent insulation and can help keep your bathroom warm during the winter months. Plus, they offer elegant style and can be adjusted to different heights for a custom look
Faux Wood Blinds: Faux wood blinds provide the same classic look as traditional wood blinds, but with added durability and moisture resistance. They're also easy to clean, making them a great option for bathrooms
Overall, blinds are a great option for bathrooms. They provide privacy, and light control, and come in a variety of styles so you can find one that matches your décor. With their easy installation and maintenance, they're an excellent choice for any bathroom. So if you're looking for a window covering that can provide both privacy and style, blinds may be the perfect option for your bathroom.
Homeowners Guide to Black Mold Removal in Toronto

Learning that you may need black mold removal can be outright scary for many homeowners. Black mold is also known as toxic mold, which has been portrayed in the media as a threat to people, animals, and children. The truth about black mold is a... The post Homeowners Guide to Black Mold Removal in Toronto […]