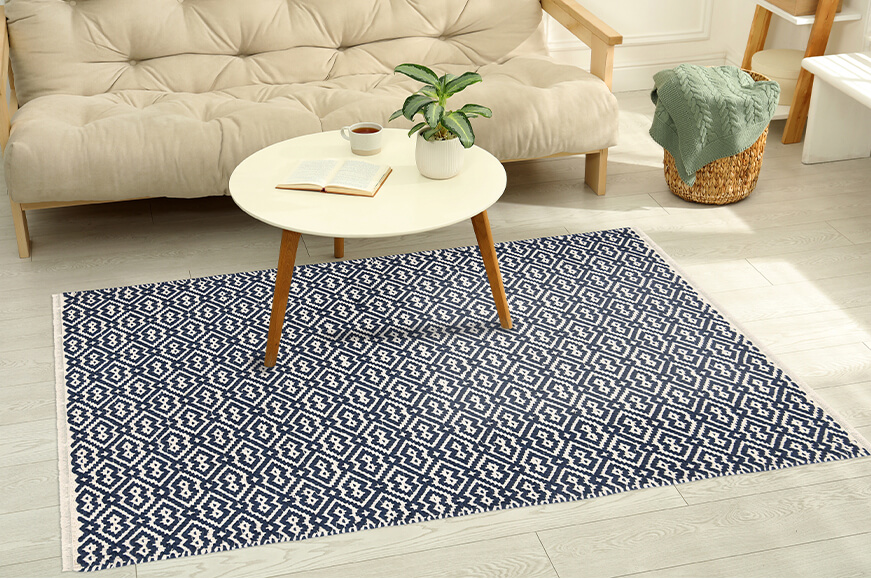 When you are looking to buy a rug for your home, there are many things that you should consider. You want to make sure that it is the right size and color and pick the right design and texture. But did you know that there are other elements of interior design that you should think about? If not, then here is some information on ways to avoid making mistakes when buying a rug for your home:
Buying a Rug That is Too Small.
The first mistake you can make when buying a rug is to purchase one that is too small. When placing your rug in the room, remember that it should be at least 3-4 feet longer than the longest piece of furniture in the room. This is because if a rug is too small, it will feel awkward and uncomfortable for people to walk on.
Selecting a Rug that has Nothing in Common with the Floor Color.
You should consider the floor color when selecting a rug for your home. The rugs that go with each type of floor are more or less different, so it's important to consider what kind of flooring you have before choosing a rug. You will have to ensure that your new rug compliments the room as a whole and blends with the other elements.
Excluding Texture.
When shopping for a rug, consider how the texture will contribute to the overall look of your home. For example, you might want something that adds comfort and warmth—you might want it to feel like walking on the sand when you walk across it or like walking on mossy rocks when you walk across it. You could also go for something with a completely different texture, so there's a contrast between one surface in the room and another.
Not Considering Traffic Patterns in Your Home.
It's important to consider your traffic patterns in the home. If you have a lot of traffic, you might want to opt for a heavier rug that can withstand constant wear and tear. If you have pets, it's also good to know where they like to lie down and sleep. You may want to place an area rug over their favorite spot so that no matter what happens, it will be protected from stains or other damage. When choosing your next rug, ensure everyone in the house has a say in what goes where so nothing gets overlooked!
Not Checking the Interior Design Trends for Your Area.
It's important to know what's popular in your area. Trends are constantly changing, and keeping up with them can help you make better decisions about how you decorate your home. You can find this information from various sources, including home décor magazines, online lifestyle websites, and even your local interior designer.
Buying a Rug Without Measuring the Space.
Many people don't realize that rugs are not meant to be one-size-fits-all. While it may seem like a good idea to purchase a large enough rug to cover your entire floor, the reality is that it will look too big and awkward in most rooms. If you want the rug to be the focal point of your room or give off an elegant vibe, then purchasing a smaller size will ensure it does just that!
Choosing a Rug that Has the Wrong Pile Height.
The pile height of a rug refers to the number of fibers per inch in the pile of the rug. The higher the pile, the softer it feels. A low-pile rug (less than 0.2″ or 6 mm) provides less cushioning and is more resistant to dirt and stains. A high-pile rug (more than 0.2″) provides greater comfort and warmth underfoot but can be sensitive to spills because they absorb more liquid than lower piles.
Buying a Ragged Old Vintage rug because it's Cheaper
When you're trying to save money, buying a ragged old vintage rug is tempting because it's cheaper. However, this approach can be a costly mistake. The rug will look cheap and tatty and not last as long as a new rug would. If you still want vintage, go for mid century modern rugs that deliver style and quality. Do your research before buying mid century modern rugs.
Conclusion
Buying a rug for your home can be a fun and exciting experience. But it's also important to know what mistakes to avoid. By being aware of these common errors, you can ensure that you make the best decision for your home and your budget. Let us know your thoughts.
Homeowners Guide to Black Mold Removal in Toronto

Learning that you may need black mold removal can be outright scary for many homeowners. Black mold is also known as toxic mold, which has been portrayed in the media as a threat to people, animals, and children. The truth about black mold is a... The post Homeowners Guide to Black Mold Removal in Toronto […]