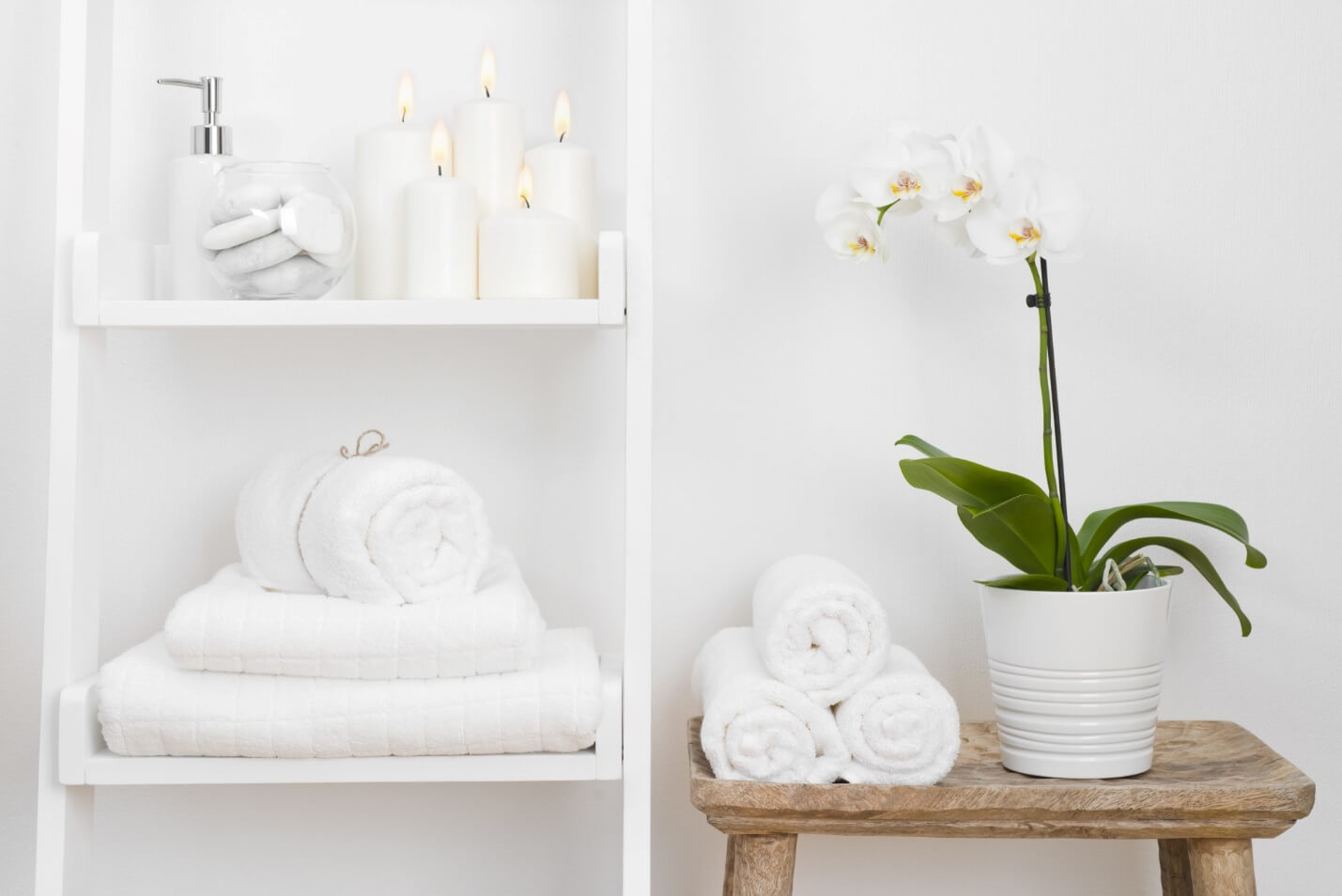 Did you know the average bathroom costs just over $8,000 to remodel? If you have a small, cramped bathroom, you're probably looking to remodel it, adding extra storage space and maybe even a customized soaking tub.
But how can you achieve your dream bathroom with limited space? Luckily there are tons of great small bathroom ideas perfect for any bathroom size (and budget!). Whether you declutter to remove unwanted items or invest in some upgrades, you can make your small bathroom feel like a luxury spa with the following 7 small bathroom ideas.
Let's begin!
1. Clean and Declutter Regularly
Nothing makes your room feel small like clutter and the general grossness that covers bathroom surfaces. If you want a bathroom upgrade without having to spend too much money, make an effort to clean and declutter on a regular basis.
Every spa you've ever gone to has had shining fixtures, clear counters, and enough storage space for everything. So, if you keep your small bathroom clean and clear, it will feel much more like a spa than a cell.
2. Update Your Lighting
You may not have the budget for a bathroom renovation that will install windows. That may not even be possible. What is possible for almost any budget is an update to your lighting.
How long have you used the same old over-the-mirror strip of lighting that looks like it belongs in a dressing room or a grandmother's house? Swap it out for something that's more contemporary, and update the lightbulbs to something that you can dim while you're at it.
Those steps will ensure that you have sufficient light for when you need it (like applying makeup) and that you can dim the lights when you want something more intimate, like a nice bath.
3. Install New Fixtures
Speaking of installing new fixtures, let's talk about the faucets and showerheads that you currently use. Chances are that you use the same ones you had when you moved into the place. These fixtures could have been there for years, even decades.
Swap them out for something more subdued. Or at the very least, something that doesn't have brassy bits flaking off of it.
Plus, upgrading your shower head is an easy (and renter-friendly!) step you can take to create a more spa-like space. Look for one with the features that you want, like massaging streams or rainfall, then twist off the old one and screw on the new.
4. Put Your Products in Nicer Jars
It's the little touches that create a truly luxe experience. You can invest all the money in the world into creating a spa-like space with your bathroom renovation, only to have it ruined by large plastic bottles covered in logos and brand information.
If you want to create a luxe feel, try pouring your products into simple containers with no or unobtrusive labels. This makes your bathroom feel like you're using some custom-made, imported shampoo from faraway lands when you really just have Pantene.
Additionally, swap out your standard loofah and scrubbing tools for natural materials. This will make your bathroom look and feel more like a luxury spa retreat.
5. Use Candles or Essential Oils for Ambiance
Spas rely on scent to create ambiance. If you want to do the same, one of the best small bathroom ideas we can recommend is the use of candles or essential oils.
Diffusers and candles can not only cover up the gross scents bathrooms often have but look gorgeous on your counters. Plus, lighting a candle and dimming the lights makes soaking in a bath feel much more intimate than sitting with a cold, builder-standard light above your head.
If you need a space that energizes you, you can incorporate notes of citrus. If you'd rather have something that can soothe you off to sleep, lavender or vanilla notes might work.
6. Upgrade Your Flooring With Peel and Stick Tile
Have you been looking at swapping out your floors for your next bathroom renovation? Does the thought of spending hundreds or thousands of dollars for tile that you may not even like send a thrill of terror through your bones?
If so, then consider upgrading your flooring with peel and stick tiles. These tiles, by design, are easy to apply and remove, making them an excellent way to test out various designs, shapes, and colors before you contact a contractor to replace the floors for real.
Plus, new tiles can give your bathroom a luxury spa look if you opt for a faux-stone or tiles that mimic natural wood.
7. Make Your Floors Toasty
Most high-end spas these days have heated flooring. If that's something you want to invest in for your next bathroom upgrade, you can learn more here.
If, however, you don't have the time or money to fool with getting heated floors, you can make them toasty another way: By investing in large, plush bath mats.
Many spas will have mats on the floors to prevent spills and slips. If you choose one with a high pile and either a neutral color or something vibrant and opulent, you can give your feet a warm, comfy place to rest once you step out of the shower.
Looking for More Small Bathroom Ideas?
If you're sick and tired of your small bathroom feeling like a prison cell, never fear. You can swap out your fixtures, update your lighting, and make some small adjustments to the products you use to create the spa-like space of your dreams. However, these are far from the only ways you can give yourself a bathroom upgrade.
If you're looking for more small bathroom ideas, check out the Home Improvement section of our blog. We update each day with more helpful guides like this one!
The Energy-Efficiency Advantages of Vinyl Window Replacement

Windows are more than just portals to the outside world; they play a significant role in determining the comfort and energy efficiency of your home. If you're looking to improve your home's energy efficiency, consider the advantages of vinyl window replacement. In this article, we'll... The post The Energy-Efficiency Advantages of Vinyl Window Replacement appeared […]