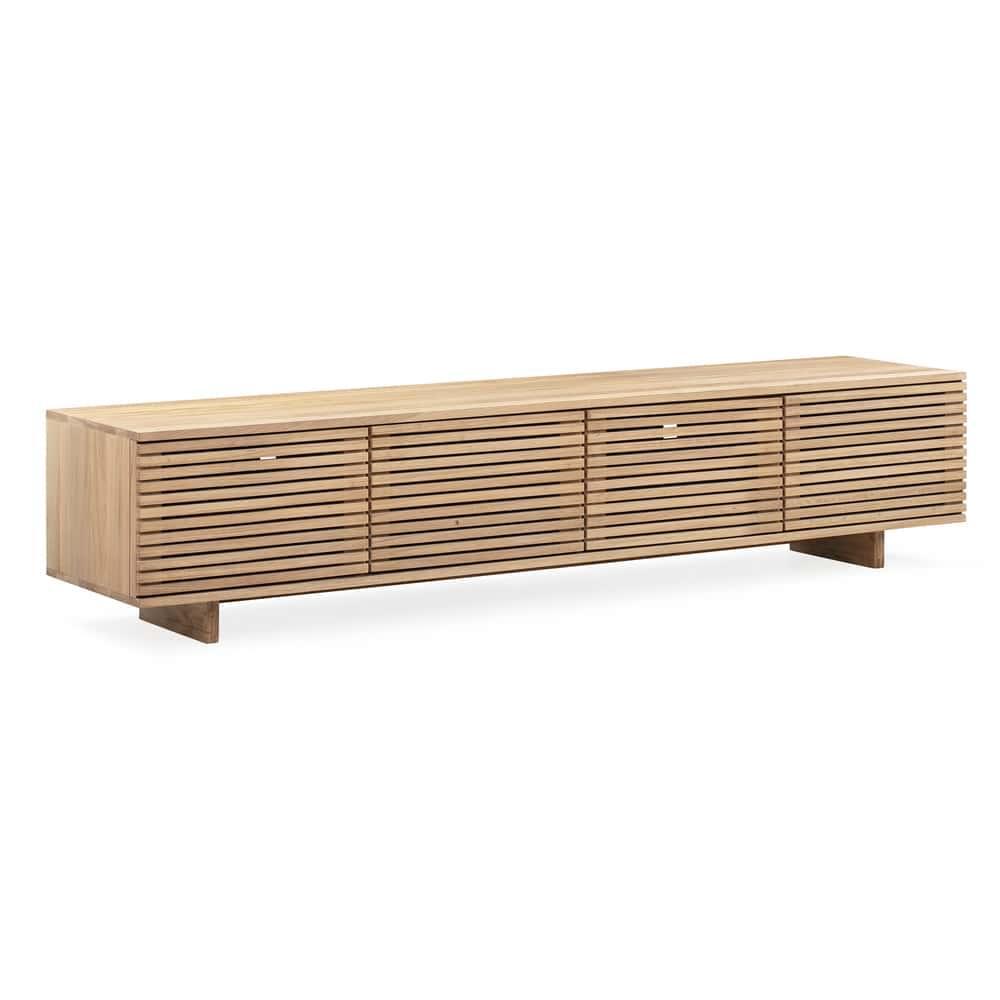 A TV stand can significantly affect the ambiance and appearance of your living room. Where you're going to position the appliance can turn a dull-looking living room into one of the most relaxing and appealing spaces in your home.
If you just bought a TV stand from RJ Living's entertainment units in Melbourne or other similar stores in your area but still don't have any idea where to place the appliance, this article is for you. Listed below are five tips to help you position a TV stand in your living room:
1. Find A Power Source
When deciding where to position your TV stand, prioritize looking for a power source. The main purpose of a TV stand is to support your TV, and the appliance can't work without any power.
Check around your living room and find an available power source. Ideally, this power source should be able to support extras such as sound systems or Blu-ray players. If you're going to play video games on your TV, make sure that the power source can accommodate your gaming paraphernalia.
2. Consider Viewing Distance
Being seated too far or too close to your TV isn't only inconvenient, but it can also cause several symptoms. For example, watching TV at a close distance may cause eye strain and produce different symptoms, namely irritated eyes, blurred or double vision, and pain in the neck and back.
Consider the viewing distance when placing a TV stand in your living room. Generally, you need to consider the size of your TV screen to assess how near or far you should position your stand. The bigger your TV screen is, the farther your TV stand should be placed from your seating furniture.
Along with this TV units size guide, take a look at the information below to achieve a comfortable viewing distance when positioning a TV stand in your living room:
26″ screen: Three to five feet away from the seats
32″ screen: Four to six feet away
37″ screen: Five to eight feet away
40″ screen: Five to nine feet away
46″ screen: Six to ten feet away
3. Pay Attention To Windows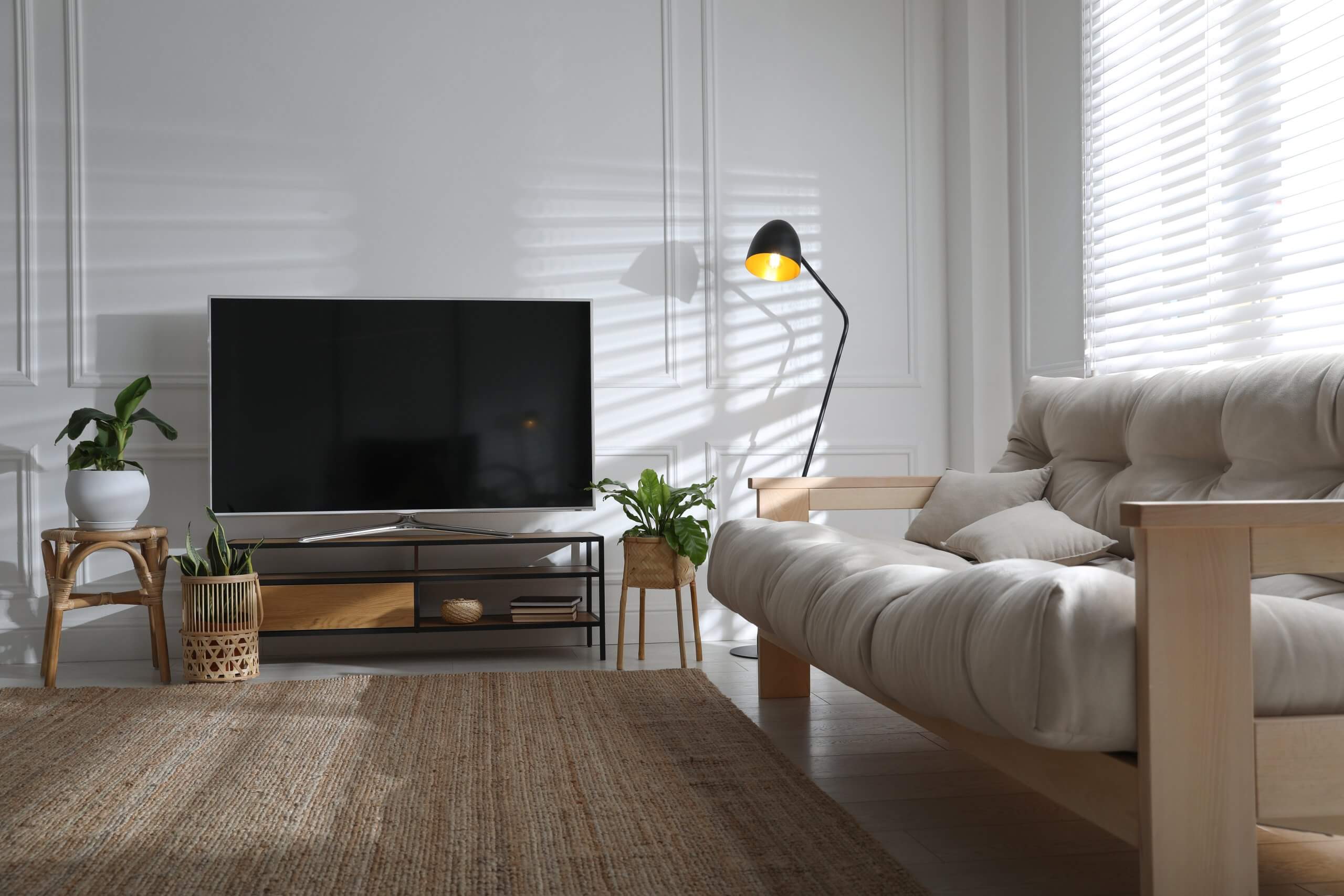 Watching TV can be stressful if you place your TV stand near the windows. How can you watch your favorite show during the daytime if all you can see is glare on the screen? Would you love spending time in your living room if this is the case? Avoid placing your TV stand near windows and other sources of natural light to avoid any glare. If possible, place your TV stand as far away as possible from these areas.
If your living room has windows all over, purchase high-quality blinds and shades. These can effectively block out lights coming from the inside, improving your TV viewing experience. Your living room can transform into a theater room once you invest in the right blinds and shades.
4. Choose A Focal Point
In interior design, the focal point refers to the area in which the eyes are immediately drawn. Having a focal point can bring out the room's aesthetics and improve how the room feels.
When deciding where to position your TV stand, assess whether you want your TV to function as the focal point in your living room. If you do, it's best to place your TV stand in the center of your seating area. Since family and friends will spend a lot of time sitting in your living room, they'll naturally draw their focus on the TV in front of them.
Depending on your preferences, you can add more decors around your TV stand to ensure that it grabs the attention of the people who enter the room. For instance, you can hang different wall arts behind your TV stand to add more color.
5. Hide It
If you don't want your TV to become the focal point of your living room, conceal your TV stand. Regardless of the dimensions of your living room and the theme you want to create, there are countless ways to achieve that goal.
One of the simplest ways to conceal your TV stand is to place it next to the fireplace. This allows the fireplace to take center stage in the living room. You can also add a different focal point (a massive wall art or chandelier are excellent options) and place your TV stand in one corner. In this way, people's attention will be drawn to the other decorative elements in the room, not to your TV stand.
Maximize Your TV Stand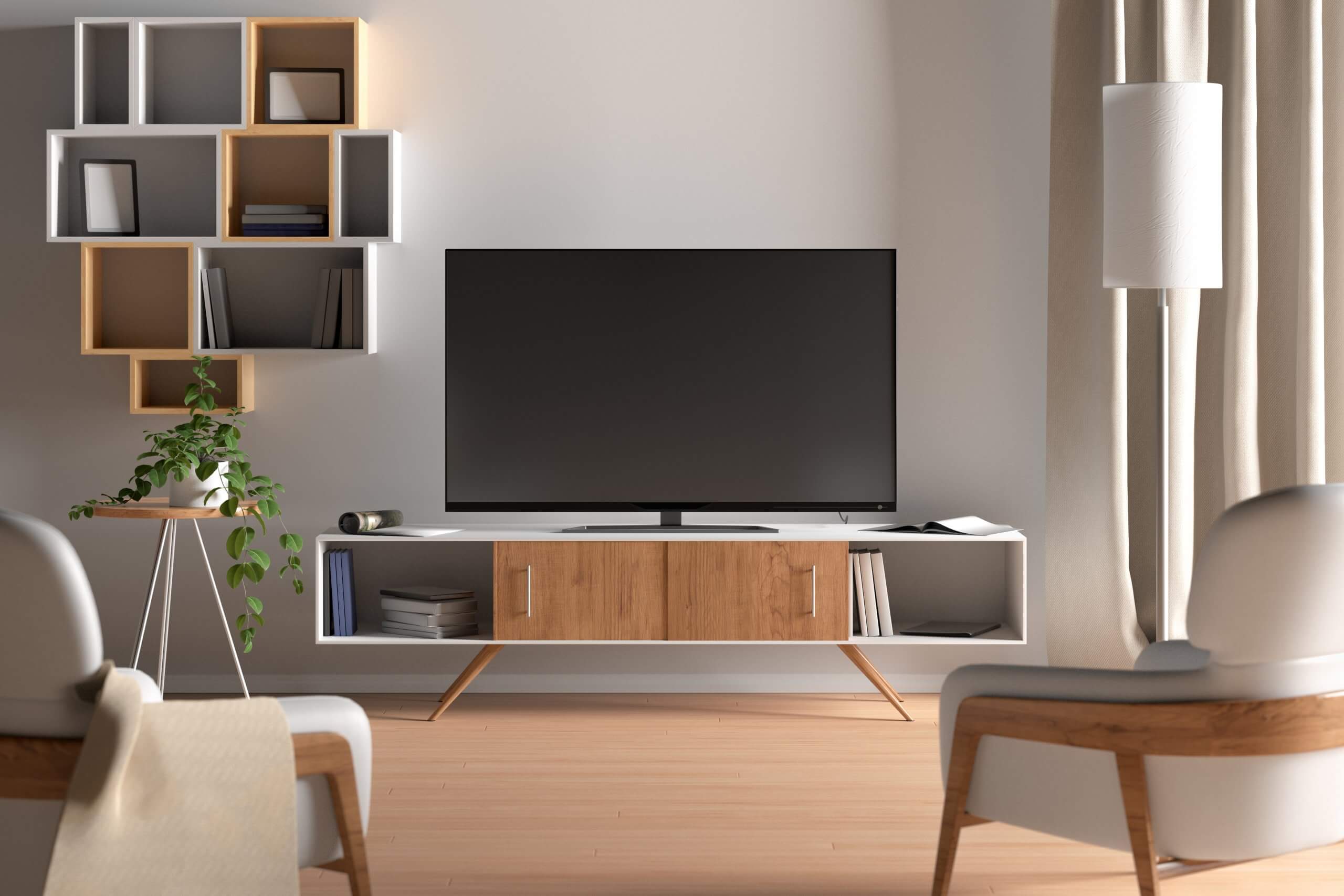 The living room is an essential space in your home because this is where you usually entertain guests or de-stress after a hard day's work. Ensure that the room remains functional by taking note of the tips presented here. Knowing where to position a TV stand can be your key to enhancing the existing features of your living room and making the space look and feel better.
Benefits of a Moving Company

Moving can be an exciting yet daunting task, and if you've ever relocated to a new home or office, you know that it involves more than just packing your belongings into boxes. It's a process that requires careful planning, organization, and physical effort. This is... The post Benefits of a Moving Company appeared first on […]