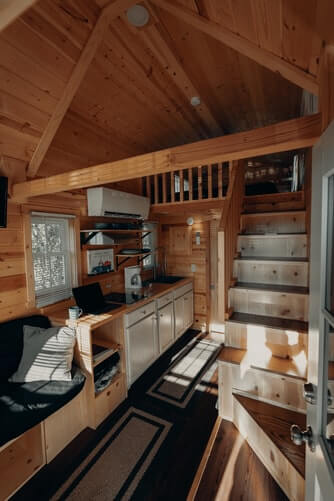 With real estate prices going through the roof and increased competition in the housing market, perhaps it's time to investigate tiny home living?
The tiny home movement has taken the world by storm. TV programs such as Tiny House Hunters and Tiny House Big Living have opened eyes to the possibilities that sizing down brings.
Whether you're looking to retire or want to buy your first home, consider a tiny house. Small, practical, environmentally friendly, and completely customizable, there's nothing tiny about the big benefits tiny homes bring!
1. They are transportable
One of the biggest benefits of tiny homes is that they can go anywhere! You can hitch it to a truck and drive it to a new location as you please while watching your favorite movies on sites like 1movies or torrent and for some even Netflix is an option.
Some tiny homes are designed to be completely off-grid, with their own rainwater, wastewater, and solar panels. Simply park them in an empty lot, dedicated piece of land, or RV/mobile home park, and enjoy a new backyard every week!
2. Affordable housing
Arguably, the biggest benefit of a tiny home is the cost. You can save tons of money in both the initial construction of the home and in your ongoing living expenses and maintenance.
Even built brand new, tiny homes can cost just $100,000 – making them significantly cheaper than a standard home. While there are tiny homes on the cheaper end of the scale, in many cases, you will need a special building permit to meet the legal requirements of your state or nation's Building Act. This often brings the price to that $100,000 mark. The good news is, once you've built your tiny home, ongoing costs are far less than a regular home.
Fewer materials used in building your home means fewer materials are needed when upgrading or maintaining. On top of that, tiny homes have fewer rooms and fewer appliances and fixtures. That means you're using fewer resources and energy, freeing up your cash for other expenditures like getting thermostats for enhanced comfort.
3. Sustainable
The biggest selling point of tiny homes, aside from their cost, is their sustainability.
Tiny homes are designed to be environmentally-friendly. Most tiny home builders source recyclable materials and include features such as solar panels and passive heating & cooling features. As a result, there are no unnecessary electronics to heat and cool the house. Tiny homes can also be run on just solar power and often come equipped with composting toilets and water saving showers to make the most of your energy usage.
The simple act of downsizing reduces energy use and your carbon footprint significantly. According to a study, those who downsized to a tiny home reduced their energy consumption by 45%.
4. Customisable
You can design and decorate your tiny home exactly how you like it! Just like display homes, tiny home builders will present you with the type of builds they produce along with floor plans and custom add-ons. You can also custom design your tiny home and have it built to your specs.
Having a smaller foundation, you are also in the position to purchase upgrades and fittings to suit your tastes and needs. With a tiny home, you essentially have complete control over your design, layout and furnishings.
5. Made for everyone
Tiny houses are suited to anyone! In fact, there's a tiny home to fit all types of home buyers, including singles, couples, friends and families.
Many tiny homes aren't even that tiny! In fact, you can get a tiny home that fits big families – including the family pet!
Living in a tiny home means you and your loved ones get to spend quality time together that you wouldn't necessarily get in a standard home. Since it's a smaller space, you're actually forced to connect and share your lives with one another. Even if you start to get on each other's nerves, there are ways to find some privacy! From room dividers and hammocks to outdoor annexes and patios, you will still find plenty of ways to live independently while sharing a smaller space together.
Tiny homes are built for anyone looking for an affordable and sustainable way to live. From retirees wanting to downsize and simplify their lifestyle, to nomads who don't want to stay in one place, and couples who want to buy their first home with greater flexibility over their choice of cost and design.
While tiny homes are smaller, they are equipped with everything you need to live comfortably. Most tiny home designs make the most of the smaller space and offer inventive ways to add more room and appliances without making it look or feel cramped. Tiny homes offer a great sense of freedom, allowing you to live resourcefully and with a greater sense of purpose. Is it time you join the tiny home movement?
The Energy-Efficiency Advantages of Vinyl Window Replacement

Windows are more than just portals to the outside world; they play a significant role in determining the comfort and energy efficiency of your home. If you're looking to improve your home's energy efficiency, consider the advantages of vinyl window replacement. In this article, we'll... The post The Energy-Efficiency Advantages of Vinyl Window Replacement appeared […]