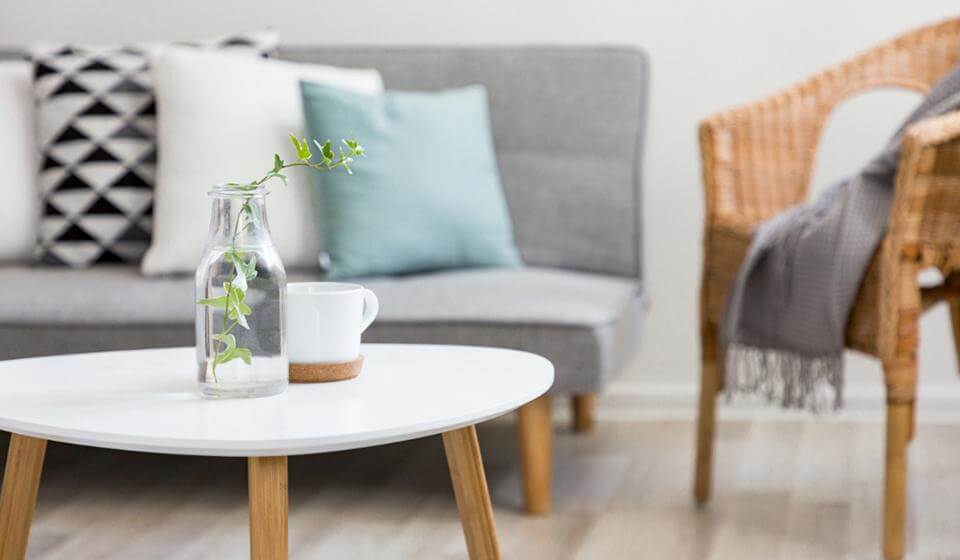 When it comes to living room furniture, coffee tables often come to our mind after sofas. As they are often located at the center, they serve a very practical purpose in the living room. Without a coffee table, there would be no designated spot for holding a food or beverages, decor items, magazines, remote controls, or mobile devices.
The specialty of the coffee table is that they give a living room the most character and serene space. After all, it offers a great spot to showcase decorative accents or a place to enjoy evening or morning snacks with loved ones.
Available in various shapes, sizes, materials, heights, lengths, and features, Coffee tables are a piece of furniture that provides you with a vast selection to choose from. So, it's difficult to choose the table that makes the aesthetic statement while giving you a lot of comforts. We outlined five rules to follow which will help you to get the right coffee table for your living room.
Be Wise When Choosing the Height of the Coffee Table
Choosing the right height for your coffee table is crucial in creating a comfortable and balanced living space. A coffee table that's too high or too low can look awkward and break the whole aesthetic of your room. To ensure a harmonious look and feel, consider a coffee table that's the same height as the cushions on your sofa, or one to two inches lower. This will help to maintain a comfortable level for your guests to reach the surface of the table from their seats.
Focused on the Proportions
Be attentive to the proportions, dimensions, clearance, and balance with other elements in the room, if you want to create a cohesive and well-balanced look. A good rule of thumb is to choose a coffee table that is approximately two-thirds the length of your sofa. For instance, if you have a 72-inch sofa, you can opt a coffee table that is about 48 inches long. This way you will ensure that the coffee table complements the sofa and does not overpower or underwhelm the space.
Be Mindful About Choosing the Shape of the Coffee Table
After choosing the height and length, it's time to choose the shape for your coffee table. With increased creativity, the dining table is available in many shapes. Gone are the days when only rectangle options would make the cut. Nowadays, they come in a round, square, oval, triangle, hexagonal, and half-circle tables.
The choice of coffee table shape should depend on the size of the seating area available. For smaller seating areas, it's preferable to choose a shape that requires less space. On the other hand, oval and triangle shapes are good options for wider spaces that have more room. Whatever the size of the room, make sure you choose the shape that blends well with the room's setting and makes an aesthetic statement.
Consider the Support Of the Table
When searching for a coffee table, people often overlook the importance of the support of the coffee table. It's crucial to check the sturdiness and strength of the legs when making a purchase. If you intend to spend a considerable amount of time with your coffee table, it's better to choose one with sturdy legs that can handle maximum weight for optimal support. A lightweight coffee table is more likely to fall over with a slight push compared to a heavier one.
The Bottom Line
Choosing the right coffee table for your home requires consideration of various factors. From style and height to material, every aspect plays an important role. It's crucial to select a coffee table that matches your decor and fits seamlessly into your setting.
To make an informed decision, it's advisable to conduct thorough research and follow the above tips. With these considerations, you can choose the perfect coffee table that not only balances your interior style but also serves your functional needs.
Homeowners Guide to Black Mold Removal in Toronto

Learning that you may need black mold removal can be outright scary for many homeowners. Black mold is also known as toxic mold, which has been portrayed in the media as a threat to people, animals, and children. The truth about black mold is a... The post Homeowners Guide to Black Mold Removal in Toronto […]