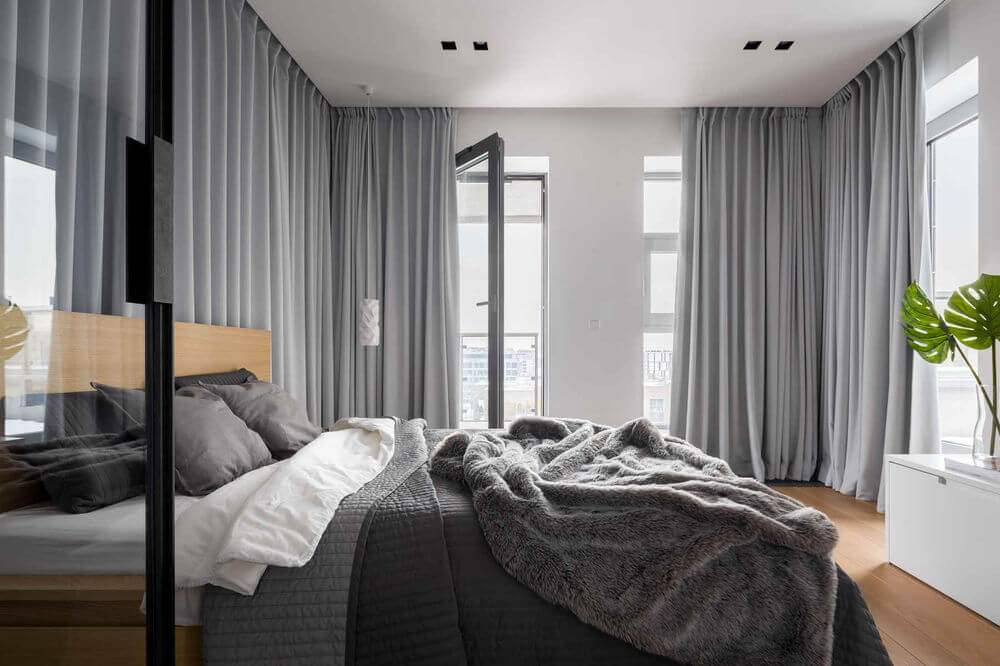 If you are looking for a curtain style that is really on-trend and will enhance the look and feel of your home you need to take a look at what wave curtains have to offer.
What are wave curtains?
Wave curtains are aptly named. They are designed to create a rippled fold effect that resembles a wave. It achieves this fold effect with less fuss and formality than a French pleat or pencil pleat, and it is a design and style that is perfect for large or small windows.
If you want a style of curtain that is very chic but elegant, practical, and unfussy, you will discover that wave curtains tick all the right boxes.
Here is a beginner's guide to wave curtains, designed to help you decide if they would be the perfect solution to dress your windows and give your home a stylish makeover.
Versatility is a key selling point
Some window designs and locations can make it very awkward, if not impossible, to use a standard curtain pole.
Wave curtains run along what is called a Silent Gliss track. This track is brilliantly versatile as it doesn't have to run in a straight line. If you need the track to run around a curve that is easy to achieve with this fitting, unlike a straight pole option.
If your home has a bay window, for instance, wave curtains would be a great solution. It would not only allow you to fit the track discreetly and without the same level of hassle, but it will also look good because the track is not seen. This allows the curtains to appear like they are floating from your ceiling, which creates an added level of style and sophistication.
Another positive feature of fitting wave curtains is that you also have the ability to operate the track electronically. That means you can open and close your curtains using a remote control.
Can you fit wave curtains to any window?
As already outlined, one of the big reasons why wave curtains are proving so popular is not just because they look good but mainly due to the fact that it is a design that offers a practical solution to any window problem you can think of.
If you have a tall window in your home where there is very limited space to try and fit a standard curtain pole a wave curtain can provide the solution. The curtain track is very slim and can even be fitted to a ceiling instead of the window frame. This solves the issue of how to fit curtains where you might struggle to do so with a conventional pole option. In addition, when you fit the pole to the ceiling it creates the impression of making your windows look taller and grander than they actually are. Wave curtains deliver a practical solution with style and elegance thrown in for good measure.
What about if you don't have a lot of wall space to work with?
As well as potentially having problems with fitting space for a curtain pole you might also be struggling with a limited amount of wall space on either side of your window especially when you also got a  thermostat installed.
This is another problem that wave curtains can tackle with ease. What you will discover is that wave curtains benefit from what can be described as a very unstructured style. This helps because it allows your curtains to fold up neatly when they are open to their fullest extent, ensuring that they don't take up unnecessary wall space.
Showing your windows in their best light
Sometimes, you can find that certain styles of curtains tend to cover a lot of window space, and even when they are open you can't always get the right amount of natural light that you want.
You might also think that your window is a nice feature in your home and don't particularly want too much of it covered all the time by curtain material.
A wave curtain is designed to help your window stand out and reveal its beauty by framing it perfectly.
Another positive aspect of the way wave curtains are designed is that their simple styling gives you an excellent opportunity to get creative with large or statement print design. You will find that large patterns really look great when you are using a wave curtain to show them off.
If you like neatness and uniformity wave curtains would be a good choice
If you have been in a contemporary hotel setting recently there is a fair chance that you will have seen that their large windows have been elegantly dressed with a wave curtain that features beautifully neat and even spacing.
Wave curtain tracks have small cords on the inside of the track that are designed to regulate the distance between each running.
What that means is you are guaranteed to get the sort of neat and even spacing that is so contemporary and so aesthetically pleasing.
Can you use any fabric?
Although wave curtains are highly flexible in terms of fitting options it should be noted that some fabrics are not considered to be that suitable for use with a wave curtain setup.
Basically, if the material is too heavy or stiff it may not drape well enough to create the right fall and the wave pattern that you are looking for.
This is only a minor issue. You can easily find lots of fabrics and patterns that are highly attractive and suitable for use with wave curtains. Repeating patterns are a prime example of what works best with a wave curtain. You can expect it to hold the patterns well and show them off in its best light.
The bottom line about wave curtains is that it is a design that offers a great design solution regardless of whether you are creating a modern vibe in your home or going for a more traditional decor.
Their sleek and minimalist effect allows plenty of natural light into your home. This makes it highly likely that wave curtains will look good in your home. Talk to a design consultant or wave curtain provider to discover all of the possibilities that this style and design has to offer.
The Energy-Efficiency Advantages of Vinyl Window Replacement

Windows are more than just portals to the outside world; they play a significant role in determining the comfort and energy efficiency of your home. If you're looking to improve your home's energy efficiency, consider the advantages of vinyl window replacement. In this article, we'll... The post The Energy-Efficiency Advantages of Vinyl Window Replacement appeared […]