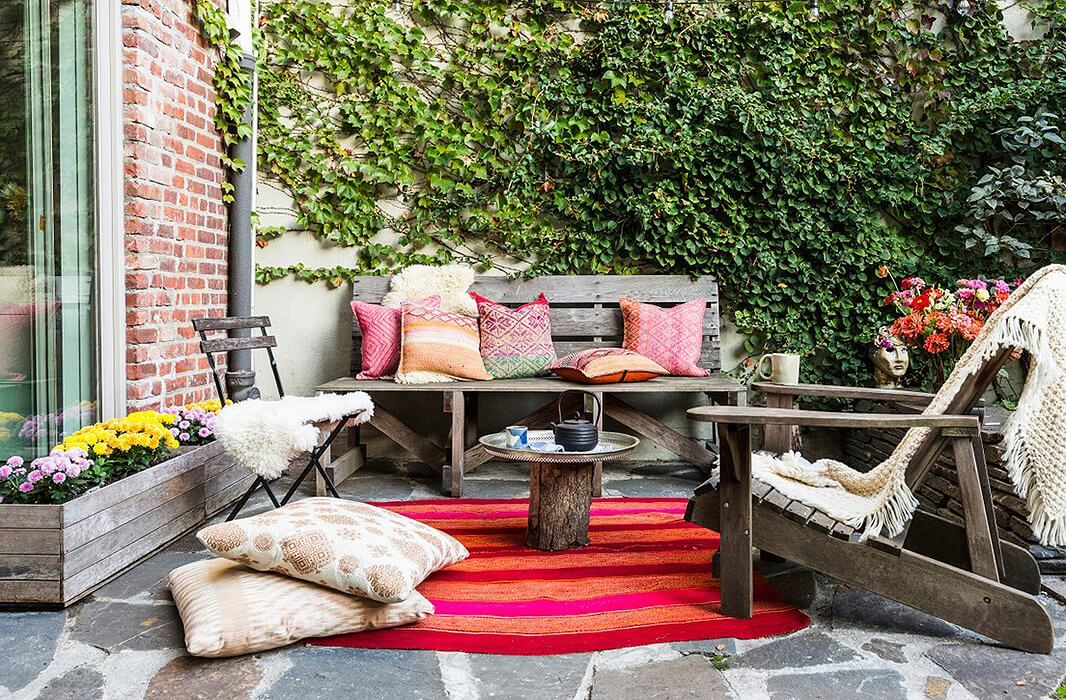 With the cold winter evenings slowly drawing out, it's safe to say spring is finally on its way. If you've got a small outdoor space, now is an excellent time to start thinking about how best to enjoy it.
In this guide, we'll share some ideas to help you prepare your garden or patio for those warm and bright afternoons. With a little bit of inspiration, even the tiniest garden can be transformed into a peaceful oasis for friends and family.
Incorporate furniture
Adding seating to any garden is the perfect way to make it an inviting space for relaxing and socialising. Whether you'd like to create a design with a contemporary or a rustic, stripped-back feel, choosing the right furniture could make all the difference.
From comfortable armchairs to wooden benches perfect for groups, carefully chosen handmade furniture for your garden allows you to start enjoying the sunshine straight away – and could make a sustainable choice.
Make garden 'zones'
If your outdoor space is big enough, you could divide it into 'zones' with different purposes. For example, why not try one area for dining, one for plants, and perhaps even a water feature?
Using a firepit as a centrepiece amongst outdoor furniture could be a fantastic idea for spending the evening with friends, toasting marshmallows, or simply keeping your toes warm. Just make sure you know the rules on garden bonfires so you don't upset the neighbours!
Illuminate!
Add lighting to make your garden look inviting and atmospheric with neon lights and everything, especially at night. String lighting drawn out across a dining area makes for a magical space, and you could also draw attention to your plants with hidden spotlights.
Plant creatively
Using a range of planters at varying heights could add an interesting, textured feature to your outdoor space, regardless of its size. Combined with flowering plants in contrasting colours, you could be the architect of an impressive, bountiful display.
If you're not sure where to start when it comes down to choosing the right plants, the Royal Horticultural Society could help you to curate a personalised list. From there, you could get started with all your favourite bulbs, flowers, and leafy plants to complement your garden.
Add a splash of colour
If you're not feeling green-fingered, there are still plenty of ways to make your garden look colourful. Why not go bold and paint a wall terracotta, adding green plants against it to create a characterful contrast? Likewise, painting a wall or fence a bright colour could create the illusion of more space.
Regardless of your plans for your outdoor space this spring, we're sure you'll be able to get started with just a few thoughtful ideas and planning.
The Energy-Efficiency Advantages of Vinyl Window Replacement

Windows are more than just portals to the outside world; they play a significant role in determining the comfort and energy efficiency of your home. If you're looking to improve your home's energy efficiency, consider the advantages of vinyl window replacement. In this article, we'll... The post The Energy-Efficiency Advantages of Vinyl Window Replacement appeared […]