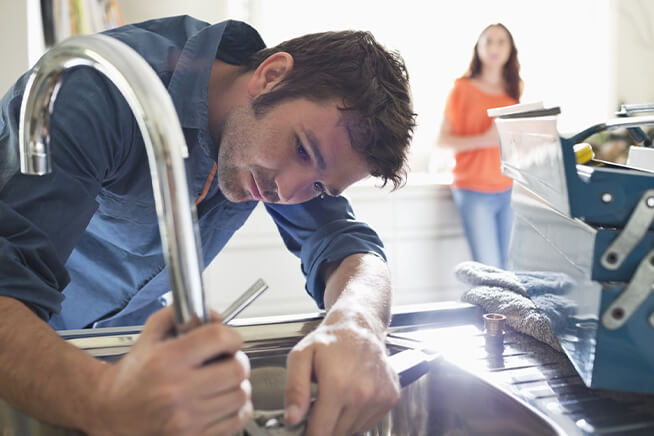 Maintaining your living space and cleaning it regularly not only gives you a clutter-free space but also helps you and your family stay healthy and enjoy food ordered online while watching a movie.
Home maintenance can be a long and never-ending process, whether it's your own house or rented one. Regular home maintenance tasks can be categorized based on how frequently they should be done; there are various house maintenance tasks that need to be done daily, monthly, twice a year, as well as annually.
On a daily basis, cleaning tasks like sweeping, mopping, doing your laundry, etc., are a given. More important tasks like hiring a professional to inspect your roof, examining electrical systems, or painting your property, will relieve you from potential stress and increase your property's value while selling.
If you live in a rented house, regular maintenance is crucial as it makes sure that you get back your full security deposit amount.
When moving to a new place, apart from the daily chores, you have to thoroughly clean the place much before you move in. Carrying out a deep home clean will include tasks like acid washing, getting rid of oil & other stains, proper inspection & repair of cracked walls, leaky plumbing, broken/old electrical sockets & wires, and so on. Taking care of all these tasks will be definitely time-consuming and requires extensive planning from your end.
Thus, it will be best to leave packing and moving responsibilities to relocation experts who will help you relocate safely and on time. Make sure you verify movers from the packers and movers Bangalore list to hire reliable home shifting service professionals who will take care of your move from start to end.
You can definitely stay away from house maintenance for a short while, but it's not something you can escape.
Fret not! We have done extensive research & created a list of home maintenance tasks you need to take care of, at specific time periods every year; go through the checklist mentioned below & start taking notes!
Home Maintenance To-Do List:
Monthly Tasks
Biannual Tasks
Annual Tasks
Home Maintenance Tasks To-Do: Once a Month
Clean and Defrost Your Fridge: Remove shelves and wipe with a wet cloth. Check your veggie draw and dispose of any rotten vegetables. Defrost your fridge overnight and keep a few lemon slices to get rid of the spoiled vegetable smell.
Scrub Your Kitchen: Using a mild cleaning liquid scrub away all the oil & masala stains on the kitchen platform, walls, etc. Mix lemon juice & baking soda in water, to use as a cleaning liquid if you don't prefer chemical sprays.
Clean the Bathrooms: Over time, the bathroom taps, showerheads, faucets, etc., may get clogged and scaly; use grapefruit juice and soda, or cleaning chemicals to thoroughly clean them. Wash the sink & commode, wipe mirrors, and place a new bathroom freshener, to eliminate bad odor.
Arrange Your Closet: Spend some time to neatly organize your wardrobe. Categorize clothes into pants, tops, formals, daily wear, etc., neatly fold and arrange them in your closet. You can also use a wardrobe organizer cabinet to arrange your clothes properly.
Dust Your Decor Pieces: Take a dry cloth and start wiping down the dust on all your favorite photo frames, antiques, showpieces, etc. Spray some cleaning liquid or water, and wipe them with a clean soft cloth/tissue.
Clean the Dust and Debris: Start from the top; use dusting sticks to clean cobwebs. Move your furniture and clean dust below them. (Tip: If you're planning to move furniture, dismantle them first and dust them for quick packing; remember to look after your health when moving to avoid exhaustion).
Check Your Gas Pipe: If you notice any leak in your gas pipe, call professionals to get it fixed immediately. (Tip: Don't forget to turn off your gas regulator after use)
Inspect the Drains: Check if your sewer pipe is blocked; hire professionals to clear blockage. Blocked drains can affect the health and hygiene of you & your loved ones.
Home Maintenance Tasks To-Do: Twice a Year (Biannual)
Clean Chimney/Exhaust Fans: Remove your exhaust fan air filter; use vinegar, baking soda, and salt to clean the greasy oil & dirt blocking the filter.
Change all Batteries: Check and change batteries of watches, remotes, kids' toys, and other things; make sure you dispose of the batteries safely.
Dust Your Electronics: Read the user manual before you start cleaning electronic appliances. Use a soft dry cloth to dust off the TV, fridge, AC, washing machine. Spray cleaning liquid on a clean cloth and wipe them once again to give a brand-new shiny look.
Check for Pest Infestation: Inspect your home thoroughly to check if there is any pest infestation problem. If it's a minor problem, try some home remedies to get rid of them; hire professionals to get rid of major problems like bed bugs, termites, rats, etc.
Clean Your Home Garden: Clear the leaf litter and weeds in your garden. Wipe dust off the leaves to unclog pores; fertilize and water the plants later.
Clean the Junk: Your attic, backyard, and terrace are the places that are usually overlooked; sort out stored items and declutter the junk in your backyard and terrace.
Home Maintenance Tasks To-Do: Yearly
Paint Your Home: If you notice paint chipping off, or colors are too dull & boring, it's a definite sign to paint your home.
Check Electrical Sockets, Switches, Wiring: Hire professionals to check & replace the switches, sockets, and faulty wiring at your home.
Check Your Interiors & Woodworks: Check the firmness of stairs & balcony railings; get repairs done for any damages.
Check for Leaks, Cracks, & Seepage: Carefully inspect walls, ceiling, and floors for cracks, leaks, & water seepages; hire professionals for proper inspection and repairs.
Regular home maintenance will prevent expensive repairs overtime & increase the value of your home. We have done enough research and created a list of home maintenance tasks you will have to take care of at specific periods of time every year.
Before hurrying to relocate by yourself, think about hiring relocation professionals to shift your belongings safely and with minimal stress. Get in touch with pre-verified and trusted moving firms in any city through AssureShift, an authentic relocation company referral portal.
When you move to a new place, you will have many chores to handle before & after moving. Most importantly, make sure you deep clean your new house before goods are delivered and have a fresh start at your new place. Based on your new timings & routine, prepare a plan for post-moving home maintenance.
Are Marble Kitchen Countertops a Good Idea?

When it comes to kitchen countertops, nothing exudes elegance quite like marble. Its natural beauty and timeless appeal have made it a popular choice among homeowners. But is it a good idea to have marble countertops in your kitchen? Let's explore the advantages and disadvantages.... The post Are Marble Kitchen Countertops a Good Idea? appeared […]