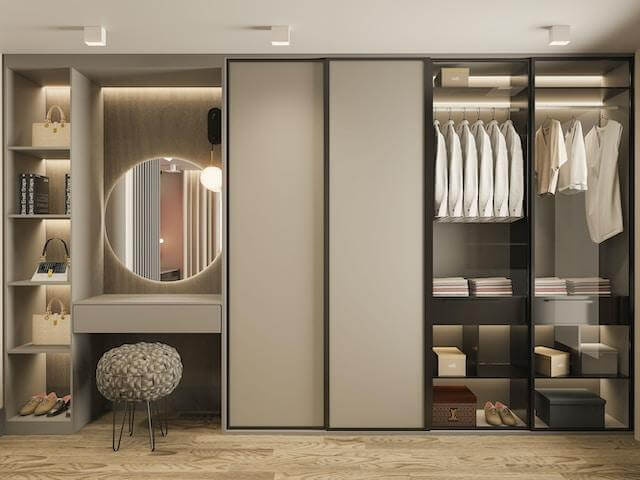 Many people today cherish their wardrobes. The idea nowadays is to ensure there is a core set of clothing in neutrals to branch out from keeping the closet minimal but function for making adequate impressions in virtually any situation.
Some people are able to dedicate a relatively vast space worthy of a luxury design by the Designer Closet Guys to make self-care indulgent. Luxury doesn't have to be defined as massive, however.
Instead, a designer custom closet simply needs to follow specific principles and features that are practical. Whether you have turned a spare room into a dream closet or have a standard small walk-in space, these tips will serve as an advantage.
What Are Tips That Will Change Your Closet From Bland To Luxe
People nowadays are looking for that Designer Closet Guys-esque closet space that gives them the optimum indulgence in self-care. Luxury doesn't have to come in an enormous area; it isn't based on size. Any room can be opulent when focusing on the details.
Consider these suggestions when working in your walk-in closet, whether transforming an entire room or a standard small ready-made walk-in closet.
Quality is key
When considering a custom design worthy of the Designer Closet Guys, the shelving, cabinetry, each detail, all the materials are heavily focused on quality.
If you were to walk into an estate established in the 1900s, the bedrooms were fitted with custom built-in wardrobe cabinets with adjacent spacious dressing areas. Contractors in those days produced bespoke woodwork with only quality throughout the home, and the wardrobes were no exception.
Look for materials designed and built with only the highest standards for a beautiful, custom closet. If you have a specific budget, select specific pieces and build on those over time. Find out how to DIY custom-built closet shelves at https://www.thehandymansdaughter.com/diy-closet-shelves/.
Allow a degree of spaciousness even in a small area
You'll feel a sense of opulence when you have room to move around in the closet. The best custom designs allow this space when entering; it gives you that feeling of awe. Again, you can create this without having a massive room.
A standard walk-in can be as high-end as you want it to be if you keep it minimal and allow an open floor plan. It might seem impossible if you use your closet for storage. Don't do that.
Find other areas to put things that really shouldn't go in there. Keep the floor empty with shoes up on racks (make these a focal point). Rotate clothing out for each season by storing the other seasons in bins in another room. Go here to learn how to better organize your coats to allow more space.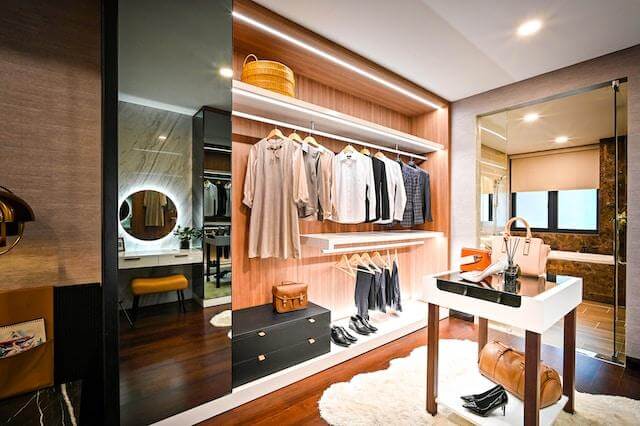 Designate an area for counter space
You might have a standard walk-in or a grand, open space, but placing some sort of furnishing with a counter will inspire indulgence. It might only be able to hold a vase with a simple flower or even your cup of tea; maybe you'll use it to remove jewelry after a long day.
In a larger room, this could be an island with plenty of storage space for accessories in the cabinet below. In that same vein, there should be a place to have a seat.
In a small unused closet you're developing into a personal dream closet, you can use any sort of ottoman as seating.
Still, with a more opulent room, there should be a spacious area to put a chaise or any comfortable settee where you can relax while getting ready for an event, even perhaps having friends over to help you get ready.
Final Thought
When creating a designer, luxurious custom closet reminiscent of the Designer Closet Guys styles, a priority is to make it personal. It would be best to have a sense of self when you walk into the space.
That can mean adding certain mementos simplistically albeit artfully, unique materials and finishes and topping it off with an awe-inspiring light fixture.
Whether you choose the minimal look of a pendant or a cascading ornate chandelier, it should speak to your style with the entire room, ultimately bringing you indulgence and joy.
Benefits of a Moving Company

Moving can be an exciting yet daunting task, and if you've ever relocated to a new home or office, you know that it involves more than just packing your belongings into boxes. It's a process that requires careful planning, organization, and physical effort. This is... The post Benefits of a Moving Company appeared first on […]