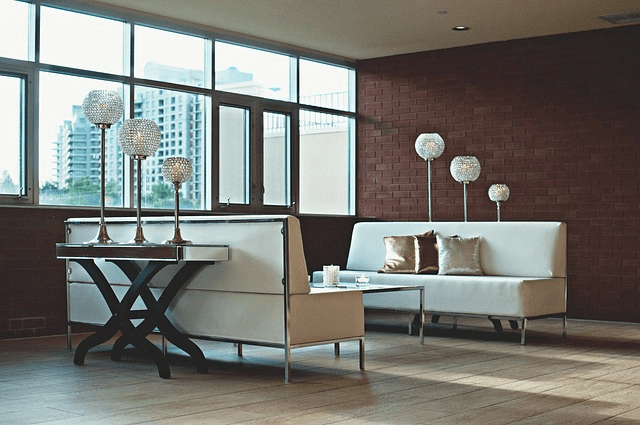 Furniture legs can make or break the look of any piece of furniture. Whether upgrading an old table or building a new one from scratch, choosing the right set of furniture legs is crucial in creating a functional and stylish design. Metal furniture legs are a popular choice for those looking to add a touch of modernity to their home. This post will review six of the best metal furniture legs available on Amazon that can upgrade your home decor.
Vevor Metal Table Legs
Transform your space by adding these high-quality, Vevor black table legs. They came as a pair and are made of alloy steel. The legs have an industrial look, and their clean lines make them an excellent choice for modern furniture. At 15.7 inches in height and 15.5 inches in width, Vevor metal legs are built for long-lasting use. The durable and solid steel construction offers a maximum load weight of 1000kg or 2204 lbs, making them perfect for supporting heavy objects.
Their X-frame style provides a sturdy and stable foundation for your table, and the fully welded design offers added stability without the need for screws. These furniture legs are easy to install and come with pre-drilled holes on the mounting plate. They are suitable for use with various desktop materials such as wood or plastic. These legs are perfect for coffee tables, side tables, or TV stands.
Happybuy Hairpin Table Legs
These table legs from Happybuy offer a classic, mid-century modern look with their hairpin design. With its premium material and sleek black color, the 24″ hairpin table leg is a stylish and practical addition to any furniture piece. Constructed with premium carbon steel, these legs feature a steady three-rod design for stability and are coated with an anti-rust finish. With a heavy-duty capacity of up to 880 lbs, these legs can also form the foundation for a strong, sturdy table, bench, or chair.
The legs also come with four rubber covers to protect your floor against scratches and provide added stability. Installing these legs is a breeze with the 4.3″x4.3″ mounting plate and pre-drilled holes that match perfectly with the accompanying screws. Even novice DIY enthusiasts can quickly complete the installation using an automatic screwdriver.
Heavy-Duty Counter Legs Stainless Steel
Designed for shops, restaurants, and other demanding commercial applications, these robust legs offer exceptional support and resilience in high-traffic spaces. Crafted from #304 Food Grade Stainless Steel with a brushed finish, these metal furniture legs from Peter Meier conform to building codes and industry standards. They are adjustable up to 1-7/16″ (36.5mm) and boast a whopping 2,000 lbs. weight capacity per leg. They also have a mounting plate and flange foot with holes for added security, perfect for indoor or outdoor use.
QLLY 14-inch Adjustable Metal Furniture Legs
These adjustable furniture legs from QLLY are made from high-quality stainless steel and come in a set of four. Standing at 14 inches (35.6cm) with a screw mechanism on the bottom that adjusts up to 0.7 inches (1.8cm), QLLY legs provide a sturdy base for any piece of furniture while giving you just the right height for your needs.
The leg's surface is treated with electrostatic spray, which is both odorless and eco-friendly. The package comes complete with four legs, 32 screws, four washers, and four mounting plates, everything you need to give your furniture a stylish and functional upgrade. They are great for tables, countertops, and kitchen tables and come with a 100 % guaranteed return of goods.
Geesatis Oblique Silver Furniture Legs
These unique oblique legs from Geesatis come in a set of four and some mounting screws. With a height of 10 inches and a base size of 3.15 x 3.15 inches, Geesatis legs are made of solid iron and finished with a durable nickel-brushed surface, ensuring they are sturdy and rust-resistant. The legs boast a strong bearing capacity and feature a solid welding and rubber pad design to protect your floors from scratches. You can easily install Geesatis legs on your sofa, cabinet, bed, table, chair, or other furniture.
Tahikem Set of 4 Metal Furniture Legs
These innovative metal legs from Tahikem boast a sleek chrome finish and a modern, eye-catching design that will elevate any piece's look. They are not just fashionable; each leg features non-slip feet to protect your floors and reduce noise from shifting. These legs also come with four chrome furniture legs, a user's manual, 16 chrome mounting screws, four rubber carpet protectors pads, and four felt carpet protectors pads.
These legs come with a package with four chrome furniture legs, a user's manual, 16 chrome mounting screws, four rubber carpet protectors pads, and 4 felt carpet protectors pads. They're also wear-resistant, anti-rust, and durable, making them an ideal replacement for larger furniture legs. Within 15 minutes, you can completely transform your furniture and increase its height or style. Tahikem legs are versatile and can be used on everything from sofas and couches to bookcases and TV stands.
There are many types of furniture legs sure to fit your needs, whether you need them indoors or outdoors, adjustable or heavy-duty. These legs also come with various features, including easy installation instructions to give your furniture a stylish upgrade in no time. For maximum results, ensure that the legs match up perfectly with the accompanying screws and use an automatic screwdriver to install them quickly and securely.
Benefits of a Moving Company

Moving can be an exciting yet daunting task, and if you've ever relocated to a new home or office, you know that it involves more than just packing your belongings into boxes. It's a process that requires careful planning, organization, and physical effort. This is... The post Benefits of a Moving Company appeared first on […]