An organized walk-in closet is aesthetically pleasing and ensures easy access. It also makes your life so much easier. You get storage and a place to dress or wind down after long days.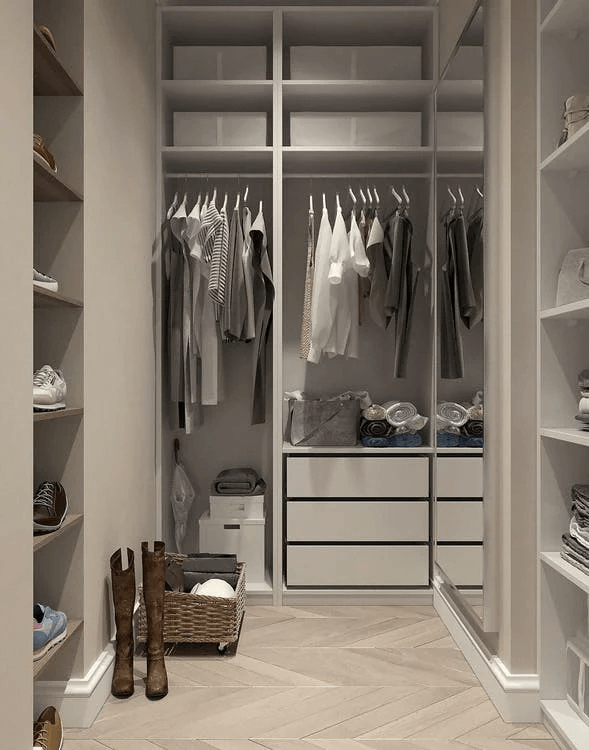 When your walk-in closet is new, it is easy to keep it organized because it is built to fit your current storage needs. But when your clothes, shoes, and accessories collection grow, you start running out of space. The only solution to your growing storage needs is to create extra space.
No, we don't mean decluttering or budgeting for a whole new closet, not yet, at least. There are other awesome closet organization ideas to maximize your current walk-in closet storage that you should first consider.
Dive right in to learn about them.
1. Add Floor-to-Ceiling Shelves
It's always a good idea to add more shelf space in the form of floor-to-ceiling shelves. You can do this easily because instead of occupying horizontal shelf space, which is probably already maximized, you occupy the vertical space in your walk-in closet storage, as you can see in the image below: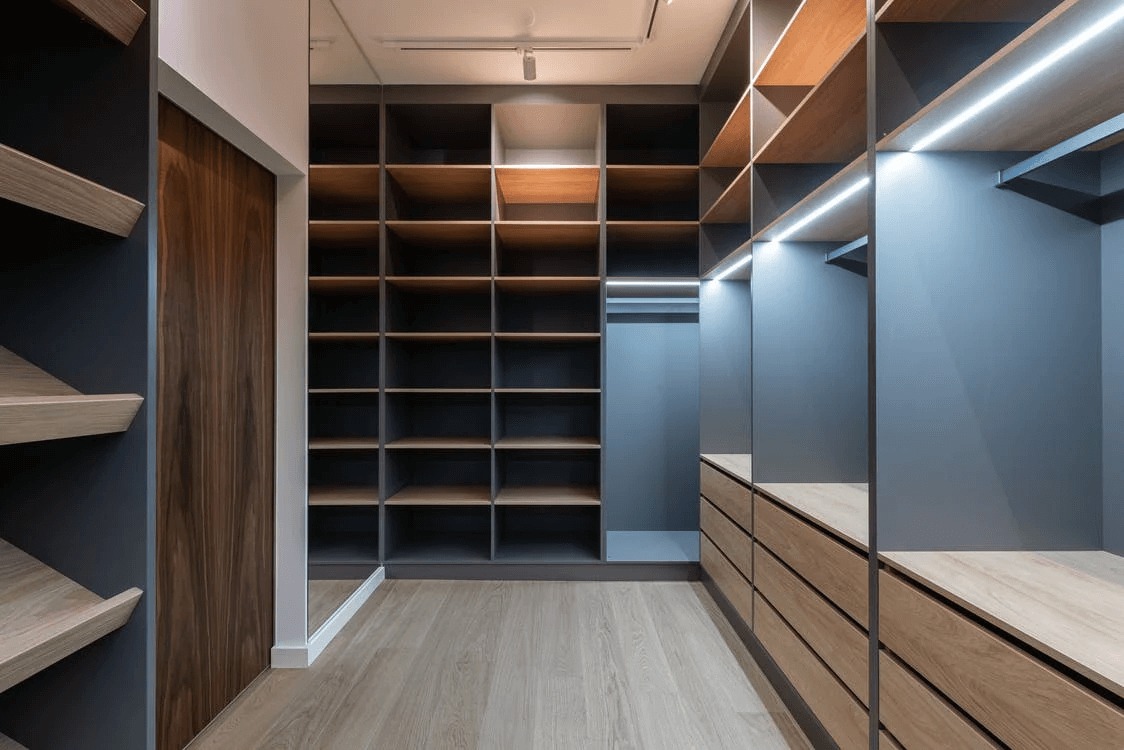 But to maximize the use of your floor-to-ceiling shelves unit, you must have an organizational structure in place.
First, store your items depending on how often you use them. For instance, you could keep seasonal items like heavy coats and scarves on the top shelves. By getting the off-season clothes out of the way, you create more space for frequently used clothing items.
Next, a steady ladder is a must-have feature for floor-to-ceiling units. It helps you easily access and store things on the top shelves. If your walk-in closet storage space has a low ceiling, you could get a step-stool instead.
You could also add shelf partitions and dividers to your floor-to-ceiling shelves. This ensures your closet space looks neat even when each compartment is filled to the brim with clothes. This also helps ensure your folded clothes don't topple over to the floor or the back of the shelf.
Finally, security is crucial when adding floor-to-ceiling shelves to your walk-in closet storage. Make sure each shelf is firmly installed on the wall to avoid accidents.
2. Include Wall-to-Wall Cubbies
Cubbies might seem old-fashioned. You might also think they only belong in preschool classrooms. These are, however, an excellent addition to your storage space, especially if what you have are small walk-in closets that have no room for clothing racks, shoe racks or accessory drawers.
Cubbies are also an all-in-one wardrobe storage solution. By including wall-to-wall cubbies, you don't only get to store your various dressing accessories and cloth types. You can also organize them and display them properly.
Also, a cubby's design, which could be square or rectangular, creates a more contained but easily accessible feel. You have accessibility because each item is in plain sight.
3. Use Adjustable Shelves
Another nice feature you can use to maximize your walk-in closet storage space is adjustable shelves. Storage units with adjustable shelf compartments allow you to customize your closet's spacing and arrangement to fit your taste.
With adjustable shelves, the horizontal planes remain constant, but the vertical positioning can be changed. So you can rearrange your shelves' vertical positioning to different heights to fit your storage needs at different moments. That saves you lots of money you would spend on renovations if you had built-in open shelving instead.
If you currently work in an office with an informal dress code, clothes like T-shirts, jeans, and sweaters should be on the lower, more accessible shelves. You can adjust the shelves to make more vertical space to pile these clothes on the bottom shelves.
However, down the road, you could switch careers and require easy access to other types of clothes. With adjustable shelves, you do not have to call a professional to move things around. Instead, you can simply DIY by re-adjusting your shelves and incorporating an adjustable clothing rack for shirts or blouses. If you have dozens of shoes, you could also use adjustable shoe shelves because they are definitely better shoe organizers.
Finally, ensure your walk-in closet storage has a lot of adjusting levels. This ensures you have multiple arrangement options that will fit your needs at different times.
4. Add Hooks
Hooks are another quick way to maximize your walk-in closet storage space. They create more hanging space. They also offer ease of access because you can see where each item is. To maximize your space using hooks, hang bulky clothes that take up too much space on clothing racks or shelves, like jackets or bags.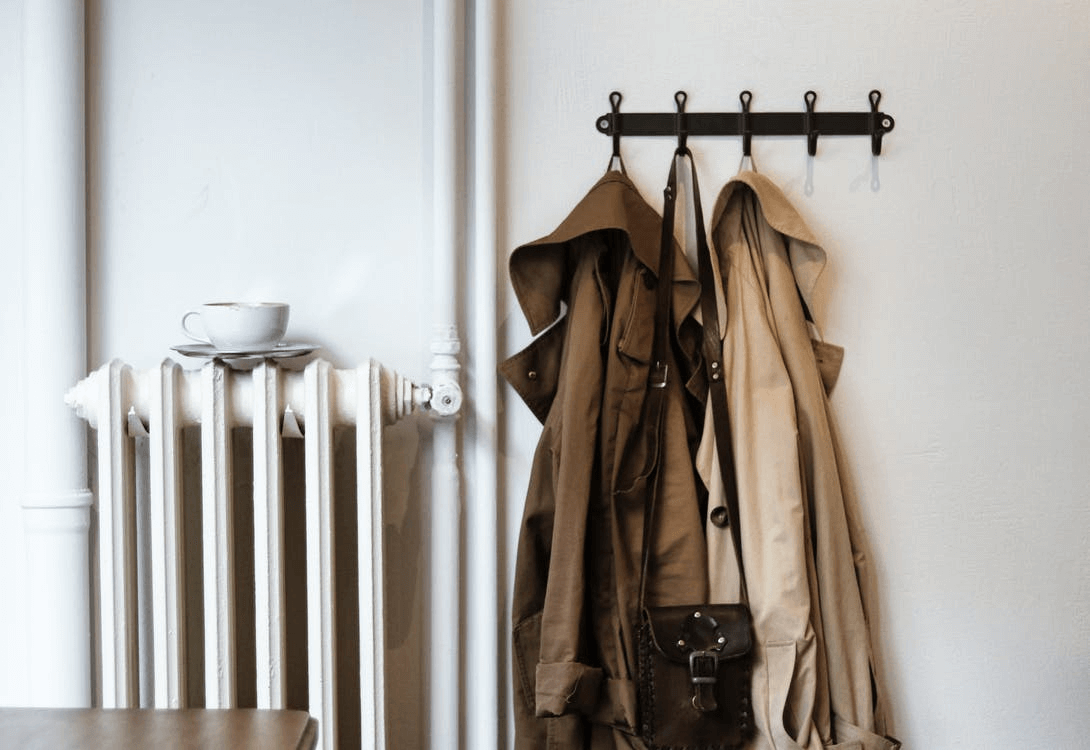 Hooks are also affordable organizing products that will help you take advantage of the awkward corners of your walk-in closet storage. These are parts of your storage space that are otherwise never used.
Hooks, unlike hangers, or angled corner shelves, can also easily fit without making the space look untidy or inaccessible.
Hooks come in different styles and finishes, so you can choose those that match your current walk-in closet storage look. There are also different types of hooks:
The double hooks – These hooks have two extrusions each and can be arranged side-by-side or one above the other to maximize available space.
Coat hooks – These are used to store heavy items like backpacks and jackets. They are mostly used in the mudroom, but you could add them to your custom closet storage. This way you get to make more space in the shelves or hanging rods.
Accouterment hooks – Also called accessory hooks, this type helps you organize items like purses, scarves, belts, necklaces, and other additional accessories. They offer easy access to your frequently used accessories while freeing up more space from your accessory shelves or accessory drawers.
Remember, when adding hooks to your walk-in closet storage, ensure they are strong enough to bear heavier or more items.
Conclusion
While the design of a walk-in closet storage matters, it won't make you happy if you do not have ample storage space. So, make sure you get one that meets your storage needs from the get-go.
But even if you already do have ample space, that might change since your clothing, accessories, and shoe collection keep growing naturally over time. In these cases, you can create more space.
This article discusses four awesome tips to help you maximize your walk-in closet storage space. You could add floor-to-ceiling shelves, include wall-to-wall cubbies, use adjustable shelves, or add hooks.
Try these four tips today and you'll reap wonderful benefits.
Are Marble Kitchen Countertops a Good Idea?

When it comes to kitchen countertops, nothing exudes elegance quite like marble. Its natural beauty and timeless appeal have made it a popular choice among homeowners. But is it a good idea to have marble countertops in your kitchen? Let's explore the advantages and disadvantages.... The post Are Marble Kitchen Countertops a Good Idea? appeared […]