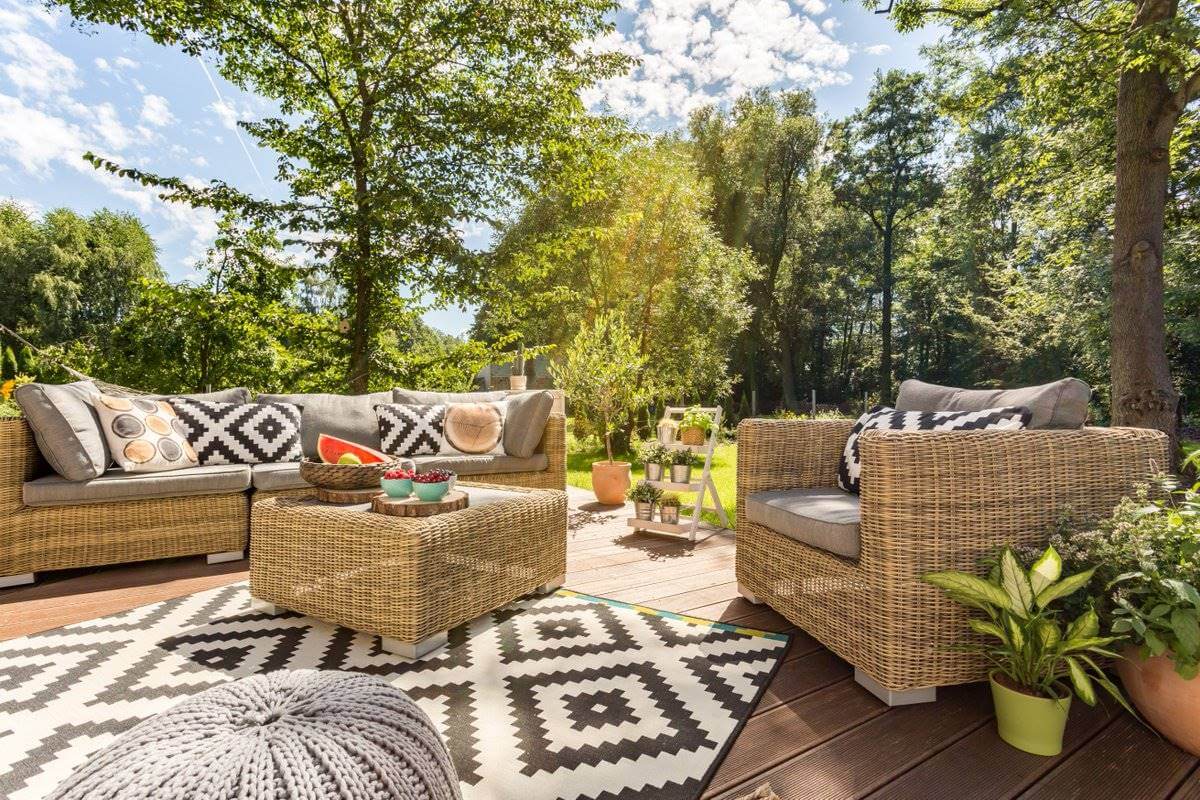 In recent years, gardens and how we use them have become an increasingly important part of the way in which many people live. The height of the pandemic last year saw more people than ever getting out into their gardens and growing things, in particular fruit and vegetables. There was also an increase in the number of people applying for plots on local allotments. Further to this, some were even looking to make the move from urban areas to more rural locations, with decent-sized gardens being one of the most important features that they were looking for.
Here we take a look at some of the top garden furniture trends for 2021, many of which are based on these changes that have taken place during the last year.
Balcony Gardens
For those people who can only dream of a move to the country, making the most of what they have has become increasingly important. In many cases, this means things like tiny courtyards and balconies. Even that tiny bland outdoor space can take on a new life with the addition of glorious and creative planting. On the furniture front this means smaller sets of garden furniture. Bistro sets, for example, are an increasingly popular choice, offering the optimum seating arrangements for those small spaces. By adding a floor-length mirror to the whole setup, you can get extra greenery with the same number of plants.
Wild Gardens
With wildlife experts extoling the virtues of leaving the grass to grow a little longer before mowing it and planting more insect friendly flowers to help the declining bee population the humble garden bench has seen something of a resurgence in popularity this year. This incredibly versatile piece of patio furniture is well suited to a number of different locations in the garden. Their use is not limited to just the patio. Consider the type of setting where you might find then when out and about on a countryside walks and you will quickly realise they can be placed near a wall, by the lawn, under a tree or even in a secluded spot at the bottom of the garden. Let your imagination decide where in your garden they will have the most impact.
Inside Out
The concept of bringing the inside outside has become increasingly popular in recent years. This is a trend that looks set to continue. The garden is well and truly being utilised as an extension to the home at the moment as many people rediscover their outside space. Table and chair sets are a popular addition for those who like to eat outside, or even work as we continue to work from home. Garden sofas sets are the favoured purchase for those individuals who want to relax in their gardens. It is easy to add a hint of luxury to this garden furniture with the addition of outdoor cushions, a garden rug and of course, some careful planting.
The White Garden
White may not be the first choice of colour scheme that springs to mind when you think of gardens. However, white gardens have become significantly more popular in recent years, and the indications are that is a trend that is set to stay for at least a while longer. A white garden starts with a darker backdrop and then plenty of white and light coloured flowers and foliage. You would be amazed by just how many different types of white flowers there are out there. The addition of white garden furniture can make a really eye-catching statement. This might be a large imposing garden table and matching chairs, a smaller table and chairs, a bench or a combination – the key is to pick items that will really add to your white colour scheme. Trust us, done well it can look absolutely incredible.
With all these options for garden design in 2021, we're sure you'll find a way to make your garden the place to be this summer.
Are Marble Kitchen Countertops a Good Idea?

When it comes to kitchen countertops, nothing exudes elegance quite like marble. Its natural beauty and timeless appeal have made it a popular choice among homeowners. But is it a good idea to have marble countertops in your kitchen? Let's explore the advantages and disadvantages.... The post Are Marble Kitchen Countertops a Good Idea? appeared […]