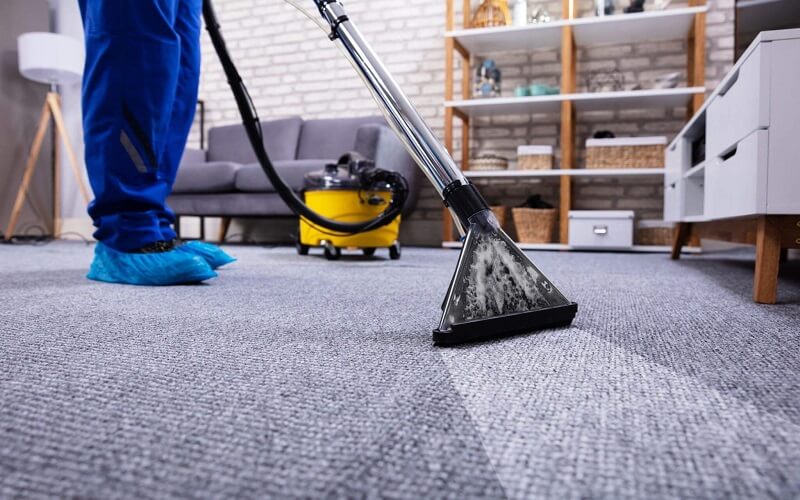 Carpets are great at holding onto dirt, pet dander, and everything else around your home. If you ignore the carpets, it will not take long before they gather a lot of allergens and other issues. And in many cases, they will start to look dull and wear out faster than they should. While there are a few steps that you can do at home to keep the carpets nice and cleaned, it may be a good idea to consider hiring a professional carpet cleaning company to help take care of your carpets and get them looking as good as new.
There are a number of benefits to choosing professional carpet cleaning for your home or office. Some of these include:
The Health Benefits
One of the major benefits of choosing a professional carpet cleaning for your space is that it can improve your health. Professional carpet cleaning can help improve the quality of air in the home while making it healthier. No matter how much time you spend cleaning up around the house, dirt and dust will come in. You may spend time dusting down other items around the property, but how often do you take the time to clean the carpets?
Yes, a good vacuum cleaner can help keep some of this to a minimum, but these cleaners rarely get deep down into the fibers of the carpet. You need to work with carpet cleaning tools to get down there and remove all the potential dust. Doing this occasionally on your own will help, but hiring professionals can take it to the next level and allows you to get way down deep and improve the quality of your home. Visit Dust2Clean carpet to know more!
It Looks Awesome
If you have ever had the professionals stop by and do a carpet cleaning of your home or office, you probably remember how awesome the whole space looked. If you could compare the before and after pictures, they were impressive. Everybody is sure to agree that the floors look better and fresher at the same time.
Whether you plan to have a big event at your home or office or you are looking to sell and you need the place to sparkle, a professional carpet cleaning service can be just right for you. They can take good care of the carpets and will ensure that you get it all fixed up and looking amazing. You may even get it done just for yourself so you can get more enjoyment out of the area too!
Get Rid of the Smell
For those homeowners who have pets around, carpets can be a nuisance sometimes. Those smells from your furry friends can stick around a lot longer than they should and may make the whole home stink. Even when you vacuum often and work to have cleaners on the carpet, you may notice that the smell still does not go away. This is because the smell from pets will often come from the bottom part of the carpet, and your vacuum just can't reach that far down.
Using a deep cleaning method on the carpets, which can also be done with steam cleaning, can be the right alternative to remove the smell that many carpets will have along the way. The professionals have special tools and chemicals that can make sure the smells are removed and your carpets are as good as new when they are done.
Get Rid of Those Tough Stains
The longer you have the carpet around, the more likely there will be some hard stains that get onto it. You may have kids that spill something on the carpet, you may spill something, or some of the pets in the home tend to make a mess. You can do a few things to remove those stains, but a few of them will be almost impossible to remove without the help of the professionals.
If you work with professional carpet cleaners, they will be able to bring in the right solutions and tools to remove even the toughest stains. This can include some of the stains that may have been in the carpet for years. This helps the whole room look a little nicer and can help you get more enjoyment from that room and your carpet as well.
Extend the Lifespan of Your Carpet
Carpets can be expensive and if you end up ruining the carpet that is already in your home or office, then you will have to pay a good deal of money to get it replaced. This is not something that most homeowners want to deal with. Having a professional come in and do some of the carpet cleaning for you may cost a bit upfront, but can save you a ton of money on not having to replace your carpets for a number of years.
Most carpet owners decide to do nothing about professionally cleaning the carpets because they think it is too expensive. The DIY options that you can choose are really not that expensive considering the results that you can get. But even if you decide to take it to the next level, it will not cost all that much. And both solutions will be less expensive compared to replacing the carpet. And most of the people who do end up spending all that money to purchase new carpet could have prolonged its life and kept the same carpet longer if they took more time to deep clean the carpets in the first place. Overall, working with carpet cleaning, especially with the professionals, can make all the difference and helps your carpet look amazing.
There are many reasons to choose to get your carpets cleaned this year. A professional carpet cleaning in Georgetown, TX will make your home feel more comfortable and can spruce up any office building, no matter how old the carpets are. Whether you need to prepare the area for a big event or you are worried about allergies and other issues, a professional cleaning will make all the difference. Trust our team to be here to provide you with the best services for all of your carpet cleaning needs.
The Energy-Efficiency Advantages of Vinyl Window Replacement

Windows are more than just portals to the outside world; they play a significant role in determining the comfort and energy efficiency of your home. If you're looking to improve your home's energy efficiency, consider the advantages of vinyl window replacement. In this article, we'll... The post The Energy-Efficiency Advantages of Vinyl Window Replacement appeared […]