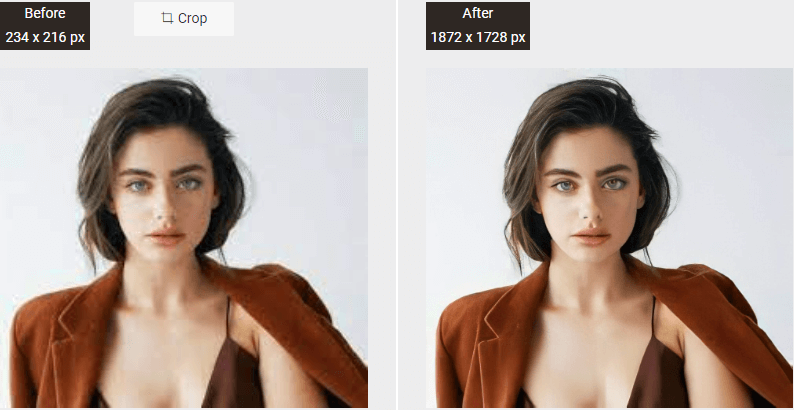 VanceAI Productivity Series Review—AI Tools Accelerate Photo Editing Process
Andres Walsh, 1 week ago
0
8 min

read
13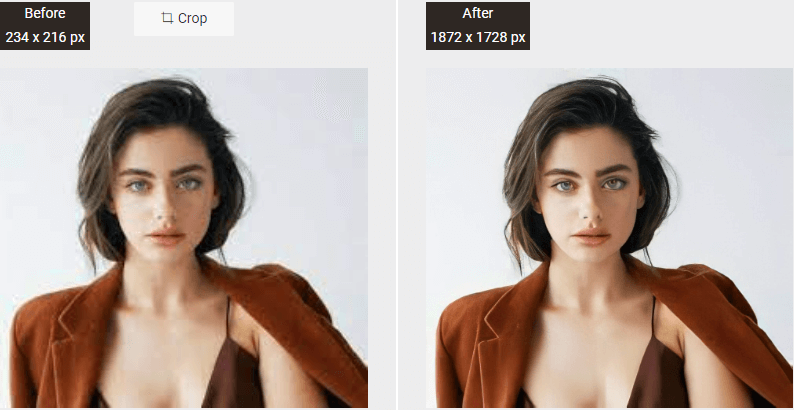 VanceAI enhances the quality of your image online without wasting your time. It enlarges images without quality loss. Simply upload the image to the platform and get it processed in no time. Now you won't have to use any manual tools to upscale the image online. It deeply upgrades the image features to make your picture more detailed and visible than its original form. VanceAI Passport Photo Maker can convert any type of image into passport form.
Upload your picture and get your image into a perfect passport-size photo online in no time. It can also replace the background of your image with blue color to give an authentic passport image look.
What is VanceAI?
VanceAI is an online platform that provides a wide variety of tools to enhance the productivity of your image online. You can edit your images here with the help of powerful AI tools provided by VanceAI. It requires no effort from its users to operate the tools of VanceAI.
You won't have to use any manual tool to edit your image. Just a few simple clicks would be required to edit your image. You can get your desired image online by using the tools of VanceAI. It performed all tasks without any user effort and operated them automatically within no time.
It is based on deep convolutional neural networks that are artificial intelligence programming. You don't have to worry about the result when you operate your images here. All its tools are tested on millions of images, and then a perfect result was categorized by the designers to fulfill your requirements.
It has a lot of services, like almost all the image editing tools on the platform. If you think that manual systems performed by professionals are better, VanceAI has also concluded that solution. All the AI tools are designed by professionals related to the editing tool field to edit images like a pro. Its tools are so easy and simple to use, like any beginner can become a pro without any effort.
Main Features of VanceAI Productivity Series
Here are some of the most popular productivity tools offered by VanceAI. The whole performance of the tools is given below; you can check them if you want. The complete review of each tool is given below.
VanceAI Image Upscaler to Enlarge Image without Quality Loss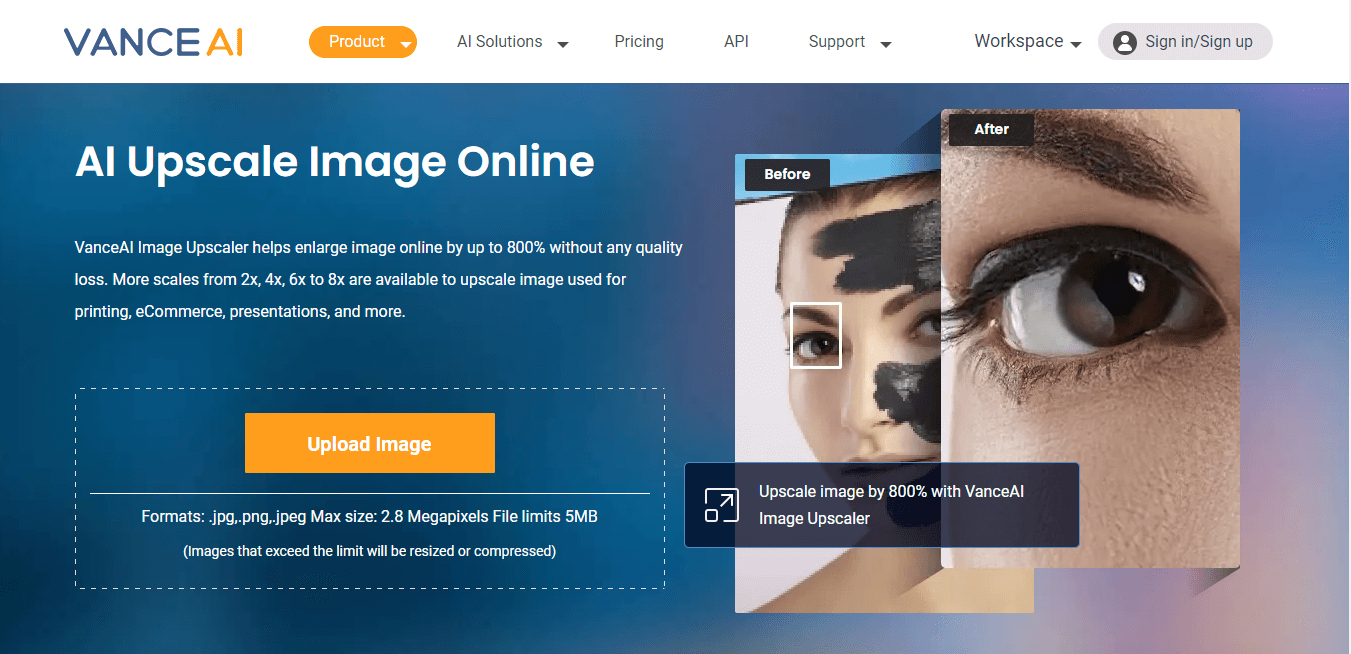 When it comes to image upscaling online, no one can beat the amazing performance of VanceAI Image Upscaler. The AI image upscale has very fantastic services that can instantly give a boost to the image features without any hurdle. The AI upscale image performs a deep scan of your image and analyzes the defect in the image resolution. It deeply enhances the inner capabilities of your image to give it a proper outlook. The AI tools refill the gap that is present inside the resolution of the image that is decreasing the image resolution. The AI image enlarges the image quality without quality loss. Image Upscaler can enhance the image quality up to 8 times its original form in no time.
The image size automatically gets enlarged due to high image resolution during image upscaling. It deploys and enhances the required structure to give it a prominent look without any defects in its quality.
BGremover to Get Transparent Background Image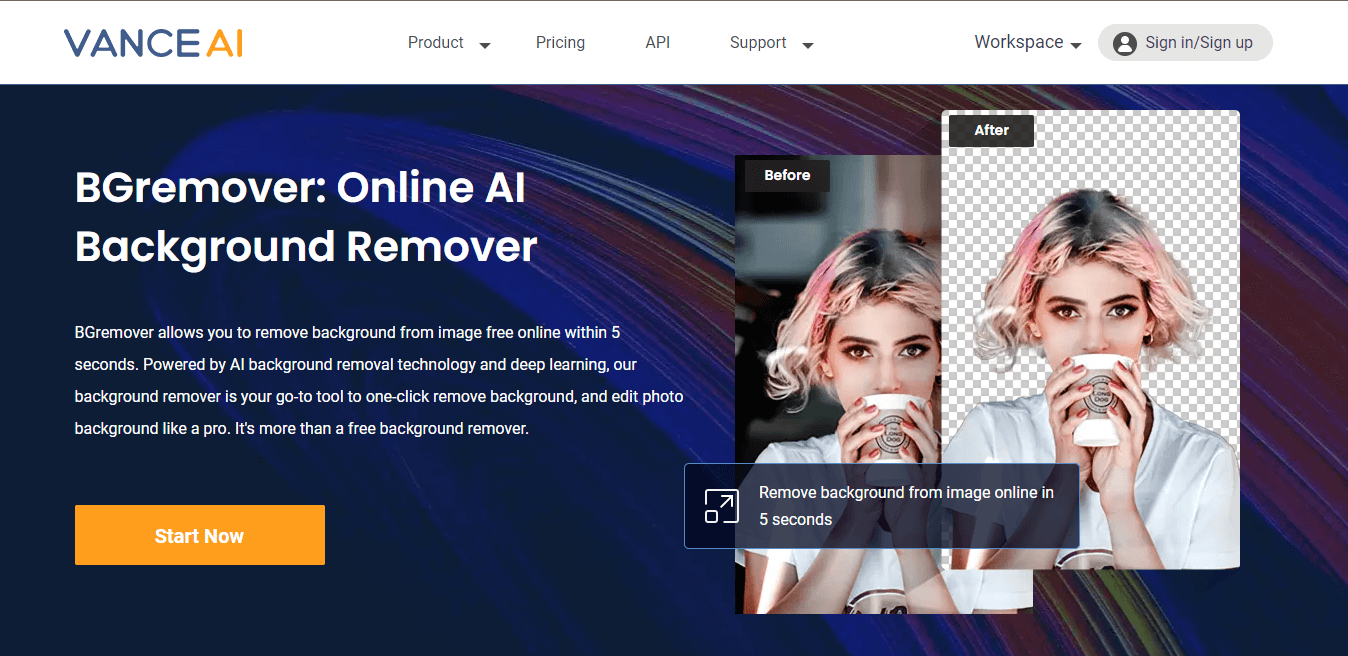 BGremover is another name for background removal. It is an online background-removing tool based on an artificial intelligence system. Remove background from image online and get yourself a transparent background instantly. Remove background from image to maintain the focus on the main character of the image. Sometimes the environment takes the focus of the image more than the main person. You can replace the transparent background with a background of your choice. You can also add different bold colors to the transparent background to give a complete finish to your art online. BGremover removes the main image from the secondary image online with one click.
With BGremover background removal algorithms, it is now much easier to remove image background without any effort. A single tap on your screen and remove background from image without any hesitation. Just simply upload any image and remove the background from the image in no time.
VanceAI Photo Enhancer to Enhance Photo in One Click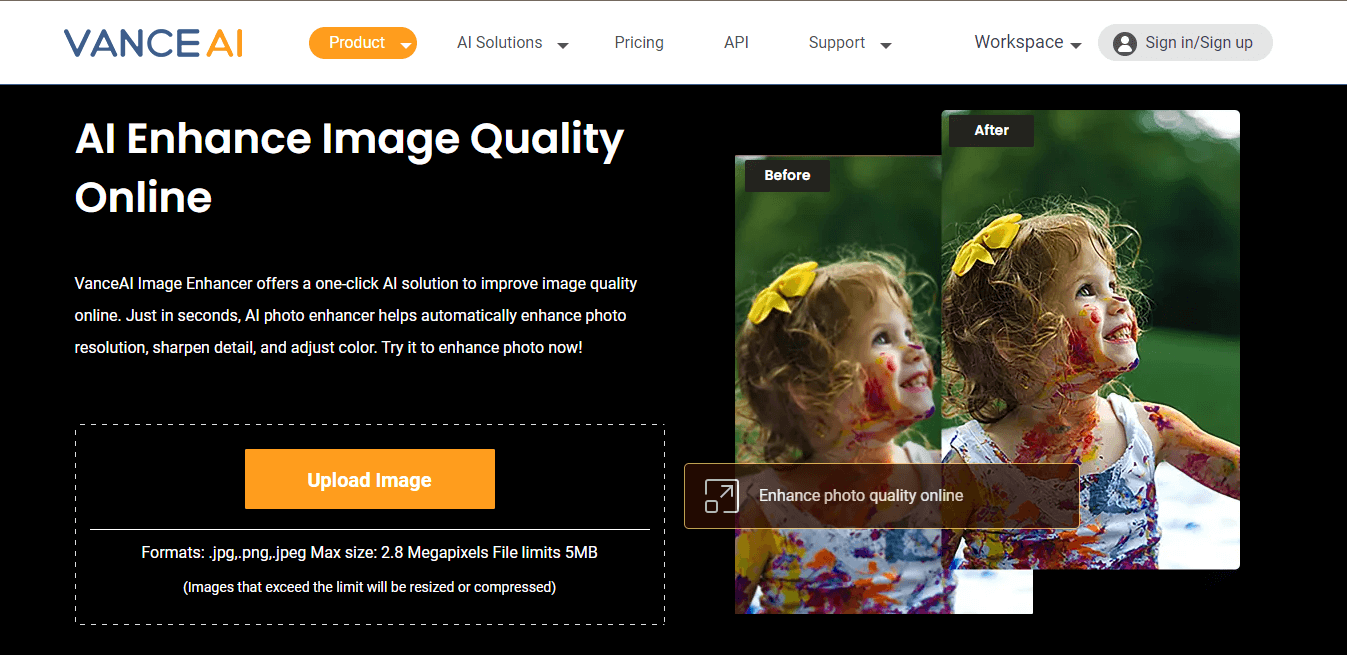 It is an image enhancer that enhances the overall structure of the image online. VanceAI Image Enhancer gives a smooth touch to your image to enhance the visible features of your image. It provides an HDR look to your image to make it crispier. Its automated adjustment tool automatically adjusts the required details like the sharpness of the image, colors, and many more. Now you won't have tio use various tools one by one to give a proper look to your image. You can make your images more prominent as it reduces the blurriness from the image. It makes the texture of the image smooth enough that all its details are visible without even properly focusing on the image.
Recover the real colors of your image with an HDR look. It restores the original colors that are required by the image to give it a boost. It regenerates the features of the image that are better than the original image itself.
VanceAI Image Sharpener to Sharpen Blurry Image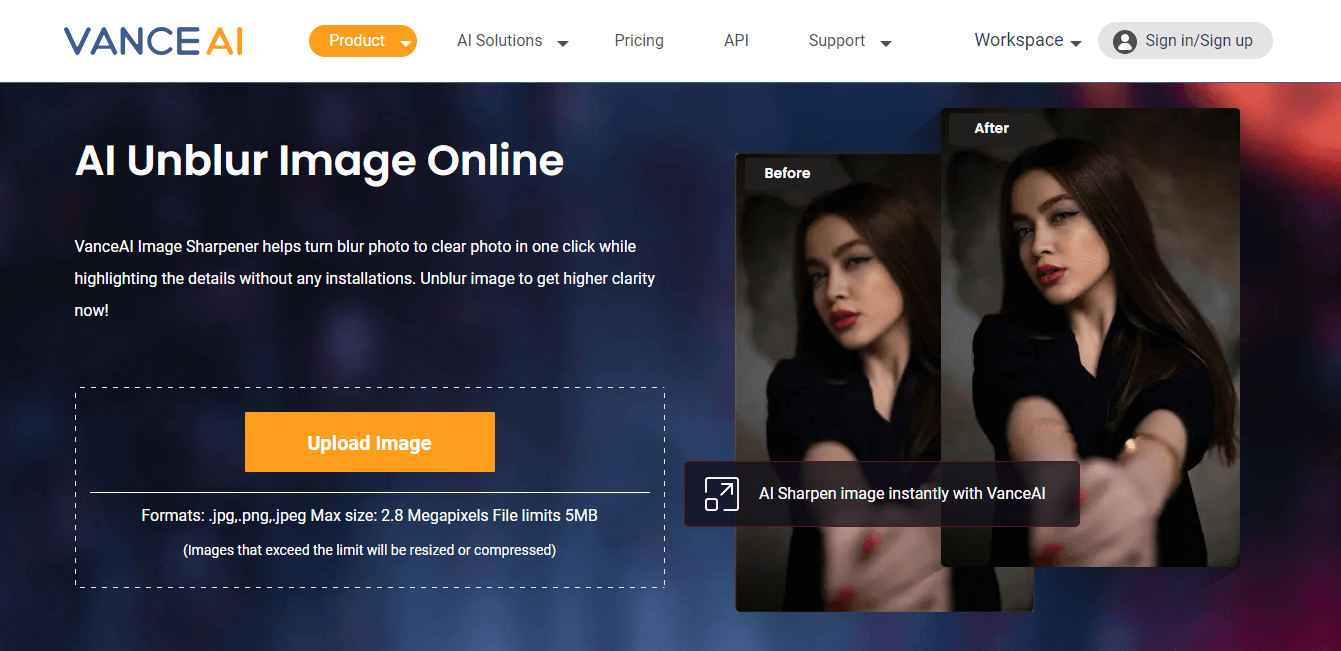 You can get rid of all types of blurriness from your image from now on. There is no need to worry about any type of defect that is related to blurriness. VanceAI Image Sharpener can eliminate blurriness from the image like it's a piece of cake. It instantly removes the blurriness from the image and pops out the image with high visibility. Sometimes there are technician issues related to the camera and the captured image is not properly focused.
You can restore the focus of your image with an AI image sharpening tool. If you have captured an image of something that is running and the image is giving a little bit of a blurry result. Then you can recover the out-of-focus image and restore its focus in no time.
How to Use VanceAI Tools?
If you are new to this platform and you don't have any type of experience related to the services that VanceAI provides. Like if, for example, we talk about VanceAI passport photo maker. You can create passport-size images online with an AI passport photo maker. All you have to do is just simply upload an image of yourself with any type of background you want.
It will convert your image into passport size without quality loss in no time. You can also adjust the background of your image according to your choice. Replace the image background with any colors you want, as sometimes the passport image requires blue color. With just three simple steps, you can process your image easily. First of all, upload the image, then wait for the processing, and after that download the image to your device it's that simple.
Visit VanceAI Photo Enhancer Product Page
First of all, you would have to open the official website of VanceAI and then open the product option from above. Various tools will appear and you will click on image enhancer.
Step 1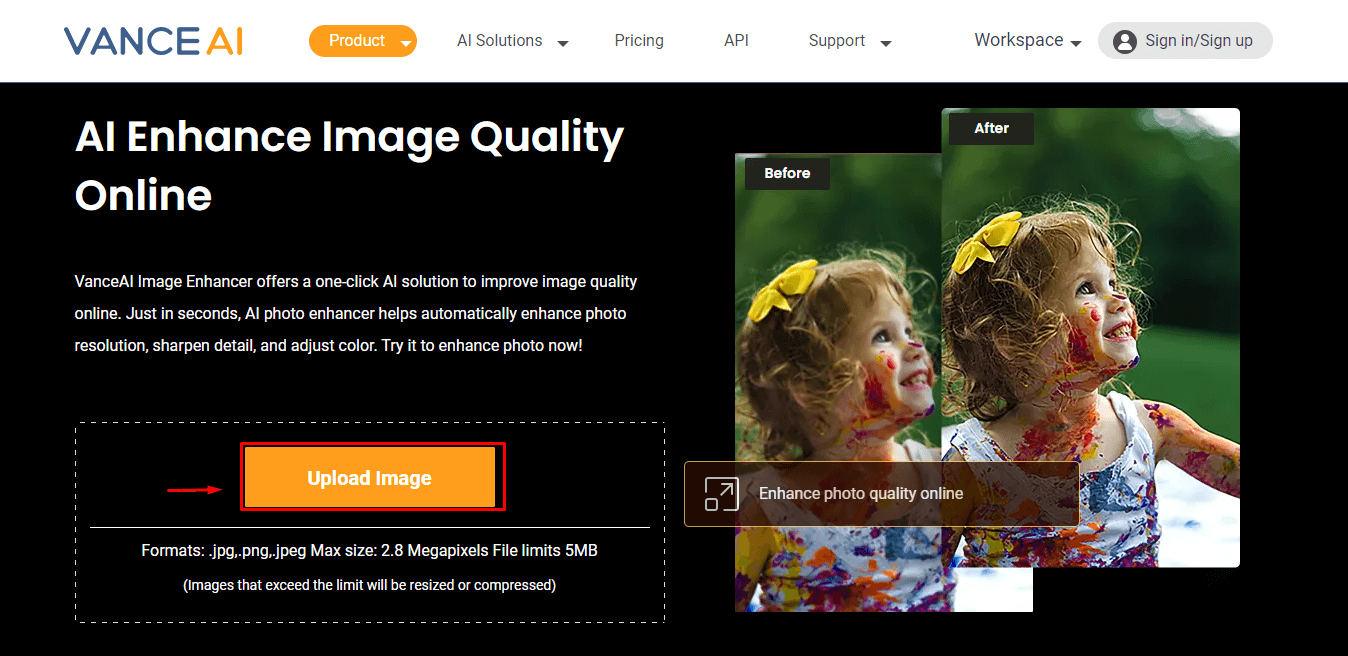 After opening the product page, the details about the tool will appear. You can scroll down and get an overview of its details. You can begin the process by clicking on the upload image option and uploading the required image from your device easily if you feel uneasy by selecting the image from your device and uploading it. You can also choose another option which is the drag and upload feature. Drag the required image to the platform and pin it on the webpage and the image will be uploaded.
Step 2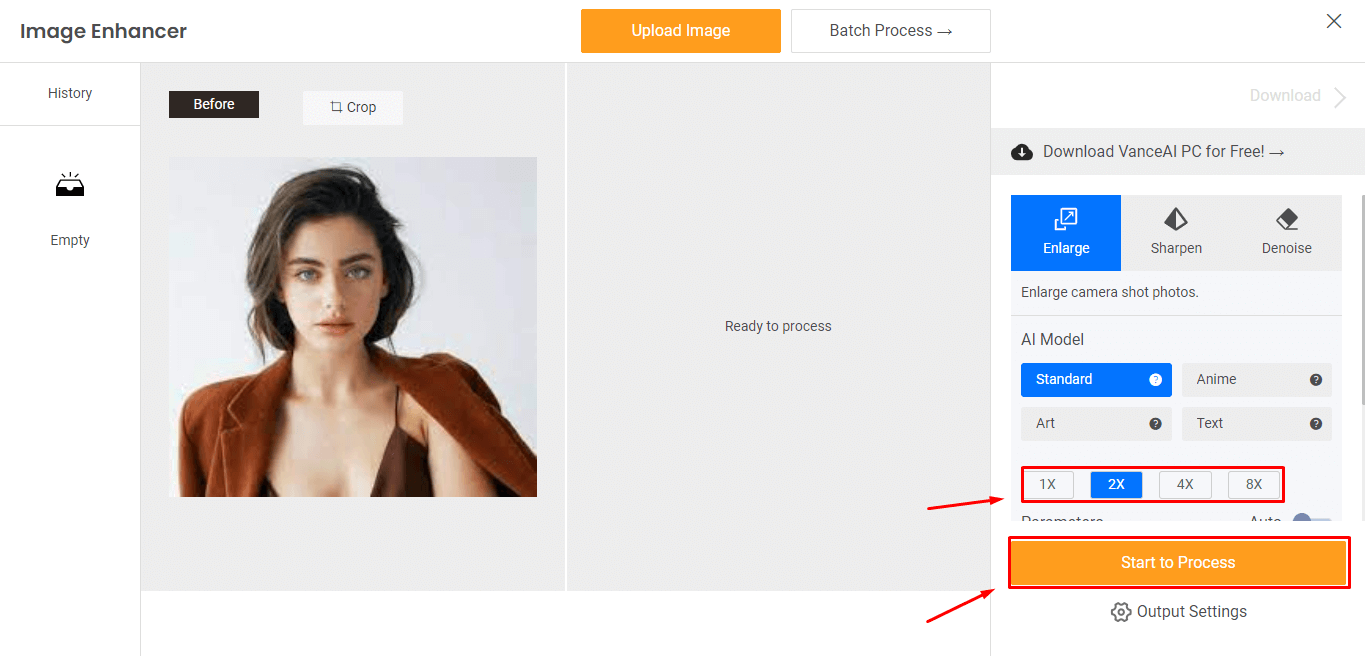 After uploading the required image to the platform, you can select the required tools that are related to your demand. Like if you want to denoise photos online with AI remove noise from image you can select the denoise option. You can also select the sharpen option. Select the image enhancing scales and click on start to process to begin the process instantly.
Step 3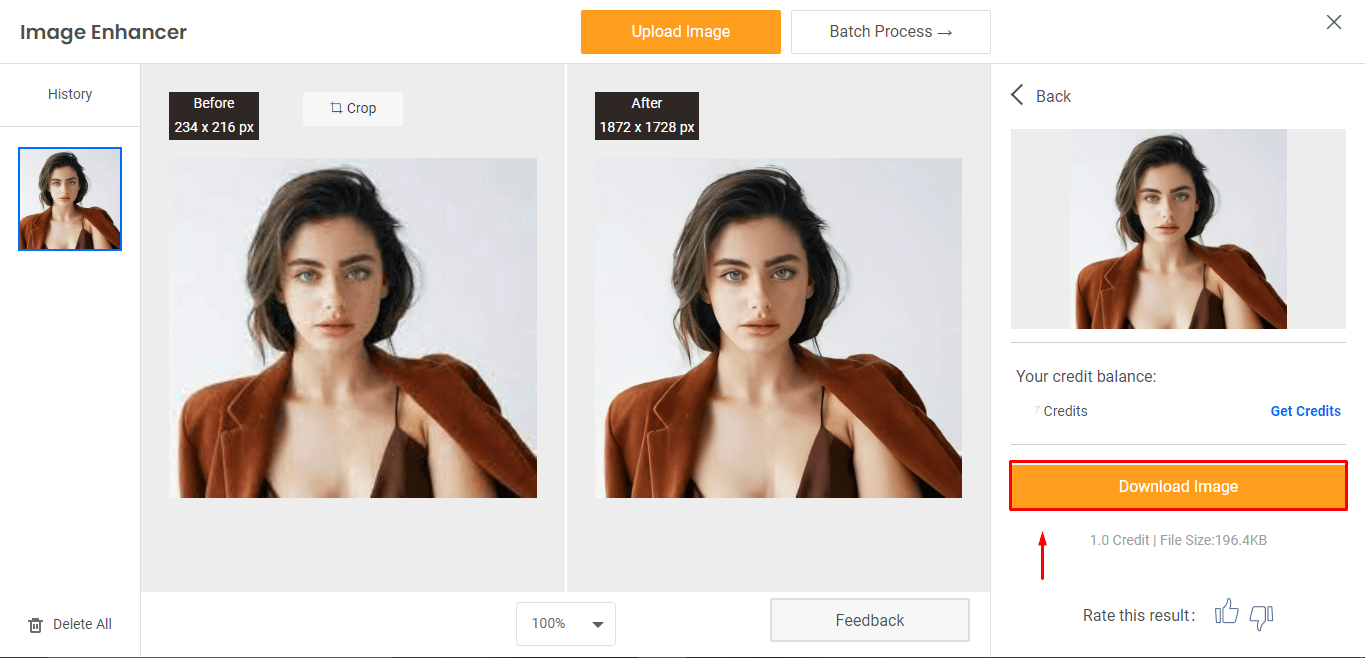 Click on the download image option and download the required image to your device easily.
Find More Articles
You can find all types of digital media details and their performance-related information at TopTen.ai. All the new technologies on an online platform that are established and under establishment can be found here with comprehensive details about each and every detail about them.
Conclusion
With all the given information above, we can conclude that VanceAI provides all types of services that can make you feel relaxed. It reduces the heavy burden of work that its users might experience. It is according to the demands of the people.
All you have to do is just sit back and watch your image processing. What more do you want when you can edit your image with a few simple clicks. The AI removes noise from an image and can reduce all sorts of noise from your image quality. Denoise photo online and remove grain from photo to give it a natural look without effort.
VanceAI Technology also provides VanceAI PC, an AI photo enhancer software. It is an online enhancer software for your pc that can be downloaded on your pc and enhance the quality of your image.
Andres Walsh
My name is Andres Walsh and as far as I can recall, I have had only one passion in my life – a love of fixing things! Growing up, my friends and even my family members called me "wrench." The nickname has somehow stuck even through to my adult life.
Related posts
Benefits of Hiring Professional Commercial Roofing Company Contractors in LA

The roof acts as a necessary part of the occupancy. While strong breezes, fierce snow, cyclones, and other weather situations can have a massive effect on the roof. A commercial roof is an integral part of a business building. Consequently, it is always good to... The post Benefits of Hiring Professional Commercial Roofing Company Contractors […]